Serwisy społecznościowe integrują funkcje e-commerce. Chcą wykorzystać w ten sposób swój potencjał do bezpośredniego generowania sprzedaży.
Bez względu na to, czy jesteś influencerem, a może właścicielem lub menadżerem e-commerce, musisz trzymać rękę na pulsie.
Dziś poznasz wschodzącą gwiazdę kategorii social commerce, czyli 21 Buttons. Serwis ten łączy influencerów oraz fanów mody ze sklepami internetowymi, które oferują produkty z kategorii fashion.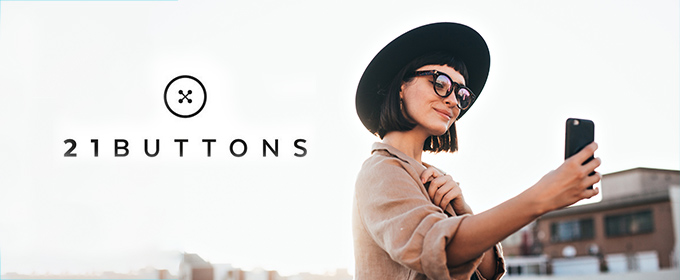 Na temat 21 Buttons pisaliśmy na łamach naszych blogów europejskich. Z analizy popularności wynika, że serwis 21 Buttons cieszy się szczególnym zainteresowaniem we Francji. Warto uwzględnić go w strategii marketingowej przy ekspansji na ten rynek.
Moda — siła napędowa e-commerce
Według raportu e-commerce w Polsce 2019:
Najczęściej kupowane kategorie produktów w Polsce to odzież, akcesoria i dodatki (69%) oraz obuwie (55%).
Kategoria fashion w e-commerce jest równie popularna w innych krajach, zarówno w Europie, jak i globalnie.
Wynika to z prostego faktu, że w internecie mamy w zasięgu kilku kliknięć dostęp do znacznie większej oferty niż stacjonarnie. Co więcej, wiele sklepów wybrane produkty oferuje tylko on-line: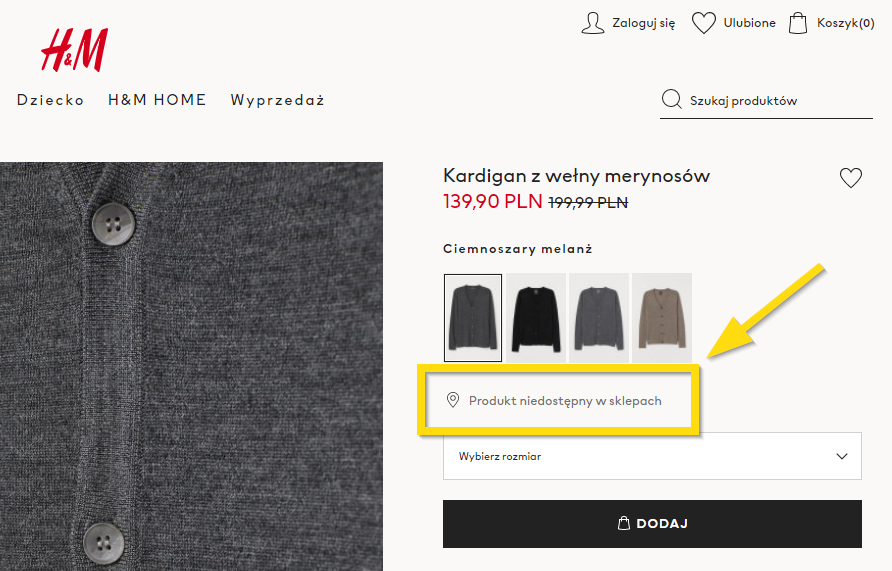 Nic dziwnego zatem, że marketing odzieży i dodatków w internecie bije rekordy popularności. Na promowaniu marek odzieżowych dorobił się niejeden influencer.
To właśnie dla nich (oraz dla osób aspirujących do bycia influencerami) powstała aplikacja 21 Buttons.
21 Buttons to serwis społeczniościowy z segmentu social commerce.
21 Buttons zostało założone w 2015 r. w Barcelonie. Po lokalnym sukcesie serwis ten zaczął zataczać coraz szersze kręgi. Obecnie (na dzień publikacji tekstu) jest już dostępny w następujących krajach:
Austria

Belgia

Brazylia

Francja

Hiszpania

Meksyk

Niemcy

Rosja

Stany Zjednoczone

Turcja

Wielka Brytania

Włochy
Zatem jak widzisz:
21 Buttons nie jest jeszcze dostępny w Polsce. Do tego czasu możesz wykorzystać Instagram do zwiększenia ruchu w swoim sklepie:


Nie oznacza to jednak, że nie powinieneś się tym serwisem zainteresować. Warto przygotować się do jego uruchomienia w naszym kraju. Dzięki temu zyskasz przewagę, gdyż będziesz mógł wykorzystać nowinkę na rynku marketingowym szybciej niż konkurencja.
Co ważne — na ten moment:
21 Buttons ma już 6 milionów użytkowników.
Co więcej, liczba użytkowników stale rośnie.
Na czym polega 21 Buttons?
21 Buttons skupia się na stylizacjach. Użytkownicy nie publikują tu zdjęć z wypadu nad morze lub w góry. Chyba, że stanowią one jedynie tło dla prezentowanych stylizacji modowych :)
Zatem—
Z aplikacji korzystają osoby, które szukają inspiracji w zakresie tego, jak się ubrać, ale i takie, które wyznaczają trendy w tym zakresie.
Główną funkcją aplikacji jest oznaczanie poszczególnych części garderoby swego rodzaju przyciskami czy też pinezkami (tytułowe buttons).
Po kliknięciu przycisku za pomocą linka polecającego (referal link) możemy udać się bezpośrednio do sklepu internetowego, który oferuje dany produkt.
Sama koncepcja jest podobna do Instagram Shopping.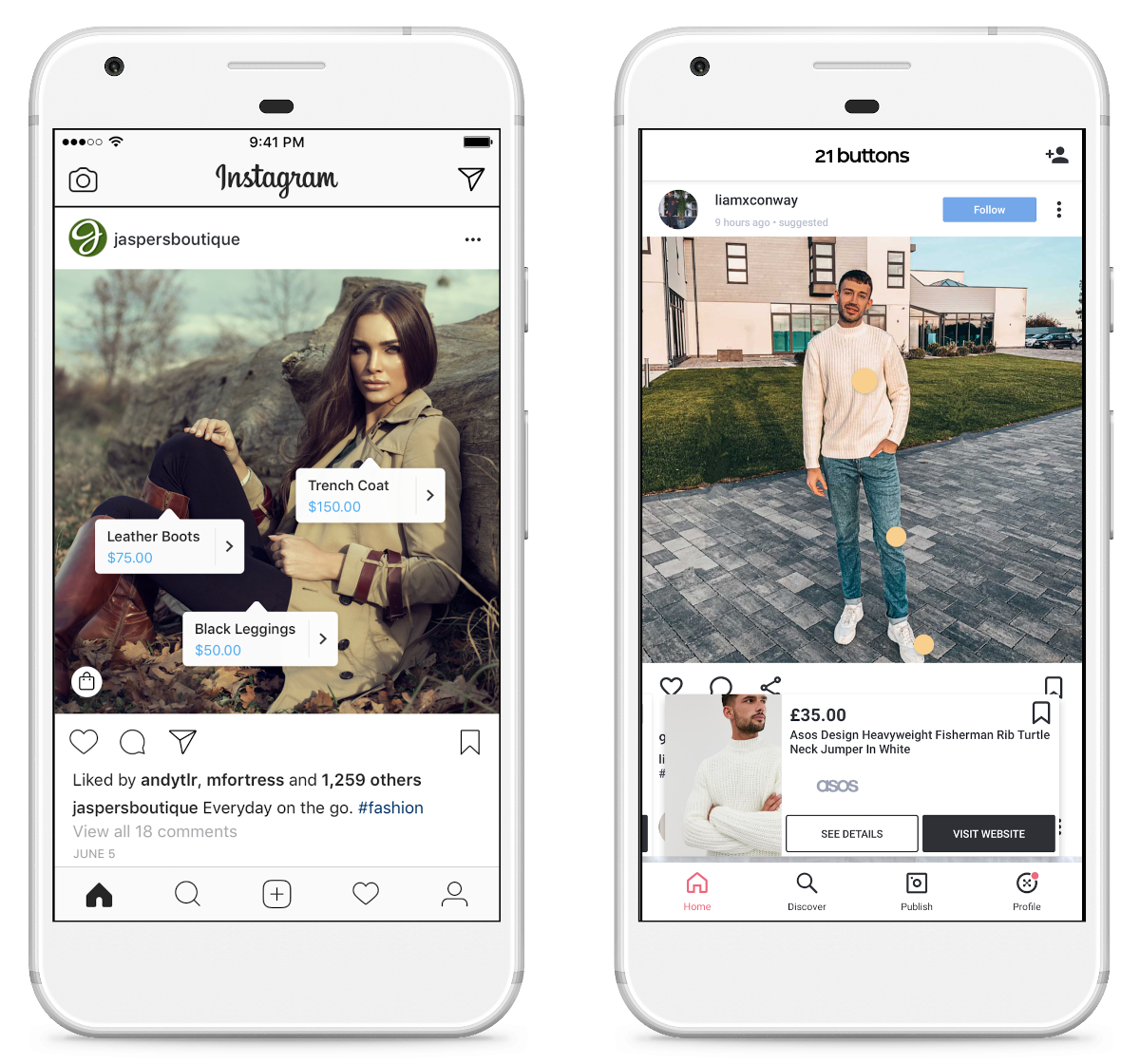 W 21 Buttons każdy użytkownik ma swój unikalny reflink, dzięki czemu:
Influencer zarabia na sprzedaży, którą wygeneruje swoimi stylizacjami.
Reflink jest generowany automatycznie przez 21 Buttons i również przez ten serwis zarządzany jest sam system poleceń. Użytkownik musi jedynie wybrać z listy produkt, który chce oznaczyć — i to wszystko.
21 Buttons stanowi pośrednika pomiędzy sklepem, a influencerem. Dlaczego warto, abyś jako menadżer rozważył współpracę z 21 Buttons?
21 Buttons stanowi dodatkowy kanał sprzedaży dla e-commerce.
Ciekawą koncepcją serwisu 21 Buttons jest to, że na polecaniu produktów zarabiać może każdy użytkownik — i to od razu po rejestracji. Serwis przejmuje kontrolę nad rozliczeniami, a wypłatę influencerzy otrzymują z użyciem PayPal.
Możliwość zarabiania prowizji od wygenerowanej sprzedaży przyciąga influencerów, którzy tworzą bardzo ciekawe stylizacje, a ich profile stanowią swoiste lookbooki.
Dla e-commerce to świetny sposób na marketing bez ryzyka, gdyż rozliczany jest jedynie za efekt.
Niestety takich serwisów czy kanałów pozyskania klientów nie ma zbyt wielu. W większości przypadków płacisz za pozyskany ruch i to na Tobie spoczywa obowiązek doprowadzenia do konwersji.
Nie popełnij zatem błędów, przez które potencjalni klienci porzucają koszyk:
Szeroki zasięg 21 Buttons
21 Buttons działa zarówno na telefonie, jak i na przeglądarce komputera: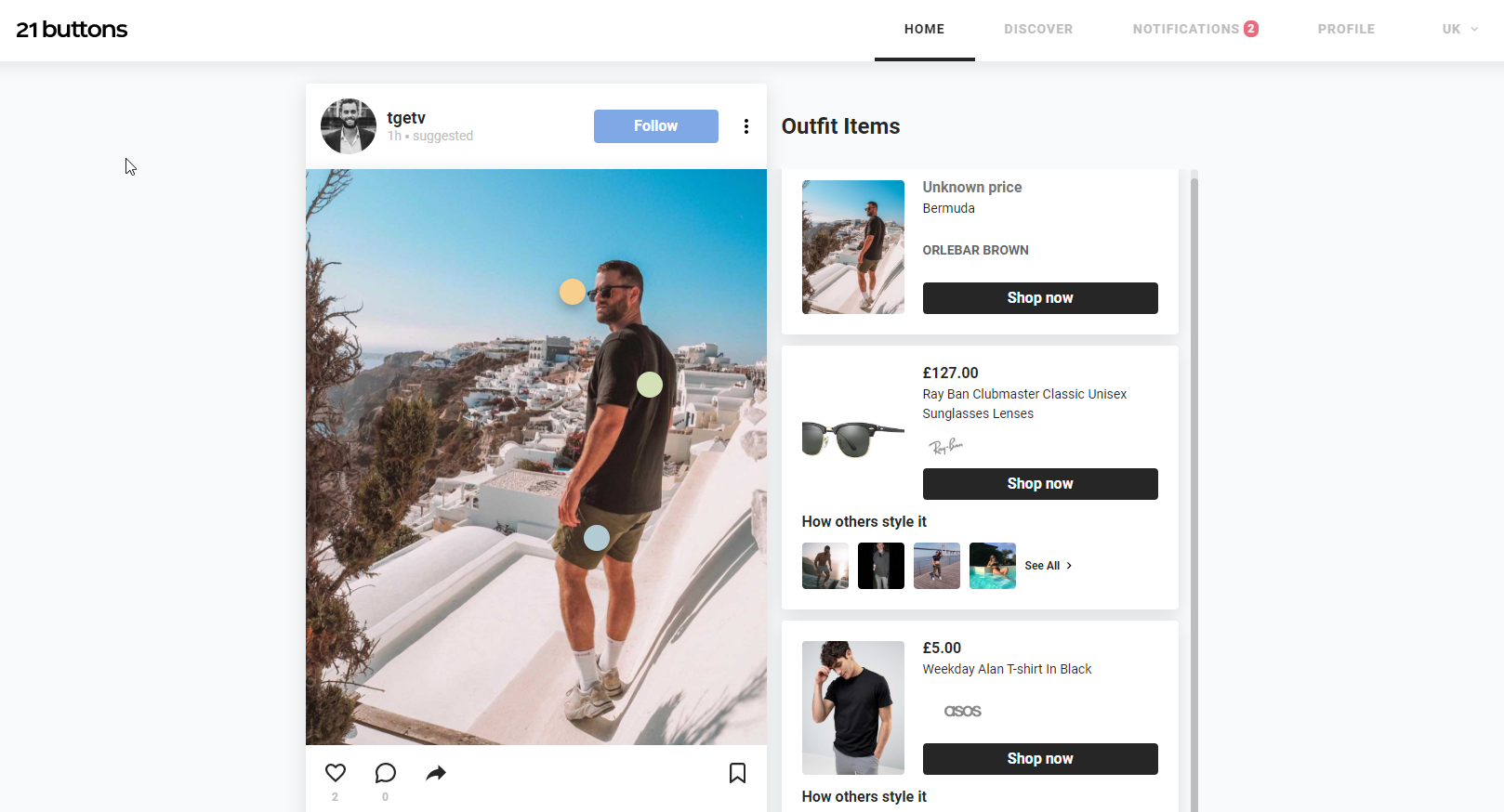 Szczególnie obecność na smartfonach ma duże znaczenie, gdyż liczba zakupów dokonywanych on-line na tych urządzeniach wciąż rośnie. W Polsce już 61% osób kupuje na smartfonach:

Grafika pochodzi z raportu e-commerce 2019
Serwis posiada kilka ciekawych funkcji takich jak:
możliwość oznaczania produktów wielu marek na jednym poście

ustawienie ulubionego stylu ubioru, co wpływa na prezentowane treści

pasek wyszukiwania z opcjami filtrowania

zapisywanie przedmiotów z wybranych stylizacji "na później"
Bogata funkcjonalność serwisu przekłada się na wysokie zaangażowanie użytkowników grupy docelowej.
Wartym zauważenia jest również fakt, że zasady w serwisie są takie same dla wszystkich. Na polecaniu produktów zarabia każdy. Nie mamy zatem sytuacji jak w przypadku Instagrama, gdzie nie jesteśmy w stanie stwierdzić, czy dany post jest sponsorowany i influencer na nim zarabia.
Sprawdzony sposób na zwiększenie konwersji w sklepie: