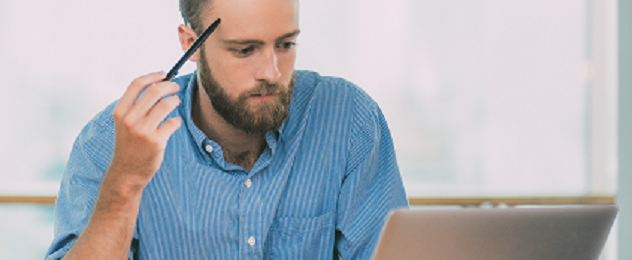 Każdą osobę prowadzącą sklep internetowy interesuje skuteczność e-maili zawierających prośbę o opinię. Szczegółowe informacje na ten temat zawiera zakładka Wyniki, dostępna w systemie My Trusted Shops. Tłumaczymy, jak działa ta funkcjonalność.
Niezależnie od kanału, który został wykorzystany do wysłania prośby do klientów (może być to Trustbadge® lub Review Collector), zawsze warto wiedzieć, ile opinii faktycznie otrzymaliśmy. W zakładce Wyniki takie informacje będą przejrzyście zaprezentowane.

W polu Przegląd znajduje się informacja, ile e-maili wysłano w ciągu ostatnich 7, 30 lub 90 dni i ile opinii klientów dotyczących sklepu i/lub produktów otrzymano.
Aby wyświetlić zakładkę Wyniki, należy zalogować się na swoje konto My Trusted Shops i wybrać opcję "Opinie – Opinie sklepu internetowego – Wyniki".
Eksport opinii do tabeli Excel
Regularnie analizujemy potrzeby i sugestie sprzedawców internetowych. Jedną z takich próśb była możliwość eksportu opinii z konta My Trusted Shops do tabeli Excel, aby następnie kontynuować analizę lub np. przygotować prezentację. Teraz dajemy taką możliwość. Na stronie konta My Trusted Shops umieściliśmy przycisk "Eksportuj" w górnej części listy opinii o sklepie lub produktach.

Wystarczy go kliknąć, aby uzyskać listę opinii w formie tabeli. Oczywiście użytkownik może dowolnie filtrować lub sortować zawartość listy, np. według daty lub oceny.
Zbieranie opinii o sklepie lub o produktach za pomocą Review Collector
Jeśli zamierzasz zbierać opinie jednocześnie o swoim sklepie oraz o produktach, dotychczas było to możliwe za pośrednictwem usługi Trustbadge. Od teraz możesz wysyłać do klientów prośby o opinie dzięki narzędziu Review Collector.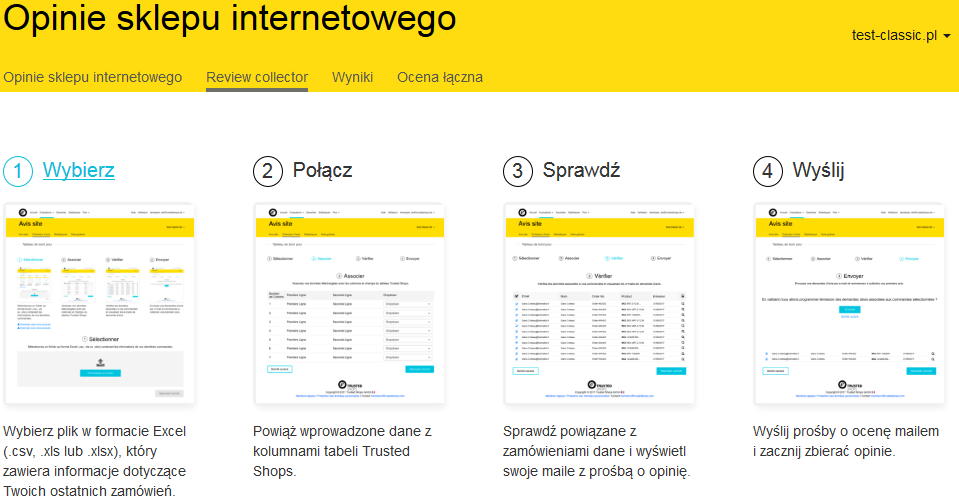 Podstawowa zasada działania narzędzia Review Collector pozostaje bez zmian: Wystarczy kilka kliknięć, aby do wielu klientów wysłać prośby o opinię w formie e-maila – bez wymaganego wcześniej nakładu pracy związanej z integracją. Należy tylko wprowadzić szczegóły zamówień w formie pliku Excel, sprawdzić dane i już można wysłać zapytania.
Narzędzie Review Collector znajduje się na koncie My Trusted Shops w menu "Opinie – Opinie sklepu internetowego – Review Collector".
Prośby o opinię z ograniczeniem czasowym
Oczywiście klienci nie chcą otrzymywać zbyt wielu e-maili. Dotychczas stali klienci, którzy w krótkim odstępie czasu zamawiali ponownie ten sam produkt, taki jak lekarstwa, żywność lub karmę dla zwierząt, po każdym zakupie otrzymywali e-mail z prośbą o opinię. Aby tego uniknąć, można ograniczyć liczbę zapytań o opinię.

Administrator sklepu samodzielnie określi, ile maksymalnie próśb o opinię otrzyma klient danego sklepu w zdefiniowanym okresie czasu. Jeśli jeden z klientów raz w tygodniu zamawia tę samą karmę dla zwierząt, można ograniczyć liczbę e-maili z prośbą o opinię do jednego w ciągu 60 dni, aby nie spamować skrzynki pocztowej użytkownika cotygodniowym mailem o praktycznie identycznej treści.
Ustawienia można konfigurować na swoim koncie My Trusted Shops w sekcji "Opinie – Konfiguracja – Zbieranie opinii".
W razie pytań lub sugestii dotyczących zaprezentowanych funkcji prosimy o przesłanie wiadomości na adres productfeedback@trustedshops.com.