Dziś już 44% Polaków ma smartfony.[1] Ruch mobilny Internecie w 2014 roku wyniósł 31 proc., a łączna liczba smartfonów i tabletów w rękach Polaków to ponad 15 milionów sztuk! Oznacza to, że co drugi dorosły Polak na co dzień używa urządzeń mobilnych. 59 proc. właścicieli smartfonów w Polsce deklaruje, że korzysta z nich, aby planować lub robić zakupy.[2] Zakupy, które na ogół poprzedzone są poszukiwaniem informacji i opinii o produkcie – 84 proc. w tym celu używa wyszukiwarki Google. [3]
Moda na mobile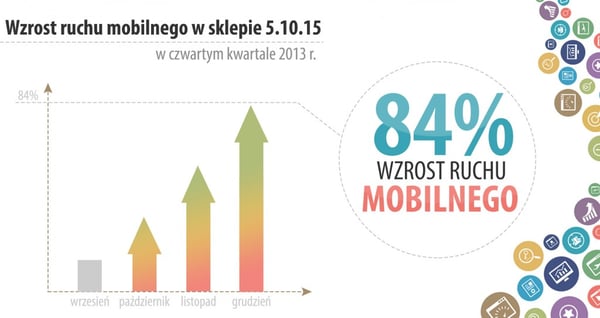 Ten potencjał dostrzegł sklep 5.10.15 wprowadzając możliwość zakupów mobilnych zarówno na stronie mobilnej jak i w aplikacji dedykowanej. We wrześniu sklep 51015kids.eu urchomił stronę mobilną, a chwilę później wypuścił na rynek aplikacje na Androida i iOSa. W ostatnim kwartale 2013 r. odnotowywano regularny wzrost ruchu mobilnego oraz trzykrotny wzrost konwersji. Liczba unikatowych wejść mobilnych w sklepie 51015kids.eu wzrosła o ponad 84 proc. Zoptymalizowana pod mniejsze ekrany strona została pozytywnie przyjęta przez klientów nowych jak i powracających.
Trafiaj prosto do kieszeni klienta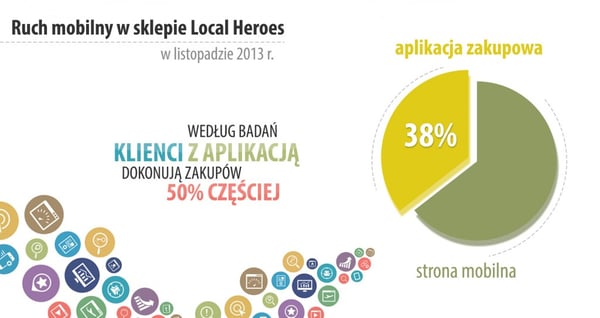 Idealnym środowiskiem dla aplikacji są smartfony młodych ludzi. Skleplocalheroesstore.com, którego główną grupę docelową stanowią osoby w wieku 13-17 lat, wprowadził stronę mobilną wraz z aplikacjami w podobnym czasie co 51015kids.eu. Klienci Local Heroes bardziej jednak przywiązali się do aplikacji, w samym listopadzie 38 proc. zamówień mobilnych wykonanych zostało za pomocą aplikacji. W ciągu trzech miesięcy aplikację pobrano ok. 3500 razy! Dzięki temu Local Heroes może wysyłać notyfikacje PUSH, informując w nich o nowych kolekcjach, zniżkach czy wyprzedażach. Notyfikacja PUSH to informacja, która wyświetla się bezpośrednio na ekranie telefonu klienta, dostępna jedynie w aplikacjach.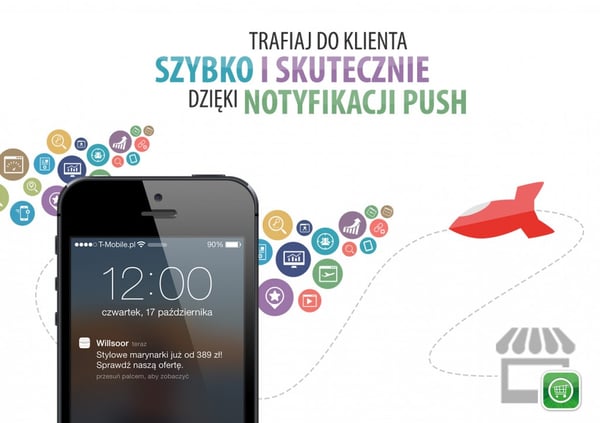 Obecność w mobile to Twój obowiązek
Na początku roku 2015 osiągniemy poziom 60%.[4] Jak wynika z badań przeprowadzonych na zlecenie firmy PayPal rynek mobile commerce w Polsce rośnie w tempie
ponad 60 proc.
rocznie. W 2015 roku ma być wart ponad
3 mld zł.
Nic w tym dziwnego skoro Polacy korzystają z telefonu średnio
40 razy dziennie
, a
9 proc.
przyznaje się do regularnego sprawdzania cen produktów na telefonie.
[
5] W tej sytuacji posiadanie mobilnej wersji sklepu jest nieuniknione.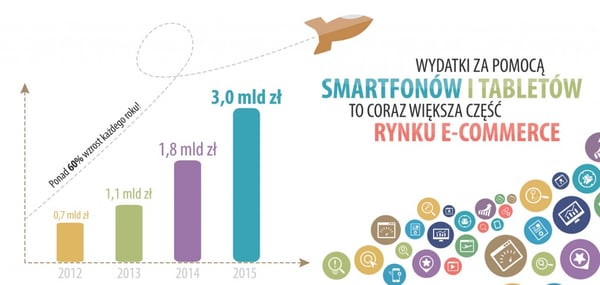 Artykuł przygotowała firma Shopgate.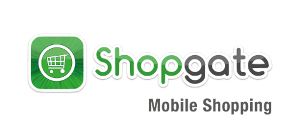 Shopgate jest światowym liderem wśród firm zajmujących się zakupami mobilnymi, tworząc najwyższej jakości strony mobilne oraz aplikacje na smartfony i tablety. Ponad 5.200 sklepów na całym świecie korzysta z rozwiązań Shopgate, w Polsce m.in. takie firmy jak jak 5.10.15 czy Ochnik. Globalnymi partnerami Shopgate są takie potęgi jak MasterCard, PayPal czy PayU. Firma obecnie jest dostępna w USA, Niemczech, Polsce, Szwajcarii, Francji i Wielkiej Brytanii.
Chcesz dowiedzieć się więcej - z przyjemnością Ci doradzimy! Zadzwoń +48 (22) 3071494 lub napisz na biuro@shopgate.com.
Shopgate. Pełna mobilizacja.
[1] TNS Polska Mobile Life 2013
[2] "Polacy a smartfony"; URL: http://www.egospodarka.pl/95431,Polacy-a-smartfony,1,39,1.html
[3] http://wyborcza.biz/biznes/1,101562,14670237,Polacy_coraz_chetniej_uzywaja_smartfonow_i_t abletow_.html
[4] TNS Polska Mobile Life 2013
[5] http://mamstartup.pl/pressroom/4752/paypal-mobile-commerce-to-terazniejszosc