Jako właściciel sklepu chętnie obserwujesz ruch na swojej witrynie. Jeśli jest duży i generuje konwersje – świetnie. Jeśli odwiedzający Twoją witrynę opuszczają ją, nie dokonując żadnych zakupów, możesz zacząć podejrzewać, że coś jest z nią nie tak.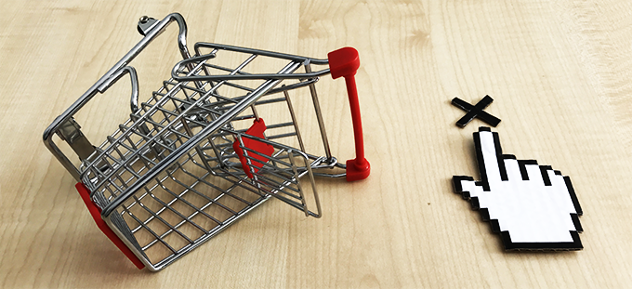 W dzisiejszym artykule przyjrzymy się infografice przygotowanej przez firmę Performance Card Service, przedstawiającej osiem powodów, dla których klienci opuszczają witryny internetowe, oraz szybkie sposoby, aby temu zaradzić.
Infografika na końcu artykułu
Nieatrakcyjnie wyglądająca witryna internetowa
Omawialiśmy ten temat w jednym z naszych poprzednich artykułów. Psychologia w projektowaniu graficznym jest niezwykle istotną kwestią, jeśli chodzi o zachęcenie odwiedzających witrynę do zakupów.
Jeśli Twoja witryna internetowa wyglądem przypomina witryny z lat dziewięćdziesiątych, Twój sklep najpewniej stanie się obiektem żartów, a odwiedzający będą go opuszczać, niczego nie kupując. Nowocześnie wyglądająca witryna wcale nie musi być wyszukana ani skomplikowana. Witryny o minimalistycznym wyglądzie także mogą być bardzo skuteczne.
Nieciekawe opisy produktów
Jeśli zależy Ci na konwersji klientów, zadbaj, aby Twój sklep był zaopatrzony w ciekawe i oryginalne towary. Stwórz również własne opisy produktów – może okazać się to bardzo pomocne w kontekście pozycjonowania strony. Przeprowadź analizę słów kluczowych i zastanów się, które z nich należałoby umieścić w opisach produktów, aby klient mógł odnaleźć je w Google.
To samo dotyczy zdjęć produktów.
Jeśli używasz tych dostarczonych przez producenta, możesz mieć pewność, że każdy, kto sprzedaje jego wyroby, również z nich korzysta. Pamiętaj, że konkurencja, która ma własne zdjęcia, jest o jeden krok przed Tobą. Witryny wyróżniają się w wynikach wyszukiwania, jeżeli oferują oryginalną zawartość zarówno pod względem zdjęć, jak i treści. Postaraj się więc i stwórz bardziej kreatywne strony produktów (lub zatrudnij kogoś, kto zrobi to za Ciebie!).
Utrudnione poruszanie się po witrynie
Z pewnością bez trudu poruszasz się po własnej witrynie. Znasz ją od momentu jej powstania i prawdopodobnie jest już dla Ciebie niczym drugi (wirtualny) dom. Pamiętaj jednak, że warto raz na jakiś czas zapytać o opinię na temat witryny kogoś spoza firmy. Dowiedz się, czy poruszanie się po Twojej witrynie rzeczywiście nie sprawia problemów i czy łatwo można wszystko znaleźć bez nadmiernego klikania.
Witryna nieprzystosowana do urządzeń mobilnych
Czy dostosowałeś swoją witrynę do urządzeń mobilnych? Jeśli nie, zrób to koniecznie! Coraz więcej użytkowników robi zakupy w pośpiechu, używając do tego smartfona czy tabletu.
Kupujący, którzy korzystają z urządzeń mobilnych oczekują bezproblemowych zakupów. Niezwykle istotne jest więc, aby Twoja witryna internetowa była responsywna. Jeśli klient stwierdzi, że wersja mobilna twojej strony jest niedopracowana lub niegodna zaufania, istnieje duże prawdopodobieństwo, że nie dokona transakcji przy pomocy urządzenia mobilnego. Zaprzepaścisz więc szansę na zatrzymanie klienta.
Szybkie rozwiązania
Nie wszystkie potencjalne przyczyny opuszczania witryny przez klientów opisane w infografice zostały omówione w naszym artykule. Przyjrzyjmy się jednak kilku sposobom, w jakie można rozwiązać typowe problemy, które wymieniliśmy.
Nie proś o zbyt wiele danych osobowych
Jedną z rzeczy, które mogą powstrzymywać klientów od zakupów w Twoim sklepie, są formularze, które muszą wypełnić. Może ma to związek z nowym rozporządzeniem o ochronie danych osobowych lub z aferą Cambridge Analytica, ale ludzie stali się bardziej ostrożni, jeśli chodzi o ujawnianie zbyt wielu danych osobowych. Zadbaj o to, aby ograniczyć ilość informacji, jaką klient musi podać podczas zakupów. Co więcej, mniejsza ilość wymaganych informacji znacznie skróci proces zamówienia, zwiększając szansę na udaną konwersję.
Pamiętaj o przejrzystości
Przejrzystość jest jedną z najważniejszych wartości wyznawanych przez Trusted Shops, dlatego odgrywa ona tak istotną rolę podczas procesu przyznawania naszego znaku jakości. Niektórzy ludzie lubią niespodzianki, ale nikt nie lubi dodatkowych opłat widocznych dopiero pod koniec procesu zamówienia. Upewnij się, że zawartość Twojej witryny oraz poszczególne etapy składania zamówienia nie wprowadzają klienta w błąd, choćby nieumyślnie.
Podsumowanie
Warto pamiętać, że potencjalnych klientów może zniechęcać wiele różnych kwestii związanych z Twoją witryną internetową. Chociaż mogą się one czasem wydawać nieistotne, wiele z nich sprawia, że odwiedzający rezygnują z zakupów w Twoim sklepie. Zdobądź przydatne informacje od rodziny i znajomych i zmodernizuj swój sklep internetowy tak, aby odwiedzające go osoby zostały stałymi klientami.