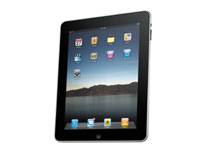 "Handel z kanapy" – tak szwajcarski doradca e-Commerce Thomas Lang określił model biznesowy, korzystający z tabletów. Coraz więcej osób w każdym wieku nabywa tablety. Badania w USA wykazują, że tablety stają się coraz bardziej interesujące dla sprzedawców internetowych. Gwałtownie bowiem rośnie liczba użytkowników tej nowej generacji komputerów.
Warto się do tego przygotować.
Już w przyszłym roku ponad 40 milionów obywateli USA będzie posiadało iPada lub porównywalny produkt. Stanowi to poważny odsetek całego społeczeństwa, wynoszący 12,8 procenta. W bieżącym roku badacze rynku w eMarketer liczą się z udziałem na poziomie 7,6 procenta (czyli 24 miliony obywateli amerykańskich). W zeszłym roku 9,7 miliona obywateli USA posiadało tableta (co stanowi 3,1 procenta).
Dlaczego tablet?
Dla sprzedawców internetowych szczególnie interesujące są powody, dla których zainteresowanie amerykańskich konsumentów iPadem jest tak duże. Największy uznaniem, wskazanym przez 64 procent respondentów, cieszy się surfowanie po sieci. Na następnych miejscach plasuje się przeglądanie zdjęć i wideo oraz słuchanie muzyki (58 procent) i korzystanie z aplikacji app (54 procent). Zakupy z iPadem to dla 41 procent Amerykanów powód nabycia tableta.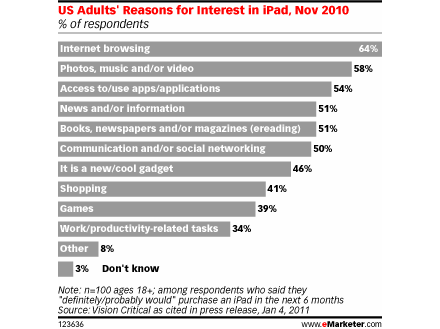 Udział osób, chcących wykorzystać iPada do zakupów, jest z całą pewnością znacznie większy. Większość specjalistów z dziedziny e-Commerce jest zgodna – zakupy z iPadem będą dokonywane z wykorzystaniem apps.
Udane aplikacje zakupowe zapewniają wartość dodaną
Thomas Lang zestawił dwie ważne wskazówki (tekst w języku niemieckim) dla sprzedawców internetowych, którzy zamierzają oferować możliwość zakupów za pośrednictwem aplikacji na iPada.
Taka aplikacja musi prawidłowo wykorzystywać możliwości urządzeń mobilnych (lokalizator GPS, kamera, czujnik pochylenia, dostęp do kontaktów itp.)
Koncepcje sprzedaży w poszczególnych kanałach mobilnych muszą się różnić między sobą, gdyż w przeciwnym razie tworzenie oddzielnych aplikacji do tabletów nie ma sensu.
Autorem tekstu jest: Olaf Groß