Koncepcja reklamowa Richarda Rosena pod nazwą "Velocity" zapewne znana jest niektórym prowadzącym sklepy internetowe. Informacja dla tych, którzy jej nie znają: Rozwiązanie "Velocity" polega na tym, że wzorce transakcyjne typowe dla klienta są odfiltrowywane w ciągu zdefiniowanych okresów. Co to znaczy w przełożeniu na język sklepu internetowego?

Ile przeszkód stawiacie Państwo na drodze pomiędzy klientami a przyciskiem zamówienia?
Parę lat temu na konferencji poznałem Kelly Mooney z amerykańskiej agencji Resource Interactive. Mówiła na temat O.P.E.N.- Framework do prowadzenia sprzedaży w sieci 2.0: On-Demand, Personal, Engaged, Networked.
Mooney podkreśla, że wszystkie "touchpointy" - punkty styczności pomiędzy klientem a sprzedawcą - muszą być konstruowane przede wszystkim z uwzględnieniem dwóch aspektów: muszą one zawierać albo bezpośrednią motywację do dokonania zakupu, albo satysfakcjonującą wartość dodaną. Bezpośrednią motywację można osiągnąć na przykład za pomocą ofert ograniczonych czasowo lub poprzez nadzwyczaj dobre, zorientowane na uzyskanie korzyści teksty reklamowe. Satysfakcjonujące wartości dodane to przykładowo narzędzia konsultacyjne.
Prócz tego istnieją jednak trzy zasadnicze elementy, z którymi coraz mocniej musi być związany proces dokonywania zakupu:
Triggered (stymulacja):Touchpoint musi rozpoznawać potrzeby klienta, na przykład poprzez zastosowanie wtyczek społecznościowych. Sieć IKEA w Anglii wylansowała aplikację dla YouTube, która łączy profil na Facebooku z kilkoma dodatkowymi informacjami, tworząc w ten sposób "idealną" sypialnię. Inne elementy stymulujące mogą być kształtowane w oparciu o określone otoczenie użytkownika (mobilne bądź stacjonarne) lub też poprzez łączenie ich ze sobą (chociażby poprzez Googles Local Search).
Shareable (dzielenie się):W przyszłości coraz większe znaczenie będzie miało zapewnianie klientom możliwości dzielenia się konkretnymi informacjami na temat produktów. Może to mieć formę prostego przycisku "Lubię to", może to być także szczegółowo dopracowana i wystylizowana koncepcja, która w ostatnim czasie pojawiła się już w firmie Frankonia. Firma Sears w USA w swoich dziesięciu filiach zainstalowała obok kabin przebieralni terminale Skype, aby umożliwić klientom na bieżąco szybkie i bezpłatne konsultowanie doboru ubrań ze swoimi przyjaciółmi.
Shoppable (przygotowanie do zakupu):Każdy touchpoint musi proponować bezpośrednią drogę prowadzącą do zakupu. Tak, jak w Hamburgu uczyniła to za pomocą plakatów księgarnia internetowa Weltbild - tytuł książki + kod QR prowadzą do próbki tekstu połączonej z możliwością dokonania zamówienia. Można też oczywiście zastosować inny rodzaj wezwania klienta do działania, jednak takiego , które będzie stanowiło jednocześnie przygotowanie do kolejnego etapu sprzedażowego.
Właściwie wszystko to jest bardzo logiczne. Czy jednak przyjrzeliście się Państwo kiedyś swoim stronom sklepowym, działaniom reklamowym, swojemu sklepowi czy stoiskom pod tym właśnie kątem?
O autorze: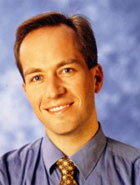 Martin Groß-Albenhausen jest redaktorem naczelnym uznanego magazynu branżowego "Der Versandhausberater" i jednym z wiodących ekspertów w dziedzinie handlu wysyłkowego, marketingu bezpośredniego i handlu elektronicznego. "Der Versandhausberater" od 1961 r. co tydzień informuje o najnowszych trendach i rozwoju w handlu wysyłkowym w Niemczech.