Sprzedawcy wciąż testują nowe technologie, aby ułatwić klientowi wybór podczas zakupów odzieży w Internecie. Mają nadzieję na wyższą wartość koszyków zakupowych oraz na zmniejszenie choć po części olbrzymiej liczby zwrotów.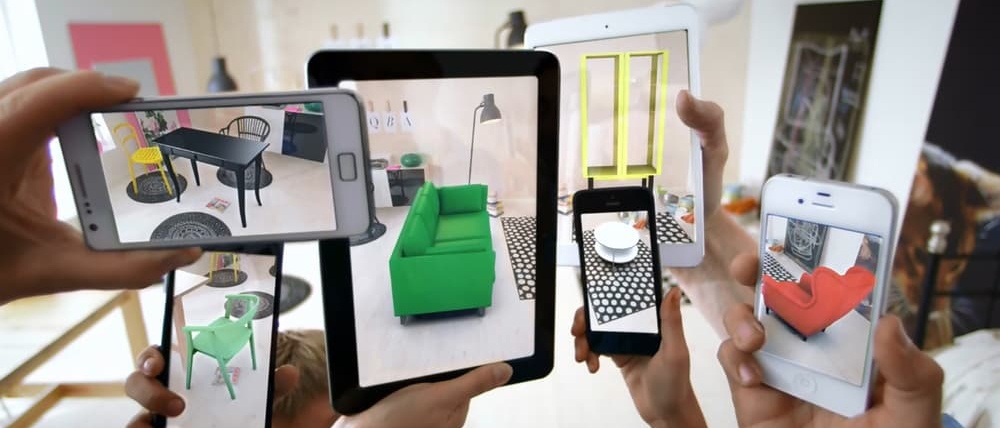 Ta nadzieja może jednak okazać się złudna.
Od kilku lat sprzedawcy internetowi posługują się nowoczesną technologią internetową wspierającą zakupy odzieży w Internecie. Jednym z jej celów jest w wielu wypadkach optymalizacja liczby zwrotów. Na przestrzeni lat w branży mody powstał specyficzny model zwrotów:
Zwrot artykułów zamówionych "na wybór"
Daną sztukę odzieży klient zmawia nie raz, lecz od razu w kilku egzemplarzach, jednak w różnych rozmiarach, kolorach i wersjach. Klient zatrzymuje to, co mu się podoba i dobrze leży, a pozostałe rzeczy odsyła.
Dla sprzedawców internetowych tego typu zwroty mogą stanowić pewien problem, ponieważ odesłany towar trzeba przejrzeć i ponownie zapakować. Do tego dochodzą koszty związane z procesem zarządzania zwrotami oraz ponownym magazynowaniem.
Dlatego sprzedawcy internetowi poszukują rozwiązań, mających na celu zmniejszenie liczby zwrotów już podczas procesu składania zamówień. Stosowane rozwiązania są wielorakie:
Cyfrowy manekin
Jest to model o statystycznie przeciętnych wymiarach ciała, występujący zazwyczaj w wariancie żeńskim i męskim, pełniący rolę cyfrowego manekina krawieckiego. Na ten model użytkownicy mogą nakładać poszczególne sztuki odzieży. Manekina można oglądać w trzech odsłonach: z przodu, od tyłu i z profilu.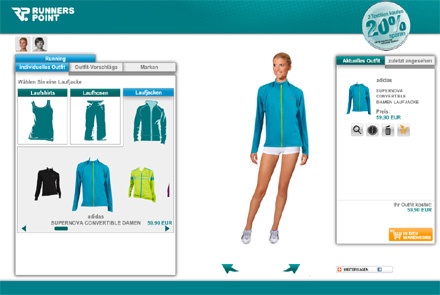 Wirtualny pokaz mody
Inne rozwiązanie oferowane jest na platformie KnickerPicker.com, sklepie internetowym sprzedającym bieliznę i odzież sportową. Tutaj model manekina nie jest oparty na fotografii sztywnego modelu, lecz na filmie wideo.
Z pięciu przedstawionych modeli o różnych proporcjach ciała użytkownicy mogą wybrać ten, który najbardziej odpowiada ich sylwetce. Istnieje możliwość wyboru specjalnych produktów z asortymentu, które następnie prezentowane są przez modele. Użytkownik może przy tym obracać nimi dookoła, przybliżać je lub oddalać. W przeciwieństwie do statycznego, sfotografowanego modelu, wirtualny pokaz mody, na który składają się nagrania wideo z prawdziwymi modelkami i modelami, jest bardzo realistyczny.
Augmented reality
Tłumacząc z języka angielskiego, termin ten oznacza "rozszerzoną rzeczywistość". Zasada rozwiązań stosowanych na rynku jest w swej istocie identyczna: użytkownik staje przed kamerą internetową, która filmuje jego ciało i przekazuje ten obraz do komputera lub innego urządzenia końcowego.
Następnie użytkownik może "wyświetlać" poszczególne elementy odzieży na własnym ciele i dzięki temu otrzymać "ubrany", cyfrowy portret własny. Przykładowo od kilku miesięcy Otto.de testuje tego rodzaju wirtualną przymiarkę na swojej stronie dla fanów jako Facebook App. Z podobnych aplikacji korzystają także niektóre sklepy optyczne prowadzące wysyłkową sprzedaż okularów.
Problem z krojem
Czy takie rozwiązania mogą pomagać w zmniejszeniu liczby zwrotów z zamówień "na wybór"? Z pewnością. Wprawdzie nie ma jeszcze niepodważalnych studiów przypadków dla sklepów internetowych, lecz obrany kierunek jest właściwy.
Niemniej sprzedawcy internetowi nie powinni spodziewać się cudów po tych aplikacjach. Wszystkie trzy rozwiązania przeciwdziałają tylko zwrotom, kiedy dany artykuł się nie podoba, czyli na przykład gdy kolor nie pasuje do danego typu. Najważniejszy problem w sprzedaży internetowej artykułów odzieżowych pozostaje jednak nierozwiązany: zwrot spowodowany faktem, że zamówiony artykuł nie pasuje.
Po pierwsze dzieje się tak dlatego, że na świecie nie ma jednakowych systemów rozmiarowych. Sprzedawcy internetowi próbują to niwelować poprzez zamieszczanie obszernych tabel z rozmiarami na stronach swoich sklepów. Poza tym także różnego rodzaju kroje są dla wielu klientów problematyczne. Podczas dopasowywania odpowiedniego rozmiaru problemy związane z krojem niekoniecznie spowodowane są jednak nieprawidłowymi wymiarami ciała.
Na przykład, pomimo identycznego rozmiaru męska koszula produkcji włoskiej jest mniejsza niż koszula produkcji amerykańskiej. Powodem są różne kroje używane podczas procesu produkcyjnego. Podobnie, taliowane T-shirty w rozmiarze L mogą danemu klientowi pasować, a nietaliowane mogą być za szerokie w okolicach brzucha.
Kłopot leży zatem mniej po stronie klienta, a bardziej po stronie managerów działu zakupu. Na przykład, gdy dane na temat kroju zostaną włączone bezpośrednio w dane podstawowe określonego artykułu, wówczas klient może je wyświetlić na stronie ze szczegółowymi danymi o produkcie. Możliwa byłaby także integracja informacji o kroju z wyżej przedstawionymi aplikacjami doradzającymi.
Jeśli ze względu na krój dana sztuka odzieży jest bardzo szeroka, wówczas system sklepu internetowego może na przykład zasugerować, by użytkownik zamówił rozmiar o jeden numer mniejszy.
Perspektywa na przyszłość
Wirtualny doradca w zakresie rozmiarów dopiero za kilka lat zagości na dobre w sklepach internetowych. Duży potencjał mają aplikacje na bazie augmented reality. Przede wszystkim połączenie wirtualnej przymiarki ze skanerem sylwetki, prezentowane podczas targów Consumer Electronics Show CES w Las Vegas, stanowi interesujący przykład dalszego rozwoju już istniejących rozwiązań.
Andrea Reitmeier, dziennikarka specjalizująca się w tematach związanych z Internetem, opisuje taką aplikację na swoim blogu (w języku niemieckim). Oisuje, jak dzięki mapowaniu ciała w 3D Bodymetrics przenosi przymierzalnię do salonu za pomocą telewizora. Czujniki mierzą wielkość i kształt sylwetki danej osoby, która następnie może wybrać w sklepie idealnie pasujące ubranie. Podobna zasada znana jest już w Microsoft Kinect.
Gdy tego rodzaju aplikacje zostaną jeszcze uzupełnione o informacje na temat kroju, wówczas będzie można znacznie zmniejszyć liczbę zwrotów.