Jakie zyski dla e-sklepu generuje klient pozyskany za pośrednictwem wyszukiwarki Google a jakie klient pozyskany z Twittera? Powyższą kwestią zainteresowała się Custora – amerykańska agencja zajmująca się e-handlem. Agencja przeanalizowała tzw. customer lifetime value (wartość klienta w danym czasie) w odniesieniu do poszczególnych kanałów reklamy.


Wskaźnik CLV
Ulubionymi klientami sprzedawców internetowych są tacy, którzy w trakcie trwania kampanii reklamowej generują największy zysk dla danego e-sklepu. Skąd się jednak biorą tak wartościowi klienci?
Odpowiedzi na powyższe pytanie dostarcza agencja Custora, która przy formułowaniu wniosków posłużyła się danymi z USA. Według raportu, najwyższą wartość wskaźnika customer lifetime value (CLV) mają klienci, którzy trafiają do sklepów internetowych poprzez wyszukiwanie organiczne, czyli wyszukiwarki. Jak wynika z badania, wskaźnik CLV wynosi w przypadku wyszukiwarek 54% powyżej średniej – E-Commerce Customer Acquisition Snapshot. Na drugim i trzecim miejscu uplasowały się odpowiednio: formy reklamy oparte na systemie CpC (+37%) oraz e-mail marketing (+12%).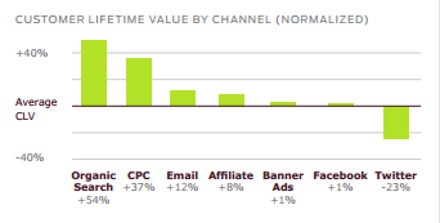 Wyniki zgromadzono na podstawie analizy danych 72 milionów klientów z 86 sklepów internetowych w USA. Wskaźnik CLV jest ważnym miernikiem wartości klienta w przypadku sprzedaży internetowej. Analizując wskaźnik CLV, sprzedawca internetowy dokładnie widzi zyski, jakie osiągnął w trakcie trwania całej kampanii reklamowej w kontekście poszczególnych klientów.
W branży e-commerce analiza wartości klienta odgrywa znaczącą rolę w procesie optymalizacji strategii sprzedaży między innymi w zakresie dostępności towarów i polityki zwrotów. Określenie wartości danego klienta ma również istotne znaczenie przy planowaniu kampanii reklamowych.
Aby zminimalizować ryzyko straty wynikające ze źle zdefiniowanej grupy docelowej, dla której prowadzone są kampanie reklamowe, marketing bezpośredni wymaga przeprowadzenia starannej segmentacji zasobów i działań. Dotyczy to zarówno kanałów online, jak i offline.
Wynika to z faktu, że klienci różnią się od siebie m.in. pod względem wiarygodności finansowej, rzetelności w płatnościach, a także częstotliwością dokonywania zwrotów. Liczba zamówień, ich przeciętna wartość oraz potencjalny zysk z kupowanych produktów to zaledwie niektóre cechy, które odróżniają poszczególnych klientów. Zadaniem marketingu baz danowego jest właściwa segmentacja zasobów w oparciu o dane na temat wartości konkretnych klientów.