Rozporządzenie o ochronie danych osobowych (RODO) stawia przed sprzedawcami internetowymi różne wymagania mające na celu ochronę danych osobowych konsumentów. Pliki cookie, formularze kontaktowe, zapisy do biuletynu - w sklepach internetowych istnieje wiele obszarów, które należy sprawdzić pod kątem zgodności z nowymi przepisami. Oto przegląd najważniejszych zagadnień.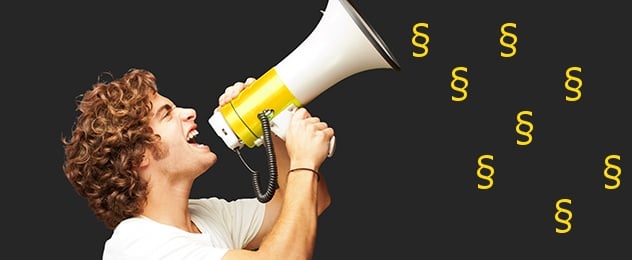 Rozważenie korzyści z plików cookie
Pliki cookie to małe pliki tekstowe zapisywane tymczasowo w przeglądarce na urządzeniu końcowym danego użytkownika. Zawierają one informacje, które mogą obejmować także jego dane osobowe, np. adres IP. Ich zapisywanie służy do analizy i rozpoznawania użytkownika podczas jego ponownej wizyty na stronie.
Pliki cookie jako dane osobowe są istotne z punktu widzenia RODO. Trzeba rozważyć korzyści, jakie niosą dla Ciebie jako sprzedawcy oraz stopień bezpieczeństwa, jaki należy zapewnić konsumentowi.

Obowiązek szyfrowania formularzy kontaktowych
Szyfrowanie danych powinno być już od dawna standardem w zakresie bezpieczeństwa danych. Różne formularze, np. zamówienia lub kontaktowe, w których użytkownik wpisuje swoje dane, bez wyjątku powinny być szyfrowane.
Oprócz tego administratorzy stron wciąż mają obowiązek jasnego oznaczania pól obowiązkowych, aby zbierać tylko te informacje, które są konieczne do złożenia zamówienia lub założenia konta klienta w sklepie. Zgodnie z zasadą minimalizacji danych nie należy zbierać danych "na zapas" tylko ograniczyć je do niezbędnego dla danego celu minimum. Udostępnianie danych, które nie są niezbędne dla danego celu, powinno być dla użytkownika opcjonalne i dobrowolne.
Transparentne informacje w polityce prywatności
Udostępnienie na stronie e-sklepu przejrzystej i transparentnej polityki prywatności jest najlepszym i najprostszym sposobem na spełnienie przewidzianych w RODO obowiązków informacyjnych. Są to informacje, jakie administrator danych (np. właściciel sklepu internetowego) musi przekazać osobom, których dane są przetwarzane.
Również w tym zakresie obowiązuje zasada, że konsument powinien być obszernie poinformowany o tym, co dzieje się z jego danymi osobowymi — i to nie tylko bezpośrednio na stronie internetowej i serwerach e-sklepu, lecz także u podmiotów trzecich, z którymi współpracujesz i którym przekazujesz dane swoich klientów. W polityce prywatności należy również opisać cel oraz podstawę prawną przetwarzania danych osobowych. W sklepach internetowych dane są wykorzystywane przede wszystkim do celów realizacji umowy a także w celach marketingowych (narzędzia analizy sieciowej, konto klienta lub biuletyny).
Właściwe sformułowanie zgody na otrzymywanie biuletynu
Biuletynów nie wolno wysyłać bez zgody adresata — to logiczne. Pod tym względem nic się nie zmienia. RODO wskazuje możliwości wyrażenia zgody w formie pisemnej, elektronicznej lub ustnej. Mechanizm wyrażania zgody może mieć charakter: checkbox'a, ustawienia w profilu, podpisu pod klauzulą, zgody ustnej, bądź jednoznacznego działania. Niezależnie od formy wyrażenia zgody administrator danych osobowych ma obowiązek poinformowania osoby, której dane dotyczą o swojej tożsamości oraz planowanym celu przetwarzania.
W klauzuli z oświadczeniem zgody należy zamieścić również odnośnik do polityki prywatności ze szczegółowymi informacjami o zasadach przetwarzania danych. Należy także poinformować o możliwości odwołania zgody w dowolnym momencie.
Masz pytania lub sugestie? Skontaktuj się z nami pod adresem members@trustedshops.com.