Jeśli posiadasz sklep internetowy, to z pewnością wiesz, że jednym z głównych celów prowadzenia takiej działalności jest zwiększenie sprzedaży online. Istnieje jednak wiele czynników, które mogą spowodować, że klient nie zdecyduje się na zrobienie zakupów. Jak zwiększyć konwersję w sklepie internetowym i zminimalizować ryzyko porzuceń koszyka? Przyjrzyjmy się elementom, które mogą wpłynąć na ostateczną decyzję kupującego.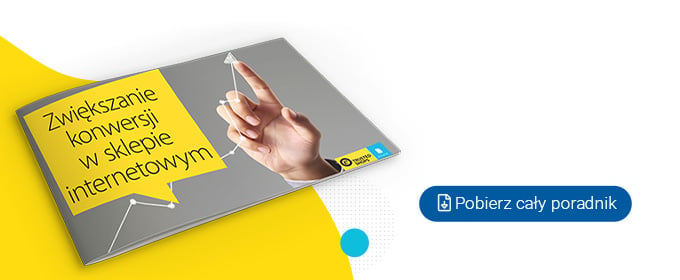 Poniższy tekst to fragment naszego poradnika "Zwiększanie konwersji w sklepie internetowym".
Koszyk zakupowy a zwiększenie sprzedaży w sklepie internetowym
Koszyk zakupowy to kluczowy element e-sklepu, którego znaczenie często bywa bagatelizowane. Oczywiście warto zainwestować w projekt i użyteczność strony, jednak proces zakupowy jest równie ważny. W końcu przejście do kasy to ostatni moment, w którym kupujący może się jeszcze wycofać.
Statystyki dotyczące "porzucania koszyka" otwierają oczy, a ich analiza może pomóc właścicielom sklepów przy optymalizacji konwersji w e-commerce. Badania ReadyCloud pokazały, że średni globalny wskaźnik porzuceń koszyka wynosi 75,52%, a według kupujących przyczyny są bardzo różne.
Jak zwiększyć sprzedaż internetową za pomocą koszyka?
Jak możesz zwiększyć konwersję w e-sklepie? 10 Aż 61% respondentów stwierdziło, że zrezygnowało z transakcji z powodu dodatkowych kosztów, np. związanych z wysyłką. Jak temu zaradzić? Zachowaj maksymalną przejrzystość. Jak już wspomnieliśmy, takie informacje powinny się znajdować na stronie produktu, aby klient mógł się z nimi zapoznać, jeszcze zanim doda dany artykuł do koszyka.
35% kupujących twierdzi, że porzuciło koszyk, ponieważ strona internetowa wymagała od nich założenia konta w celu sfinalizowania zakupu. W tym przypadku rozwiązanie jest dość proste: pozwól kupującym robić zakupy bez takiego obowiązku.
Pamiętaj o elementach budujących zaufanie
27% koszyków zostało porzuconych, ponieważ proces płatności był zbyt skomplikowany lub strona działała zbyt wolno. Aby temu zaradzić, musisz się dokładnie przyjrzeć procesowi płatności w swoim sklepie (i być może także na innych stronach). Upewnij się, że nie prosisz niepotrzebnie o zbyt wiele informacji. Postaraj się ograniczyć do niezbędnych danych – dzięki temu zwiększasz szanse na zwiększenie sprzedaży w sklepie internetowym.
Częstym powodem przerywania zakupów jest także brak zaufania. Elementy zwiększające wiarygodność, takie jak znaki jakości, opinie czy programy ochrony kupującego, także okażą się pomocne w zwiększaniu konwersji.
Współczynnik konwersji e-commerce – na co jeszcze zwrócić uwagę?
Koszyk zakupowy to tylko jeden z elementów mogących wpływać na zwiększenie sprzedaży online. Istotne z punktu widzenia klienta jest również m.in. dostosowanie strony sklepu do urządzeń mobilnych, intuicyjna nawigacja czy odpowiednio zoptymalizowana strona produktu.
Chcesz wiedzieć, co jeszcze możesz zrobić, by zwiększyć konwersję w sklepie internetowym? Pobierz nasz bezpłatny poradnik, w którym przeczytasz też m.in. czym jest i jak obliczyć wskaźnik konwersji.