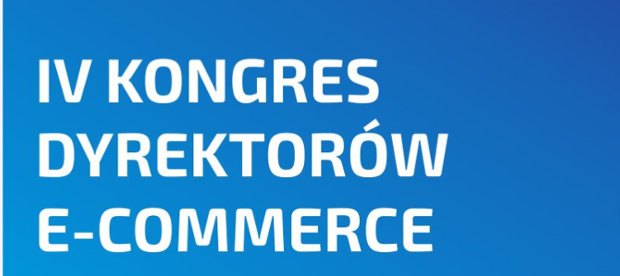 Kongres Dyrektorów E-commerce już po raz czwarty zjednoczy najważniejsze osoby branży. Konferencja obędzie się w dniach 24-26 maja br. w DoubleTree by Hilton we Wrocławiu. Program wydarzenia to cztery ścieżki tematyczne poświęcone najważniejszym strategiom rozwoju e-commerce.
Strategie rozwoju e-commerce to motyw przewodni tegorocznego kongresu. Będzie on stanowić punkt wyjścia dla dyskusji na temat różnych aspektów planowania wzrostu sprzedaży. Program wydarzenia obejmuje najważniejsze elementy biznesów on-line: organizację i logistykę, performance marketing, automatyzację i aspekty technologiczne oraz ekspansję zagraniczną. Agenda to prawie 20 godzin prelekcji, dyskusji fireside chat oraz prezentacji case sudies oraz dwie imprezy networkingowe w wyjątkowych miejscach Wrocławia.
Kongres Dyrektorów E-commerce to dla nas niepowtarzalna okazja do spotkania się z tymi, którzy tworzą i rozwijają polski e-handel. W tym roku do współpracy zaprosiliśmy ponad 30 managerów i kreatorów sprzedaży internetowej, którzy opowiedzą o swoim doświadczeniu oraz best practise w obszarze strategii rozwoju e-commerce. Cieszymy się, że możemy tworzyć wydarzenie, które powoli staje się jedną z bardziej popularnych platform wymiany wiedzy w branży. – komentuje Krzysztof Murzyn, Omnichannel Strategy Lead w Grupie Unity, szef merytoryki Kongresu Dyrektorów e-commerce.
Znamy już agendę wydarzenia. Na kongresowej scenie wystąpi 34 prelegentów, między innymi:
Michał Leszek – współwłaściciel i dyrektor marketingu firmy Lechpol, twórca marki Kruger&Matz,
Jakub Gierszyński – Dyrektor e-commerce w Dacathlon,
Wojciech Tomaszewski – Dyrektor Marketingu i E-commerce w ANSWEAR.com,
Paweł Wróbel – E-commerce Director EU w DUKA,
Rafał Owczarek – Dyrektor Projektów Strategicznych – Multimedia Polska.
Kongres Dyrektorów E-commerce to wydarzenie dedykowane dyrektorom i właścicielom średnich i dużych e-commerce, e-commerce managerom oraz dyrektorom działów sprzedaży firm prowadzących handel wielokanałowy. Więcej informacji o wydarzeniu oraz rejestracja na stronie http://www.kongresecommerce.pl/.
Organizatorem wydarzenia jest Grupa Unity, Partnerami – Przelewy24, Raben, QuarticON, Sente oraz Trusted Shops.