Kampanie Google Ads, prawidłowo zarządzane, to gwarancja zwrotu z inwestycji. Nietrudno jednak o błędy w ich prowadzeniu, zwłaszcza jeśli dopiero zaczynamy z nimi swoją przygodę. Jesteś pewien, że Twoje kampanie na pewno są dobrze przygotowane? Sprawdź!

Błąd 1: Nieprzejrzysta struktura konta
Należy tworzyć kampanie, które są ukierunkowane na określony temat. Mimo to należy pamiętać, aby używać grup reklam!
Im bardziej grupy reklam będą ustawione pod kątem reklamowych słów kluczowych, tym lepiej słowa kluczowe będą pasować do reklam. Dobrą praktyką w tym zakresie jest grupowanie reklam i tekstów reklamowych pod jednym głównym słowem kluczowym.
Zrób to dobrze. Skorzystaj z gotowej checklisty:
Błąd 2: Niekorzystanie z opcji dopasowania słów kluczowych
Dla każdego dodanego słowa kluczowego jest ustalana konkretna opcja dopasowania. Ustalane jest m.in. to, jak podobne może być wyszukiwane hasło do dodanego słowa kluczowego.
Jeśli nie zostanie wybrana żadna opcja, Google Ads za pierwszym razem automatycznie wybierze opcję Dopasowanie przybliżone.
W przypadku wybrania opcji Dopasowanie przybliżone, reklamy będą się wyświetlać automatycznie dla odmian dodanych słów kluczowych, nawet jeśli te hasła nie są wyraźnie zawarte na liście słów kluczowych.
Dzięki temu można przyciągnąć więcej odwiedzających na swoją stronę internetową, potrzeba mniej czasu na tworzenie list słów kluczowych, a także można skoncentrować swoje wydatki na słowa kluczowe o wysokiej skuteczności.
Ale...
Ponieważ to Google wybiera pozycje, może się zdarzyć, że utworzona reklama będzie wyświetlana dla nieodpowiednich haseł.
Oto przykład:
Mimo że twórca kampanii w Google chce reklamować tylko plecaki, to jego reklama będzie się wyświetlać również dla hasła torby.
Użytkownik nie jest usatysfakcjonowany, ponieważ nie znalazł szukanej informacji, a co gorsza kurczy się budżet twórcy kampanii.
Wybór opcji Dopasowanie do wyrażenia jest tutaj lepszym rozwiązaniem. Podobnie jak stosowanie wykluczających słów kluczowych.
Błąd 3: Niekorzystanie z rozszerzeń reklamy
Rozszerzona reklama wygląda tak: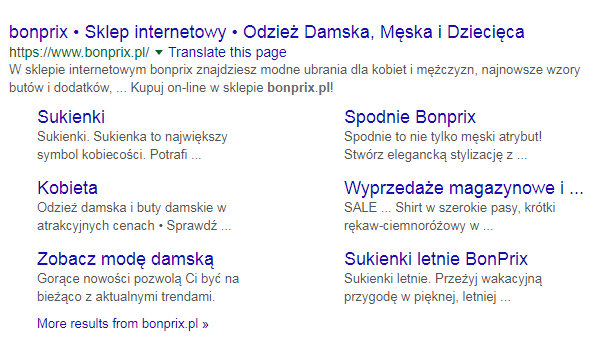 Dzięki zastosowaniu rozszerzeń reklama składa się nie tylko z nagłówka, adresu URL i tekstu informacyjnego, ale dostarcza również więcej informacji.
Informacjami w tym przypadku mogą być dodatkowe linki do podstron, ale także opinie i dane kontaktowe.
Dzięki rozszerzeniom reklamy zajmują więcej miejsca w wynikach wyszukiwania, co powoduje, że więcej osób je klika.
Ponadto dzięki większej liczbie kliknięć Google otrzymuje pozytywny sygnał o danej reklamie.
Wynik jakości jest coraz lepszy, a to może obniżyć koszt kliknięcia (CPC).
Błąd 4: Brak połączenia między reklamą opartą na słowach kluczowych a stroną docelową
Błąd popełniany przez wielu użytkowników reklam Google. Strona docelowa, podobnie jak sama reklama, powinna zawierać informacje, których szuka użytkownik wyszukiwarki.
Wielu popełnia błąd polegający na tym, że nie używa dedykowanych stron docelowych i kieruje użytkownika do strony głównej lub innej podstrony, która nie pasuje do wyszukiwanego hasła.
Dobre praktyki:
Należy się upewnić, że informacja, której szuka użytkownik, znajduje się zarówno na stronie docelowej, jak i w tekście reklamy. Użytkownik powinien znaleźć na reklamowanej stronie internetowej dokładnie to, czego szukał!
Błąd 5: Niekorzystanie ze śledzenia konwersji
Na koniec dnia twórca reklamy chce wiedzieć, które reklamy przyniosły mu korzyść, które zwiększyły jego obroty, a które się nie opłacały.
Aby uzyskać te informacje, musi skorzystać z narzędzia, jakim jest śledzenie konwersji.
Zalecamy ustawienie śledzenia konwersji bezpośrednio na koncie Google Analytics i połączenie usługi Analytics z kontem Ads. W ten sposób można się dokładnie dowiedzieć, które reklamy przyniosły oczekiwany wzrost obrotów, a które ewentualnie należy jeszcze dopracować.