Szykujemy dla Was nowość:
Na początku grudnia 2019 r. udostępniamy nowy profil opinii. Ulepszone SEO, przejrzysta wersja mobilna i zwiększona ogólna czytelność.
Dowiedz się, jakie korzyści oznacza to dla Twojego sklepu internetowego.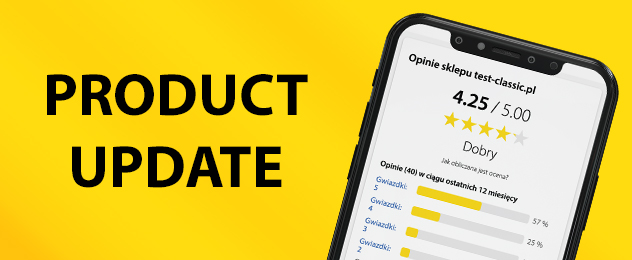 W tym artykule dowiesz się:
jakie zmiany wprowadzamy

co to oznacza dla sklepów internetowych

jak włączyć nowy profil opinii
Opinie o sklepie — wprowadzenie
Sklepy internetowe będące członkami Trusted Shops zbierają opinie od swoich klientów. Wyświetlane są one następnie na profilach opinii.
Na dzień dzisiejszy profil opinii wygląda następująco: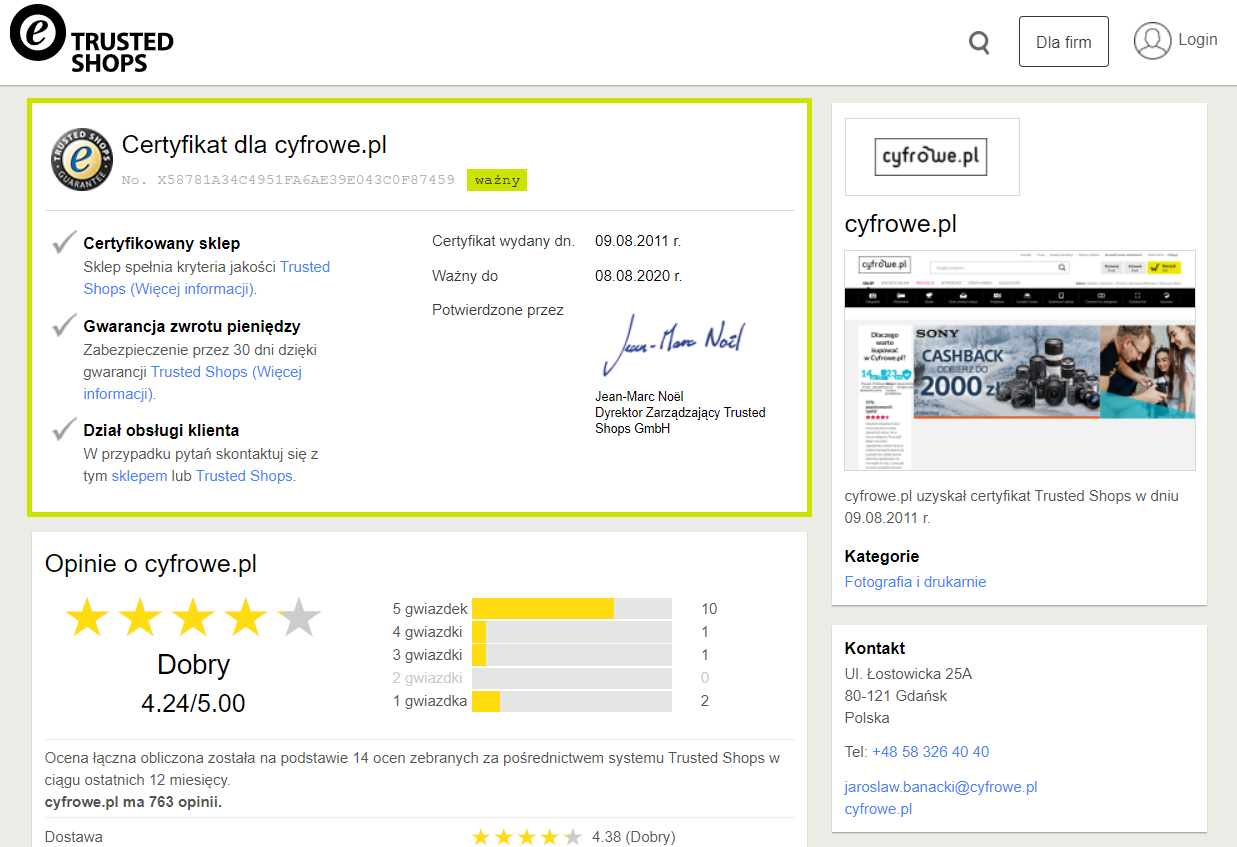 Jeśli nie korzystałeś nigdy z Trusted Shops, nie widziałeś prawdopodobnie profili opinii na żywo.
Tutaj znajdziesz przykłady:
Nowy profil opinii wprowadza szereg zmian.
Układ skoncentrowany na opiniach, istotne słowa kluczowe, wersja mobilna z mocnym SEO i nie tylko.
Nowy profil opinii — skąd ten pomysł?
Zachowania kupujących w sklepach internetowych nieustannie się zmieniają.
Według prognoz odsetek osób kupujących za pośrednictwem smartfonów lub tabletów wyniesie w 2020 roku 66 procent1.
Jak pokazują doświadczenia klientów, niezależnie od urządzenia, czynnikiem decydującym o dokonaniu zakupu w danym sklepie pozostają opinie na temat sklepu, znalezione za pomocą wyszukiwarki Google.
Aktualizacja profilu opinii jest naszą reakcją na ten rozwój.
Wyświetlaj opinie wraz ze znakiem jakości i zwiększ konwersję:
Zalety nowego profilu opinii
1. Wyszczególnione słowa kluczowe
Słowa kluczowe takie jak "opinie" i "recenzje" wysuwają się na pierwszy plan profilu opinii.
Użytkownicy wpisują najczęściej właśnie te słowa w połączeniu z nazwą sklepu internetowego, dokonując zapytania w Google.
2. Zoptymalizowane metadane
Zoptymalizowane metadane profilu opinii wraz ze słowami kluczowymi przyczyniają się do poprawy rankingu w Google.
3. Bardziej przejrzysta wersja mobilna
Mobilna wersja prezentuje na pierwszym planie najważniejsze treści — ocenę ogólną oraz opinie klientów.
Rozwijane menu pozwalają odwiedzającym dowiedzieć się wszystkiego o danym sklepie internetowym.
Dzięki tym zmianom profil jest nie tylko bardziej przyjazny dla użytkownika, ale osiąga również lepsze efekty SEO, co podwyższa jego ranking w Google.
4. Układ skoncentrowany na opiniach
Profil opinii przekonuje uporządkowanym, nowoczesnym układem, stworzonym właśnie po to, aby opinie klientów od razu rzucały się użytkownikowi w oczy.
Znak jakości Trusted Shops oraz pozostałe informacje dotyczące sklepu znajdują się w wersji desktopowej na krawędzi okna przeglądarki.
5. Ograniczenie do tego, co najistotniejsze
W nowym profilu wyświetlana jest tylko ocena ogólna, a nie indywidualne opinie w kategoriach dostawa, towar i dział obsługi konsumenta.
Chociaż użytkownicy nadal przyznają w formularzu oceny gwiazdki w trzech podkategoriach, to tworzą one dla każdej przesłanej opinii jedną ocenę ogólną.
W przyszłości również formularz oceny zostanie dostosowany do nowej wersji profilu, tak aby klienci mogli przyznawać gwiazdki dla sklepu internetowego tylko raz, a nie w trzech kategoriach.
6. Przygotowanie na kolejne funkcje
Oprócz widocznych zmian aktualizacja profilu opinii oznacza również techniczne przygotowanie na kolejne funkcje.
W następnych miesiącach pojawi się jeszcze więcej nowych funkcji, takich jak oznaczanie opinii jako pomocne, zwiększenie szybkości ładowania stron i więcej opcji sortowania opinii.
Nowy profil opinii — jak wygląda i jak włączyć?
Tak będzie wyglądał nowy profil opinii już w grudniu tego roku: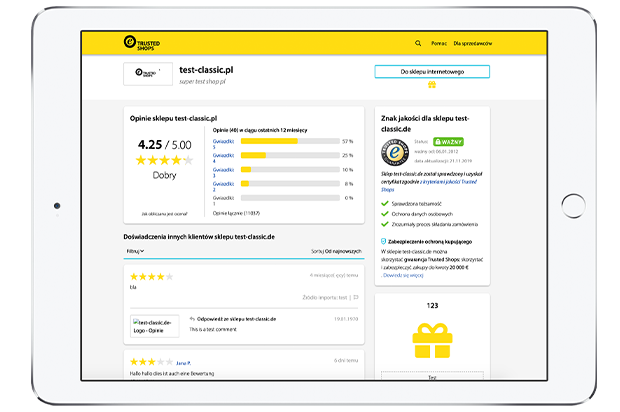 Aby skorzystać z nowych funkcji, nie trzeba nic robić — aktualizacja profilu opinii nastąpi automatycznie 03.12.2019 r.
Masz pytania lub sugestie?
Skontaktuj się z nami, pisząc na adres members@trustedshops.com.
1Źródło: Dossier portalu Statista "Mobile Commerce", 2018