Trustbadge® to znak rozpoznawczy firmy Trusted Shops. W sklepach internetowych prezentuje znak jakości i opinie klientów.
W najbliższych dniach wprowadzamy nową wersję mobilnego Trustbadge®.
W tym artykule przedstawiamy i omawiamy nowe warianty graficzne.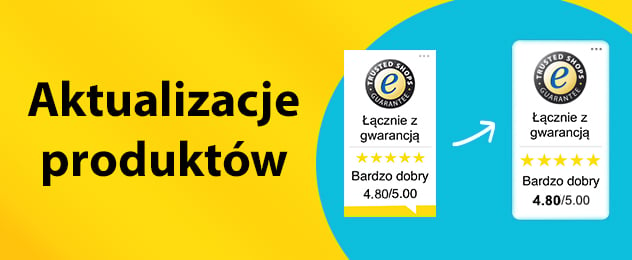 W tym artykule dowiesz się:
jak będzie wyglądał nowy Trustbadge,

jakie nowe funkcje otrzyma i dlaczego,

kiedy zostanie wprowadzony do sklepów.
Jeśli jeszcze nie korzystasz z Trustbadge, zapraszamy do kontaktu.
Sprawdź, dlaczego warto [case study naszego Klienta]:
W ciągu ostatnich miesięcy dotarło do nas wiele informacji zwrotnych dotyczących Trustbadge, pochodzących od konsumentów i sprzedawców internetowych.
Z informacji tych wynika, że sprzedawcy życzą sobie:
dyskretnego znaku o niewielkich rozmiarach,

który jednocześnie będzie dobrze rozpoznawalny.
Konsumenci chcą natomiast wyraźnie widzieć korzyści, jakie oferuje im Trustbadge podczas zakupów w Internecie.
Bazując na otrzymanym feedbacku, przygotowaliśmy nowy design Trustbadge. Poniżej przedstawiamy przegląd wszystkich nowych wariantów:
1. Wersja desktopowa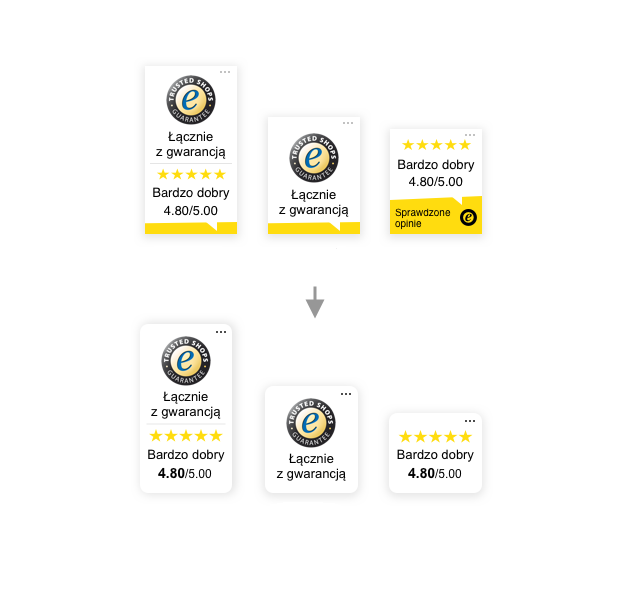 2. Wersja mobilna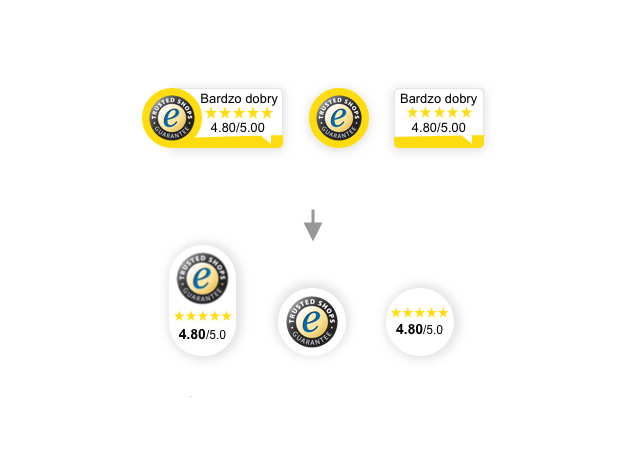 Wersja mobilna na smartfonie
Poniżej możesz zobaczyć, mobilny Trustbadge na smartfonie.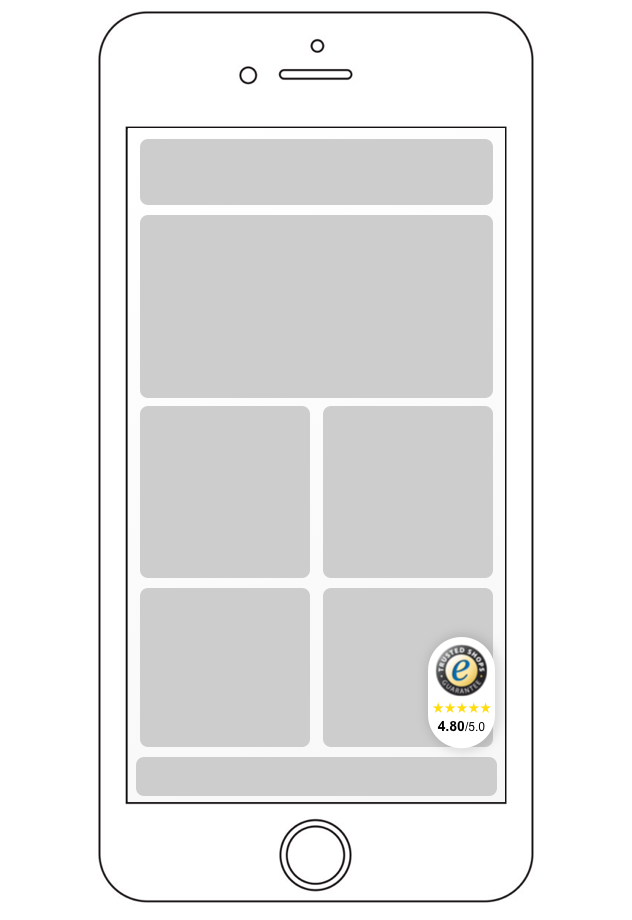 Gdy użytkownik przewija stronę, przesuwa się ona nad zawartością i znika. Ta wersja zastępuje stary wariant paska u góry ekranu.
Zmiany — w skrócie:
Koniec z kanciastymi krawędziami:
Wszystkie nowe warianty Trustbadge mają zaokrąglone krawędzie lub okrągłe kształty. Zaokrąglone narożniki poprawiają komfort obsługi na urządzeniach mobilnych i lepiej eksponują możliwość kliknięcia elementu Trustbadge.

Żegnaj ananasie:
Odchodzimy od koloru żółtego w odcieniu ananasa, aby nie odwracać uwagi użytkowników od zawartości witryny. Trustbadge to teraz dyskretny i łatwo dostępny znak będący synonimem jakości sklepu.

Wyraźne logo:
Znak jakości Trusted Shops cieszy się najwyższym poziomem znajomości wśród konsumentów i dlatego stawiamy go na pierwszym miejscu. Logo naszej firmy i logo eTrusted naszej nowej platformy ocen nie pojawiają się już w Trustbadge. W tym miejscu nie stanowią one bowiem wartości dodanej dla konsumentów.
3. Zmaksymalizowany Trustbadge
Oto jak prezentuje się okienko ze szczegółowymi informacjami dotyczącymi profilu w Trusted Shops po kliknięciu na Trustbadge: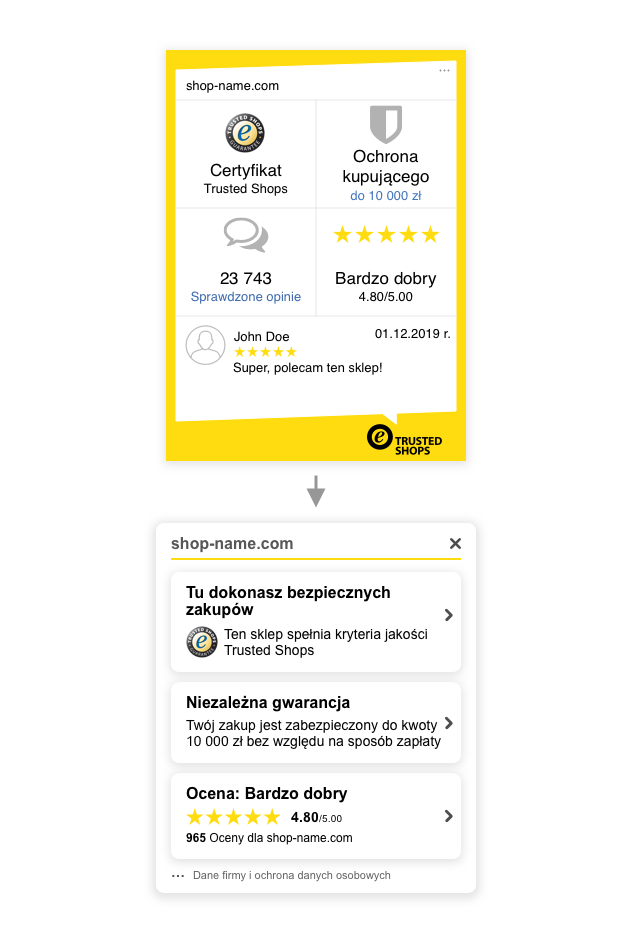 Zmiany w skrócie:
Zwykły tekst zamiast symboli:
W nowym Trustbadge postawiono na zwykły tekst, aby podkreślić najważniejszy przekaz: Twój sklep internetowy to bezpieczne miejsce na zakupy. Główny nacisk jest położony na to, jakie informacje są istotne dla użytkowników.

Mniej znaczy więcej:
Zamiast pięciu obszarów z informacjami w okienku Trustcard znajdują się teraz tylko trzy takie obszary.

Bez opuszczania sklepu:
W okienku Trustcard klienci znajdą wiele treści, które mogą przeczytać w całości bez wychodzenia ze sklepu.

Łatwe zamykanie:
Okienko Trustcard można łatwo zamknąć, klikając krzyżyk w prawym górnym rogu. Nic nie stoi zatem na przeszkodzie w kontynuowaniu zakupów.
4. Ochrona Kupującego
Okienko Ochrony Kupującego również zmienia swój wygląd:
Zmiany w skrócie:
Bezpieczeństwo to podstawa:
Oferta Ochrony Kupującego jest najważniejsza i nie wymaga żadnych dodatkowych treści. Dzięki niej konsumenci mają poczucie, że mogą bezpiecznie robić zakupy w danym sklepie internetowym.
Nie musisz nic robić
Aktualizacja Trustbadge odbywa się automatycznie i nie są przy niej wymagane żadne działania ze strony Sprzedawcy. Wkrótce nastąpi publikacja w Szwajcarii, a zaraz potem zostaną nią objęte kolejne rynki.
Jeśli masz jakieś pytania lub sugestie, wyślij do nas wiadomość na adres members@trustedshops.com.