Listopad przyniósł kolejne obostrzenia związane z koronawirusem. Również i tym razem mogą więc wystąpić opóźnienia w dostawie z powodu większej liczby zamówień online. To zaś może poskutkować negatywnymi ocenami. Aby temu zapobiec, użyj eTrusted do wysłania powiadomienia o aktualnej sytuacji w zaproszeniach do wystawienia oceny.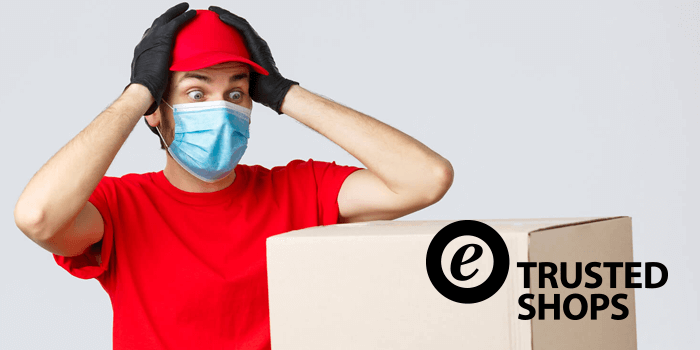 W związku z kolejnymi ograniczeniami spowodowanymi pandemią koronawirusa, postaw na jasną komunikację, by nie rozczarować swoich klientów. Wiemy, jak Cię w tym wesprzeć i prezentujemy nową opcję na platformie eTrusted. W profilu możesz skorzystać z opcji powiadomienia klienta o ewentualnych opóźnieniach w dostawie w zaproszeniu do oceny lub kwestionariuszu.
Sprawdź poniżej, jak informacja ta prezentuje się na smartfonie: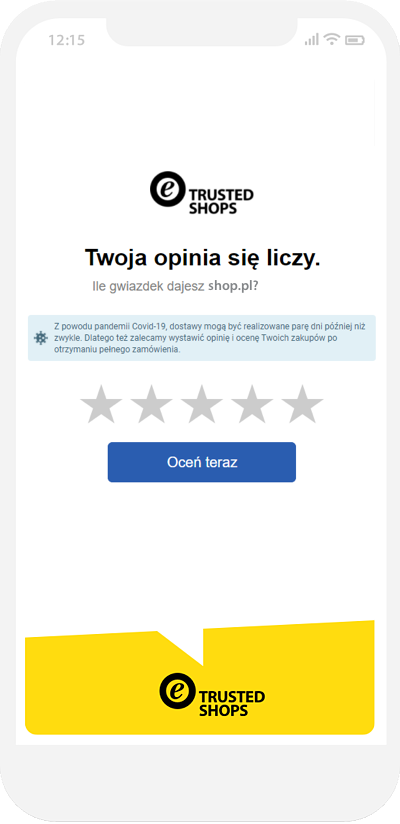 Powiadomienie w zaproszeniu do oceny ma za zadanie zasugerować klientowi, by zostawił recenzję tylko wtedy, gdy towary rzeczywiście dotarły. W ten sposób możesz zapobiec ewentualnym negatywnym opiniom, by nie wpłynęły na ogólną ocenę sklepu.
Jak ustawić powiadomienie w eTrusted?
1. Zaloguj się na swoje konto w eTrusted
2. Przejdź do menu "Automatyzacja - zasady zaproszeń" i kliknij w "Dodaj nowe zasady". Otworzy się nowe okno.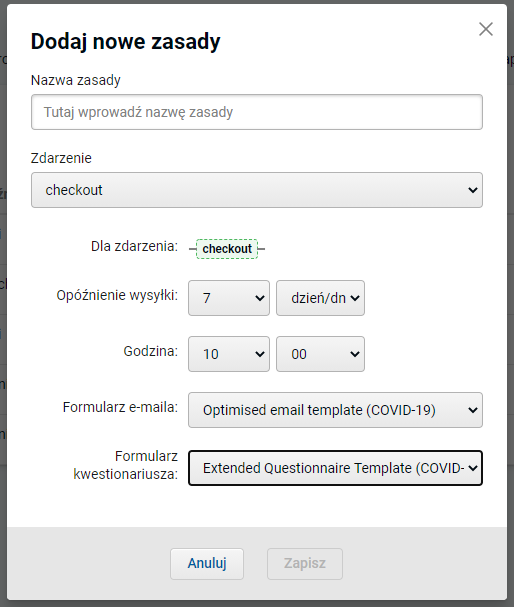 3. W oknie pod "Formularz e-maila" wybierz opcję "Optimised email template (COVID-19)". Następnie powiadomienie pojawi się w wiadomości e-mail z zaproszeniem do oceny.
Jeśli chcesz, aby informacja o ewentualnych opóźnieniach w dostawach pojawiła się również w formularzu oceny, wybierz odpowiedni szablon w polu "Formularz kwestionariusza". Jego nazwa to "Standard Questionnaire Template" lub "Extended Questionnaire Template (COVID-19)". Ten ostatni zawiera dodatkowe pytania, na przykład dotyczące dostawy.
W tym miejscu możesz wybrać również dodatkowe opcje, na przykład, by zaproszenie do wystawienia oceny zostało wysłane po złożeniu zamówienia. Następnie kliknij "Zapisz".
4. Aktywuj nowo utworzoną regułę w menu "Zaproszenia – zasady zaproszeń" za pomocą suwaka po prawej stronie.
5. I gotowe! Powiadomienie o możliwych opóźnieniach w wysyłce pojawi się teraz we wszystkich zaproszeniach do oceny.
Czas jest kluczem
W obecnej sytuacji szczególnie ważne jest, by opierać wysyłkę zaproszeń do zostawienia oceny na rzeczywistym, średnim czasie dostawy. W takim przypadku zaproszenia dotrą do klientów dopiero wtedy, gdy otrzymają już towar.
Czy masz jakieś pytania lub sugestie dotyczące prezentowanej funkcji? Skontaktuj się z nami!
Sprawdź też, jak prowadzić sklep internetowy w czasie koronawirusa z naszą bezpłatną checklistą:
Ta publikacja jest tłumaczeniem artykułu w j. niemieckim: Lieferverzögerung aufgrund Corona: Hinweis in Bewertungs-E-Mails anzeigen