Facebook jest wykorzystywany nie tylko do wrzucania filmików z kotami czy fotek z urlopu, ale także do kontaktowania się ze sklepami internetowymi. Jak zasygnalizować klientom, że Twój sklep działa sprawnie w social media i tutaj też można się z Tobą skontaktować? W tym artykule znajdziesz odpowiedź na to pytanie!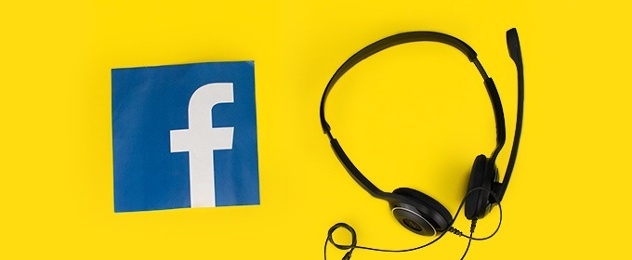 Nie tak dawno temu większość problemów klientów była rozwiązywana telefonicznie, czasami przez faks. Potem pojawił się Internet, wiadomości e-mail i wsparcie na czacie. W chwili obecnej coraz popularniejsza jest obsługa klienta przez Facebooka.
Przyczyna jest dość prosta: to wygodne rozwiązanie dla klientów. Wystarczy wejść na Facebooka, wyszukać fanpage sklepu i wysłać wiadomość.
Wiele sklepów internetowych nie przejawia jednakże większej aktywności na platformach społecznościowych, przez co wiele zapytań i problemów klientów pozostaje bez odpowiedzi.
Każdy sprzedawca internetowy wie, że klientów odstrasza sytuacja, gdy nikt im nie odpowiada. Bez wątpienia wpływa to również negatywnie na wysokość obrotu.
W jaki sposób dać znać klientom, że Twój sklep jest aktywny na Facebooku i można tam uzyskać od Ciebie wsparcie? W niniejszym artykule znajdziesz trzy możliwości!

1. Oznaczenie "Bardzo sprawnie odpowiada na wiadomości"
Po oznaczeniu "Bardzo sprawnie odpowiada na wiadomości" klienci mogą rozpoznać, czy szybko i regularnie odpowiadasz na prywatne wiadomości.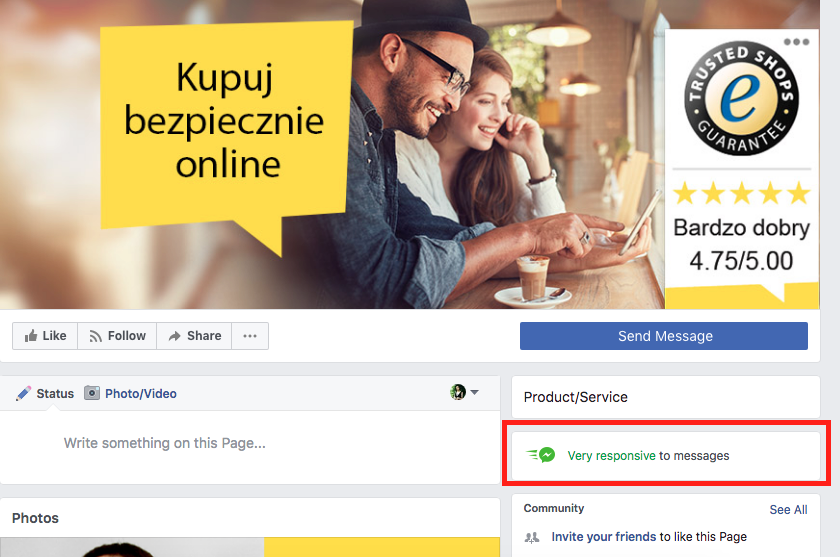 Aby otrzymać takie oznaczenie, musisz w okresie 7 ostatnich dni spełnić oba następujące warunki:
Wskaźnik reakcji na poziomie 90% lub wyższy
Czas reakcji wynoszący 15 minut lub krótszy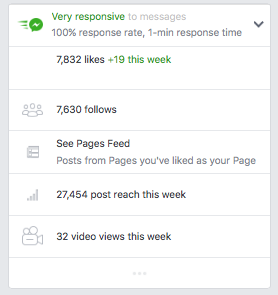 Gdy tylko Twoja strona na Facebooku otrzyma oznaczenie, będzie ono widoczne dla każdego użytkownika. Jeśli Twój fanpage nie ma oznaczenia, dane o sprawności odpowiadania na wiadomości są dostępne wyłącznie dla osób współzarządzających stroną na Facebooku.

2. Odpowiedzi pod postami
Czasami klienci chcą zwyczajnie gdzieś wyładować swój gniew, ale zdarzają się również poważne zapytania lub problemy, na które koniecznie należy odpowiadać. Dotyczy to nie tylko standardowych zapytań, lecz także tych umieszczanych w komentarzach na Facebooku.
Podobnie jak w przypadku złych opinii kluczowe znaczenie ma tutaj szybkość reakcji — nawet jeśli zapytanie złożono w niewłaściwym miejscu.
W ten sposób pokażesz klientom, że interesują Cię ich problemy i pytania. To silny i pozytywny sygnał. Ponadto można dzięki temu uspokoić zdenerwowanych klientów.
Od czasu do czasu można rozwiązać takie konflikty, pisząc zaledwie kilka zdań. W innych przypadkach rozsądnie jest przekierować daną osobę do oficjalnej obsługi klienta (telefonicznej lub na czacie), by nie ujawniać na Facebooku żadnych prywatnych danych.

3. Publikowanie zapytań i wykorzystanie treści generowanych przez użytkowników
Pewne pytania i problemy często się powtarzają. Dlatego możesz przyjąć proaktywną postawę i regularnie reklamować swoje wsparcie. Od Ciebie zależy, czy wykorzystasz ogłoszenia w Internecie, czy zdecydujesz się po prostu umieszczać posty.
Zamieszczając na Facebooku zanonimizowaną listę często zadawanych pytań, również dasz klientom do zrozumienia, że się o nich troszczysz — tak samo jak wtedy, gdy publicznie zapewniasz wsparcie.
Kolejny sposób, by pokazać klientom, że są dla Ciebie najważniejsi, to publikowanie zanonimizowanych opinii. Istnieją 4 powody, by tak robić:
Udowadniasz klientom, że otrzymujesz i czytasz ich opinie
Pokazujesz, że Twój sklep i produkty są dobrze ocenianie przez klientów
Nawet z negatywnych opinii możesz zrobić użytek, pokazując, że na nie reagujesz i ewentualnie wprowadzasz usprawnienia w swoim sklepie
Teksty, zdjęcia i filmy autorstwa Twoich klientów, które da się wykorzystać marketingowo, mogą wyraźnie zwiększyć obrót sklepu. Ta strategia marketingowa nosi nazwę User Generated Content i jest stosowana przez większość popularnych sklepów.

Więcej informacji na ten temat można znaleźć w naszym darmowym poradniku. Pobierz go już dziś!