Nowa funkcja eTrusted umożliwia sprzedawcom dopasowanie kwestionariuszy i zaproszeń do wystawiania opinii do tożsamości ich firmy. To sposób na uzyskanie większej liczby ocen, spójne doświadczenie klienta i poprawę wizerunku marki. W tym artykule pokażemy, jak działa ta personalizacja.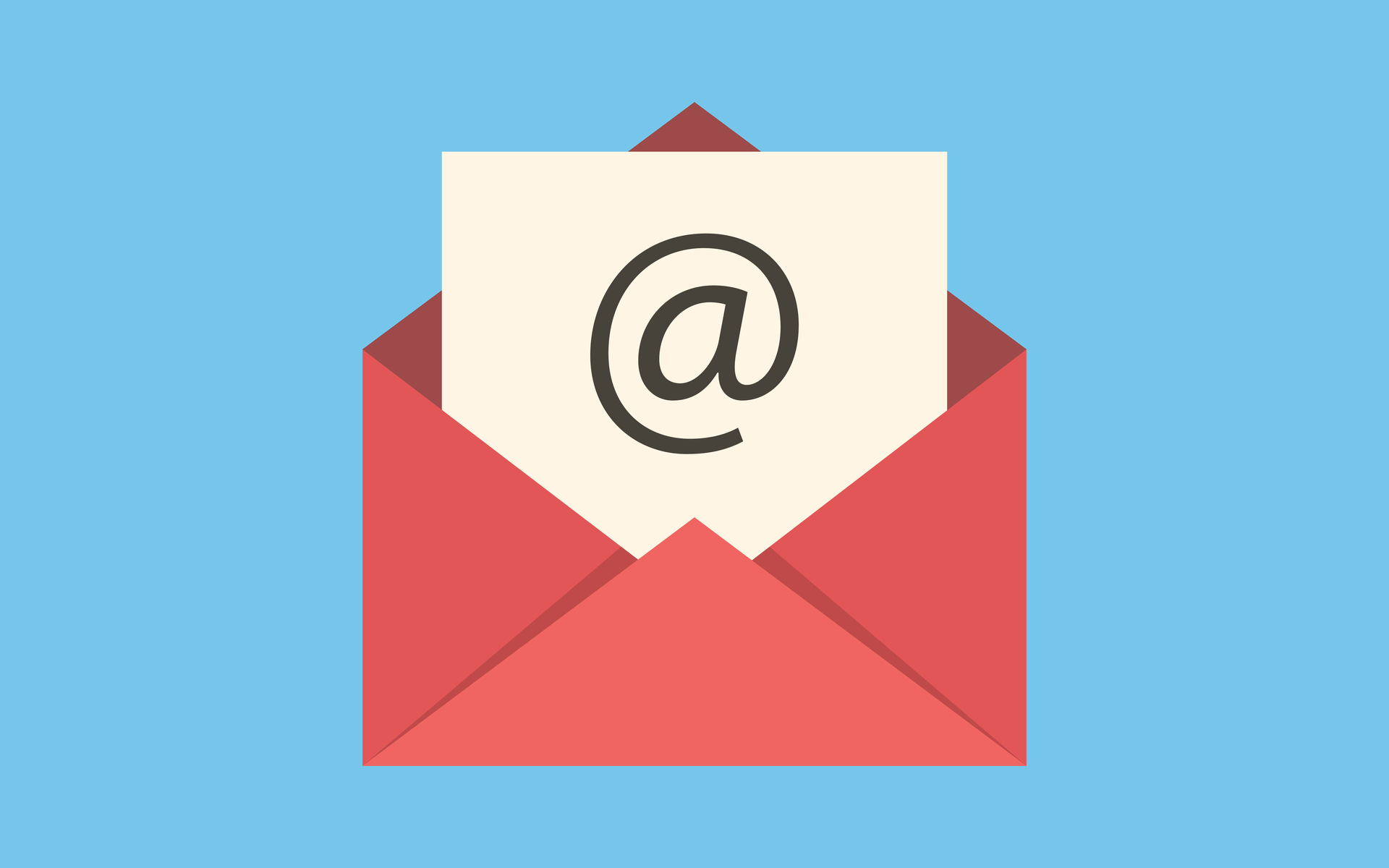 Na eTrusted zbierasz opinie klientów dotyczące Twojego e-sklepu lub produktów. Oprócz dobrego wyczucia czasu, kluczem do sukcesu jest dobry projekt zaproszenia wysyłanego drogą mailową. Atrakcyjna kompozycja z ukierunkowaniem na grupę docelową skłoni Twoich klientów do napisania recenzji.
Personalizacja oferuje następujące korzyści
Lepszy wizerunek marki: zaprezentuj unikalną tożsamość firmy na każdym etapie działań klienta, dodając do szablonów recenzji swoje logo, kolory brandu i preferowane powitanie.
Większa wydajność: szablony zostały już przez nas przetestowane i zoptymalizowane tak, aby osiągnąć jak najlepszą konwersję. Zwiększ swoją rozpoznawalność i dodaj osobisty akcent.
Zoptymalizowany design: szablon kwestionariusza został zaktualizowany i jest teraz jeszcze lepiej przystosowany do wersji mobilnej. Logo jest wyświetlane w wysokiej jakości, niezależnie od przesłanego formatu. Dodatkowo wybrane kolory są sprawdzane pod kątem dostępności i wyświetlania w trybie ciemnym.
Łatwe wdrożenie: Nowy interfejs użytkownika jest łatwy w obsłudze. Nie jest wymagana żadna wcześniejsza wiedza ani umiejętności techniczne, a ustawienia można dostosować za pomocą zaledwie kilku kliknięć.
Jak to działa
Opisywaną funkcję znajdziesz w panelu sterowania, w zakładce "Ustawienia kanału". Możesz tam spersonalizować swoje zaproszenia do zostawiania recenzji, kwestionariusze oraz odpowiedzi na opinie. Nie ma znaczenia, czy są to recenzje usług, czy produktów.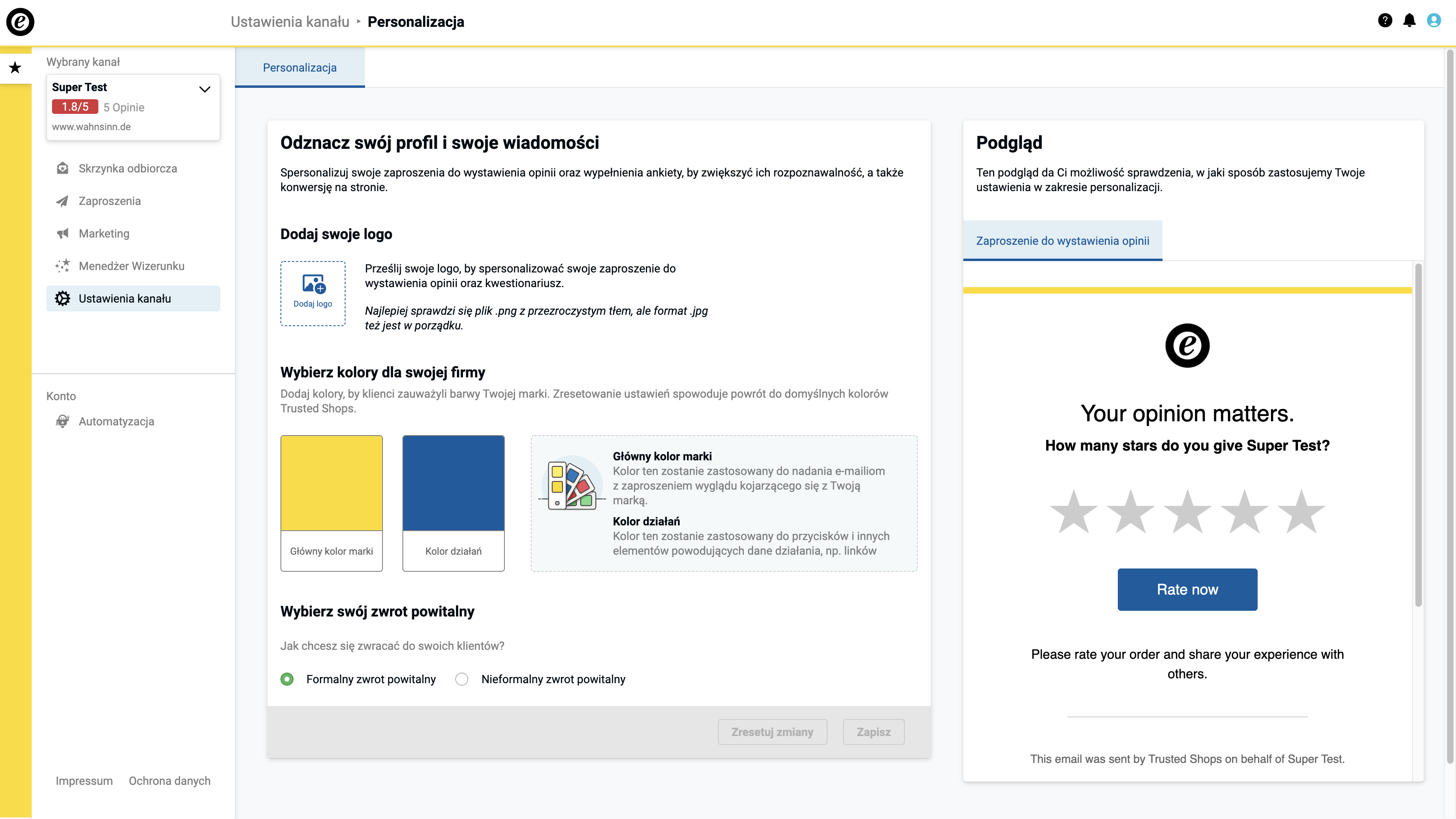 Dostępne są następujące funkcje:
Dodaj swoje logo: możesz przesłać logotyp we wszystkich popularnych formatach obrazu (jpg, png i svg). Jest on automatycznie formatowany, aby nie był ucięty ani zamazany. Mimo to zalecamy jednak stosowanie wysokiej rozdzielczości obrazu.
Wybierz kolory dla swojej firmy: kolory firmowe można ustawić indywidualnie. W ten sposób dokonuje się rozróżnienia pomiędzy podstawowymi kolorami marki a kolorami działań.
Podstawowy kolor marki jest zarezerwowany dla ogólnego wyglądu Twojej firmy. Kolor działań stosowany jest do przycisków i innych elementów, takich jak linki. Kolor tekstu jest czarny lub biały i ustawiany automatycznie w zależności od tego, który wariant jest bardziej czytelny.
Wybierz swój zwrot powitalny: możesz zdecydować, czy chcesz zwracać się do klientów językiem formalnym czy nieformalnym. Domyślne ustawienie to język formalny.
Podgląd: zobaczysz tutaj rezultat wybranych ustawień w kwestionariuszu.
Zapisz: po kliknięciu tego przycisku ustawienia zostaną zapisane, a zaproszenia do opinii i kwestionariusze – spersonalizowane.
Rozpocznij projektowanie i zdobądź więcej nowych opinii!
Zaloguj się do eTrusted i sprawdź ustawienia swojego kanału. Zaprojektuj i dostosuj zaproszenie oraz kwestionariusz i zyskaj wiele nowych opinii za pomocą kilku kliknięć.
Masz jakieś pytania? Zapraszamy do kontaktu.