31 tys. sklepów internetowych na polskim rynku — tyle było ich na koniec 2018 roku.
W ciągu roku liczba sklepów na rynku wzrosła o 6,1%.
Sprzedaż internetowa w Polsce rośnie dynamicznie. W tym artykule poznasz najważniejsze statystyki na temat e-Commerce w Polsce.

W porównaniu do roku ubiegłego wzrost liczby sklepów na polskim rynku wyniósł ponad 6,1 proc[1]. Jak i co dokładnie Polacy najchętniej w nich kupowali w 2018 roku? Firma Trusted Shops, gwarantująca klientom sklepów online zwrot pieniędzy, zebrała na ten temat kilka faktów.
Jak Polacy kupowali w 2018?
Najgorętszym okresem w branży e-commerce w dalszym ciągu pozostaje czas poprzedzający Święta Bożego Narodzenia, a najbardziej dochodowe dni w zeszłym roku przypadały na połowę grudnia.
Na drugim miejscu pod względem sprzedaży był Cyber Monday, a na trzecim – Black Friday, który nieoficjalnie inicjuje okres sprzedaży przedświątecznej.
Największa sprzedaż w polskim e-Commerce ma miejsce w okresie przed Świętami Bożego Narodzenia, Cyber Monday oraz Black Friday.
Listopad i grudzień były najbardziej dochodowymi miesiącami w 2018 roku.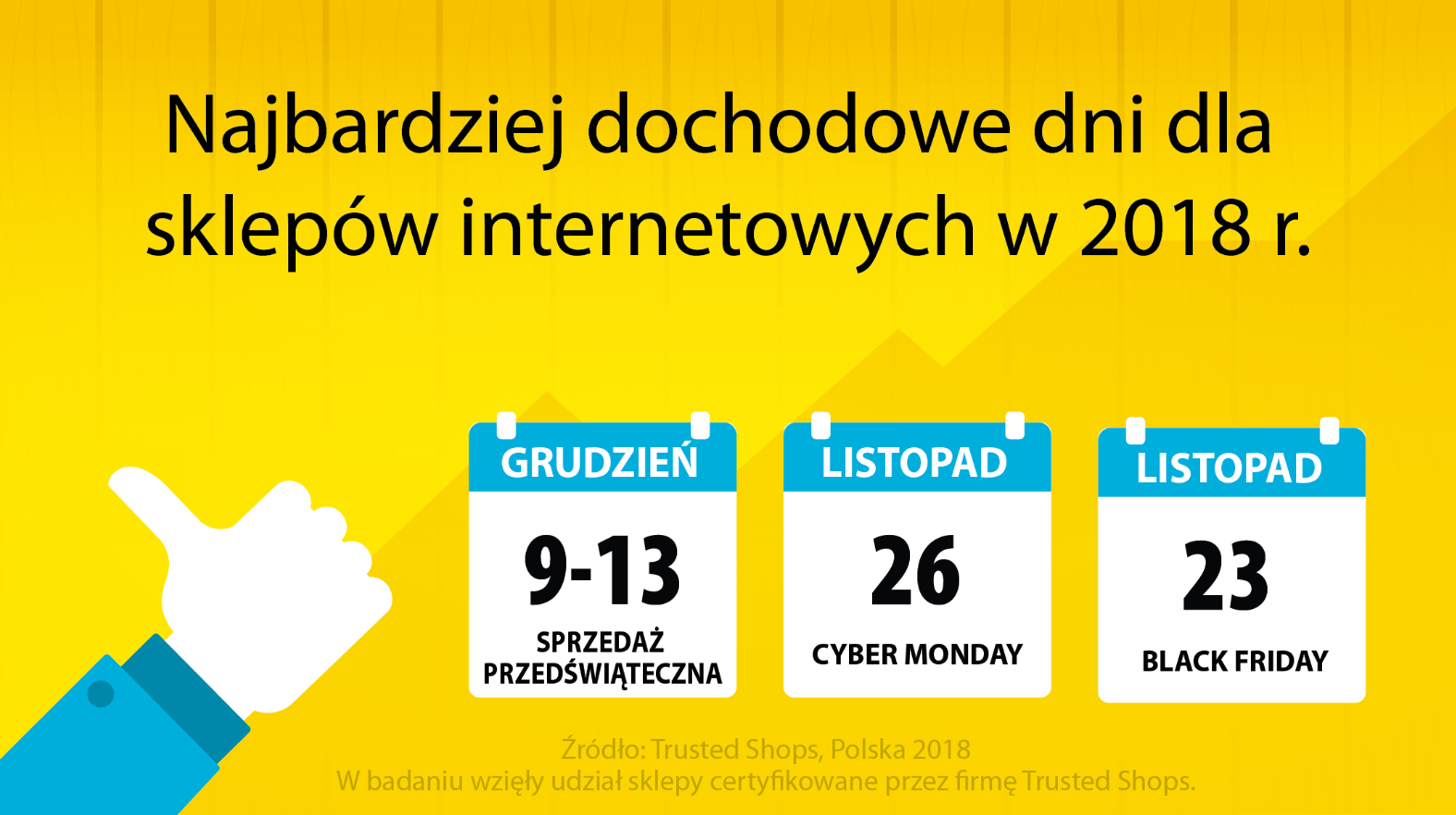 Z kolei najmniej dochodowe dla sklepów są:
okres bezpośrednio przed Świętami Bożego Narodzenia (gdy gorączka zakupowa już opada)

Wielkanoc

wakacje
To zrozumiałe:
Sklepy internetowe notują najniższe przychody bezpośrednio w Święta Bożego Narodzenia czy Wielkanoc, kiedy Polacy zajęci są ostatnimi przygotowaniami lub są w trakcie świętowania.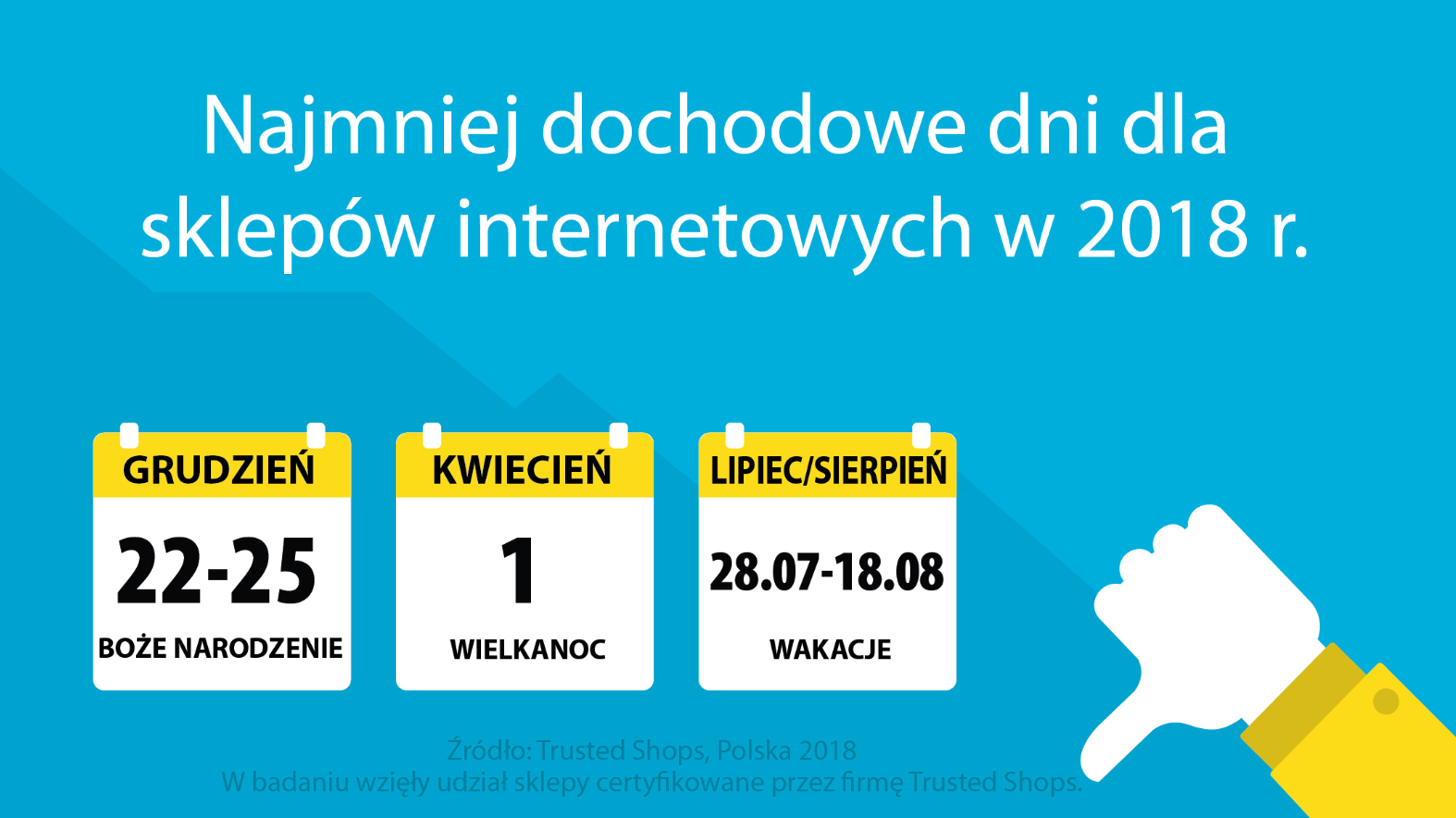 Słabo pod względem sprzedaży wypada też środek wakacji, kiedy mija już pierwsza fala zakupów związanych z wyjazdami na urlop, a do września jest jeszcze za daleko, żeby ruszyły wyprzedaże powakacyjne.
Ze statystyk prowadzonych przez Trusted Shops wynika, że:
Polacy najchętniej dokonują zakupów online w niedzielę i poniedziałek, a najrzadziej kupują w piątek i sobotę.
Jeśli chodzi o godziny, w których dokonują decyzji zakupowych, jest to przedział między godz. 10.00 a 20.00.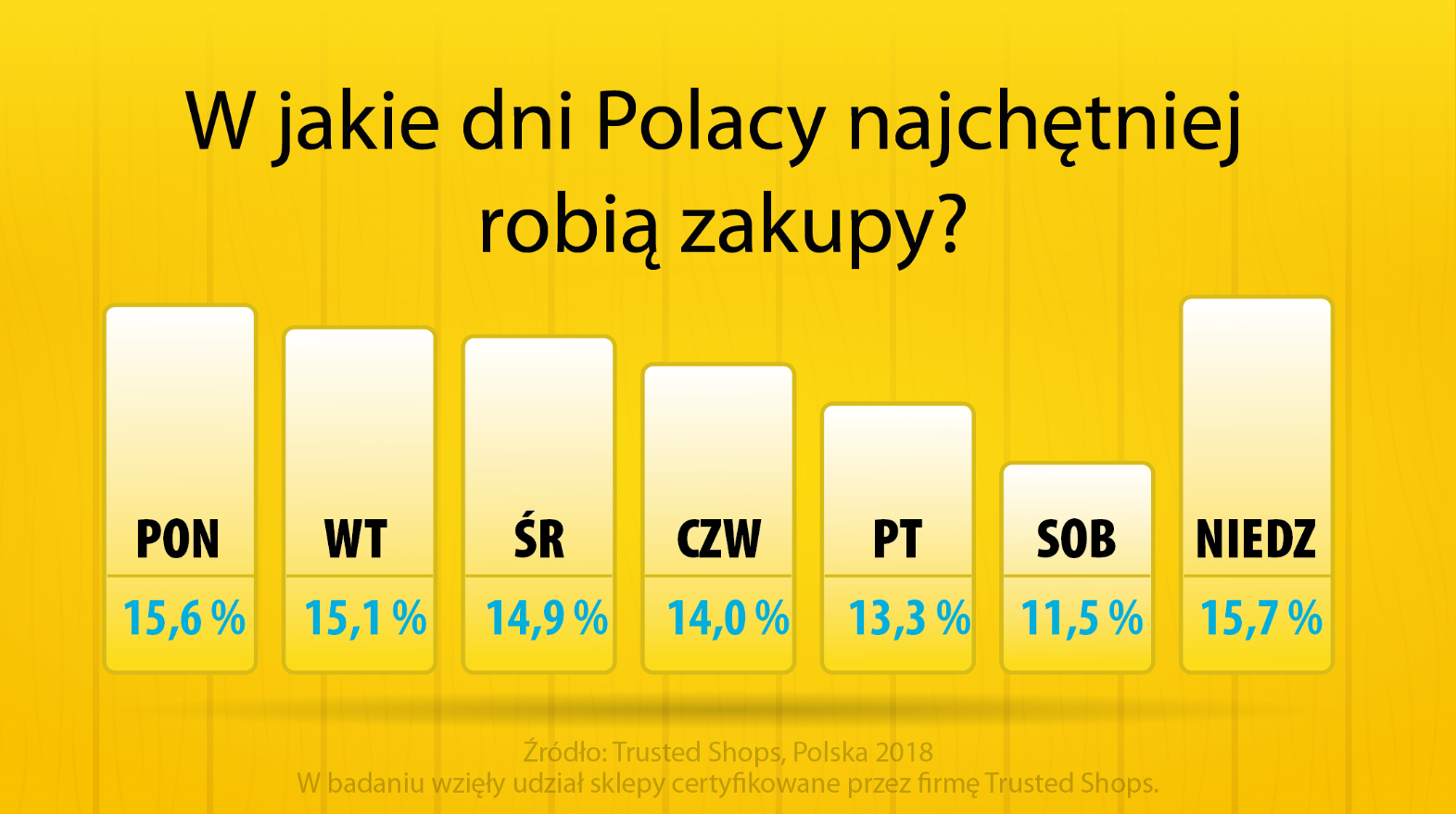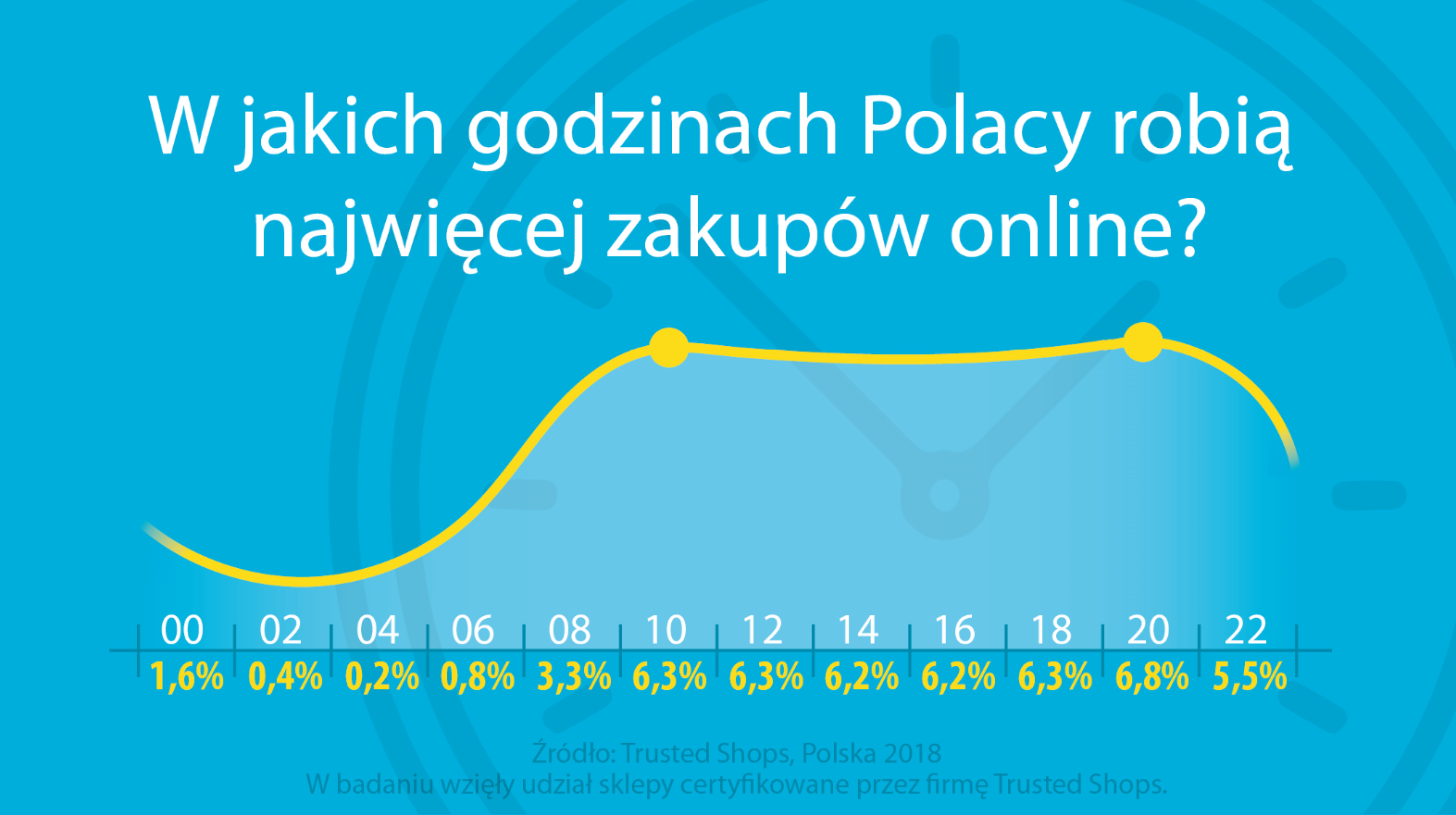 Polacy najwięcej pieniędzy wydają w sklepach internetowych, certyfikowanych przez Trusted Shops, na odzież i dodatki, prezenty, zabawki oraz produkty dla dzieci.
Jak często Polacy kupują online
Badanie przeprowadzone przez SW Research na zlecenie Trusted Shops w marcu 2018[2] wykazało, że połowa społeczeństwa kupuje online raz lub dwa razy w miesiącu, natomiast jedynie 16% robi to przynajmniej raz w tygodniu.
Nieco inaczej wygląda sprzedaż online w przypadku Generacja Z, czyli osób w wieku 18-24 lat, które wychowały się z dostępem do sieci i traktują Internet jako naturalne miejsce na zakupy.
98% młodych Polaków robi zakupy w e-sklepach co najmniej raz na pół roku.
Co więcej, 84% badanych kupuje przez Internet przynajmniej raz w miesiącu, a co trzecia osoba robi to regularnie – co najmniej raz w tygodniu. Zetki kupują przez Internet dużo częściej niż reszta społeczeństwa[3].
Jak Polacy oceniają sklepy online
Wśród krajów europejskich, objętych badaniem Trusted Shops, Polacy najlepiej oceniają certyfikowane sklepy internetowe, w których dokonują zakupów, dając im ocenę 4,82 w skali 5.
Następni w kolejności są Niemcy (ocena 4,78) i mieszkańcy Austrii (4,75). Najmniej zadowoleni z wirtualnych zakupów są Belgowie (ocena 4,5), Holendrzy (4,54) i Francuzi (4,58).
Średnia ocen we wszystkich badanych krajach wyniosła 4,7.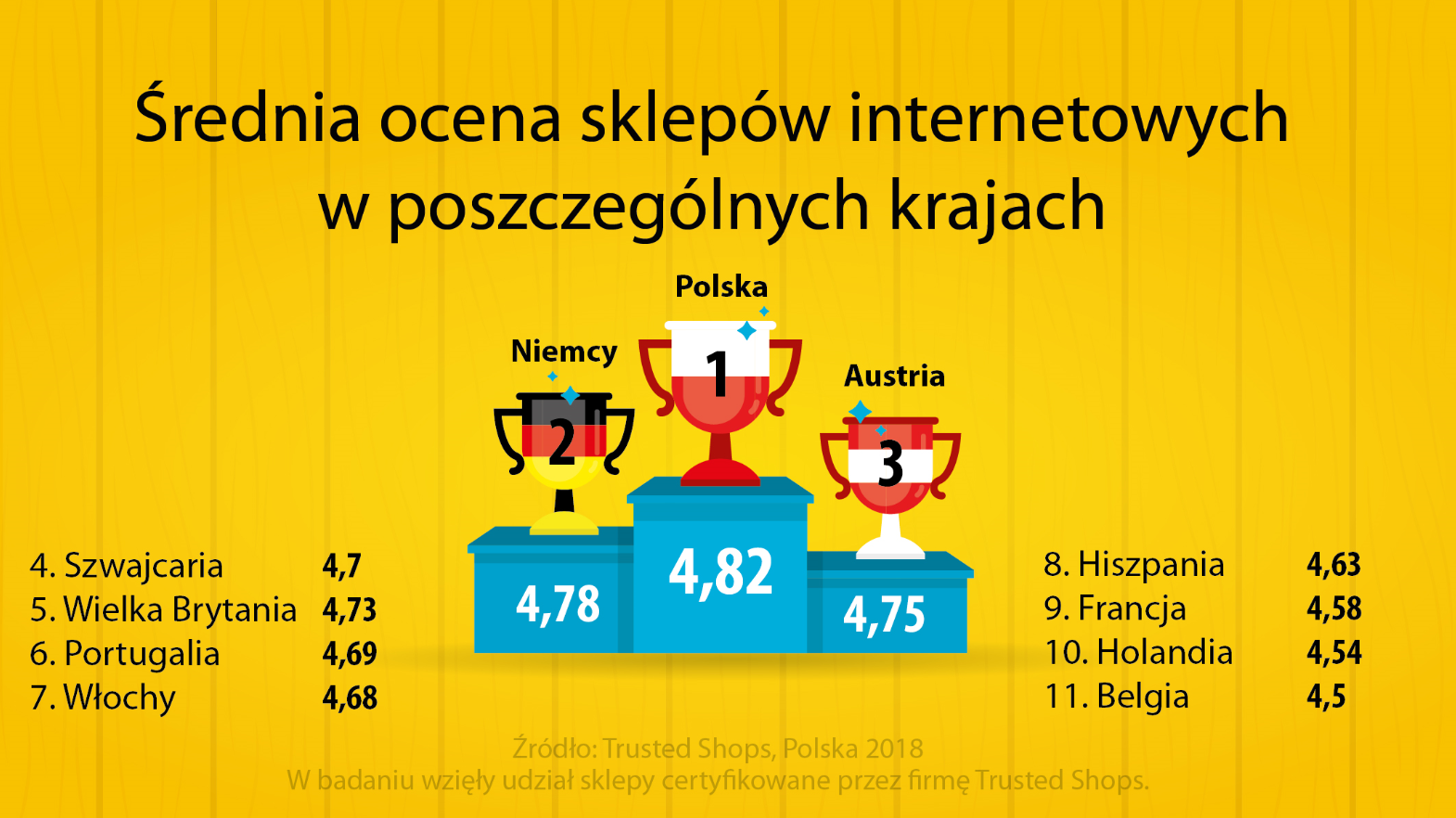 - W samym tylko 2018 roku zarejestrowanych zostało 6863 nowych sklepów internetowych[4], co powoduje, że wybór odpowiedniego, a przede wszystkim zaufanego sprzedawcy staje się coraz trudniejszy, dlatego warto sprawdzać, czy wybrany przez nas sklep posiada certyfikat, taki jak certyfikat Trusted Shops, który daje klientom gwarancję bezpiecznych zakupów oraz odpowiedniej obsługi – wyjaśnia Anna Rak, country manager firmy Trusted Shops.
[1] https://www.bisnode.pl/wiedza/newsy-artykuly/wzrost-liczby-sklepow-internetowych-w-polsce/
[2] "Zakupy Polaków w internecie" – badanie SW Research na zlecenie Trusted Shops
[3] "Generacja Z na zakupach w Internecie" – badanie SW Research na zlecenie Trusted Shops
[4] https://www.bisnode.pl/wiedza/newsy-artykuly/wzrost-liczby-sklepow-internetowych-w-polsce/