Już 11 października w Warszawie, po raz pierwszy w Polsce, odbędzie się PrestaShop Day! To idealna okazja do spotkań z ekspertami i wymiany doświadczeń dla firm i osób związanych z branżą e-commerce. My też tam będziemy!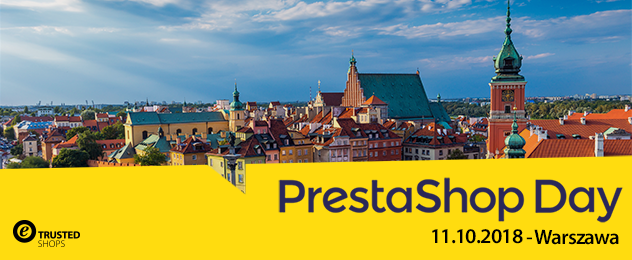 Co Was czeka podczas PrestaShop Day?
Wydarzeniu towarzyszyć będzie seria wykładów i warsztatów. Jeden z nich, zatytułowany "Twój sklep internetowy w Google: sprawdzone sposoby na zwiększenie widoczności, ruchu, CTR i sprzedaży w sieci" poprowadzi Anna Rak - Country Manager Trusted Shops w Polsce. Koniecznie przyjdźcie posłuchać!
Spotkaj się z nami - umów się na bezpłatną konsultację
Zapraszamy Was na nasze stoisko, na którym będziecie mogli odebrać bezpłatny podręcznik z regulaminem i polityką prywatności oraz porozmawiać z naszymi konsultantami.
Zachęcamy do wcześniejszego umówienia spotkania. Aby to zrobić, wystarczy kliknąć tutaj.
Pobierz bezpłatny bilet
Udział w PrestaShop Day jest bezpłatny. Więcej informacji na jego temat oraz darmowy bilet wstępu możecie pobrać na stronie internetowej.
Nie może Was tam zabraknąć!
Do zobaczenia!