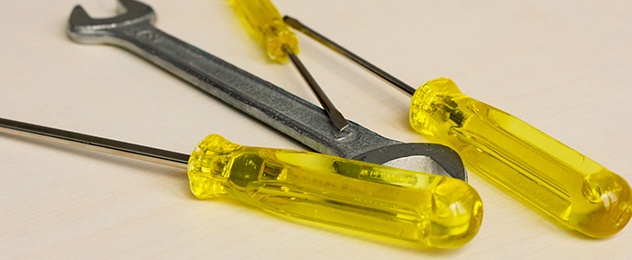 Od teraz wystarczy już tylko parę kliknięć, by przygotować obrandowany formularz oceny sklepu! Z nowej funkcji skorzystało już ponad 350 sprzedawców. Przygotowanie formularza jest jeszcze prostsze dzięki nowej opcji podglądu. W poniższym artykule znajdziesz więcej informacji na temat tej i innych kwietniowych nowości Trusted Shops.
Funkcja podglądu obrandowanego formularza oceny
Formularz oceny można łatwo dopasować do szaty graficznej sklepu, aby zapewnić ujednolicony proces obsługi klienta. Dopasowanie to obejmuje przede wszystkim logo oraz kolorystykę witryny. Przygotowanie formularza zgodnie z designem strony internetowej jest bardzo korzystne dla sprzedawcy, ponieważ wpływa na zwiększenie rozpoznawalności firmy.
Już teraz w serwisie przeznaczonym dla członków Trusted Shops dostępna jest funkcja podglądu, która ułatwi wprowadzanie zmian.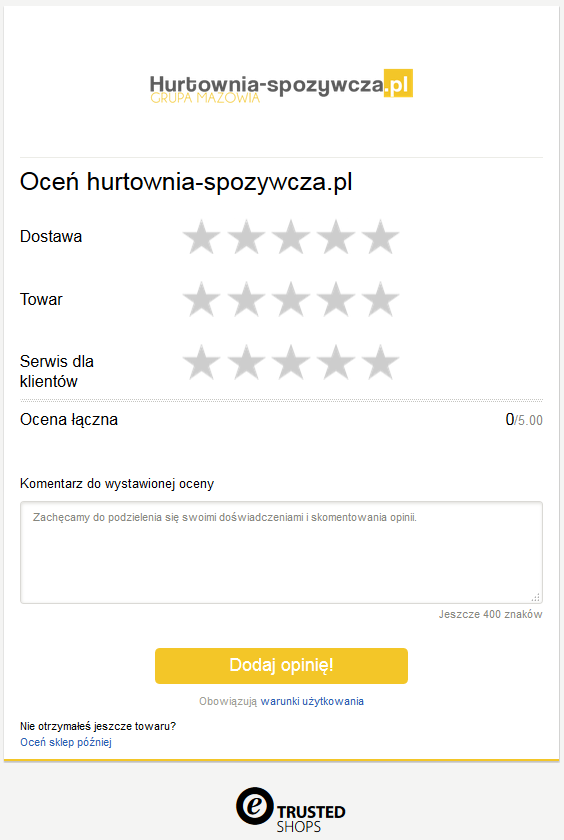 W taki sposób szybko przygotujesz obrandowany formularz oceny:
Przygotuj logo firmy w rozmiarze co najmniej 500×200 pikseli, w formacie PNG.
Zaloguj się na swoje konto w serwisie My Trusted Shops. Wyświetli się ekran konfiguracji. W jego prawej dolnej części znajduje się pole "Obrandowany formularz oceny".
Aktywuj funkcję, klikając na włącznik. Wczytaj logo i wybierz kolory przycisku dodawania opinii oraz ramki formularza. Można to zrobić, korzystając z palety kolorów lub podając kod koloru.
Zapisz wprowadzone dane. Od teraz formularz oceny sklepu oraz formularz oceny produktu będą wyświetlane w zdefiniowanych kolorach.
Przycisk dodawania opinii w poczcie Gmail prowadzi bezpośrednio do formularza.
W skrzynce przychodzącej poczty Gmail można zintegrować tzw. akcje "przejdź-do" (go-to actions), czyli małe przyciski na końcu wiersza tematu nowego e-maila. Ta funkcja jest wykorzystywana w naszych wiadomościach z prośbą o ocenę. Gdy nabywca otrzyma e-mail, na końcu wiersza z tematem zauważy przycisk "Oceń teraz" i, klikając go, przejdzie do formularza oceny bez potrzeby otwierania wiadomości.
Około 15% wszystkich opinii dodawanych w systemie Trusted Shops pochodzi z serwerów Gmail, zatem zmiana ta ułatwi proces i tym samym zachęci do wystawiania ocen.
Ocena sklepu i produktu we własnym e-mailu
Jeśli wolisz własne rozwiązanie i Twój administrator dysponuje odpowiednim przygotowaniem technicznym, możesz samodzielnie stworzyć wiadomości z prośbą o ocenę sklepu lub produktu, w których będzie umieszczony link do formularza. Link ten można utworzyć za pomocą narzędzia Review Request API, czyli za pomocą interfejsu danych. Prośby o ocenę sklepu i produktu można przesłać osobno lub zebrać razem w jednej wiadomości. Zastosowanie interfejsu jest bardzo proste. Tutaj znajdziesz link do narzędzia .
Masz pytania lub sugestie? Napisz do nas na adres productfeedback@trustedshops.com.