Wyszukiwarka przestaje być tylko miejscem które dostarcza nam w najszybszy możliwy sposób odpowiedzi na zadane pytanie. Teraz to także obszar wykorzystywany przez wiele firm do komunikacji i budowania stałych relacji z użytkownikami. Aby dobrze komunikować się z użytkownikiem powinniśmy poznać jego zachowania w wyszukiwarce.


Badania eyetrackingowe
Jednym ze sposobów poznania zachowań użytkownika są badania eyetrackingowe strony z wynikami wyszukiwania. Badanie przeprowadzone przez Enquiro w 2005 roku pokazuje gdzie użytkownik kierował swój wzrok po wpisaniu zapytania do wyszukiwarki Google.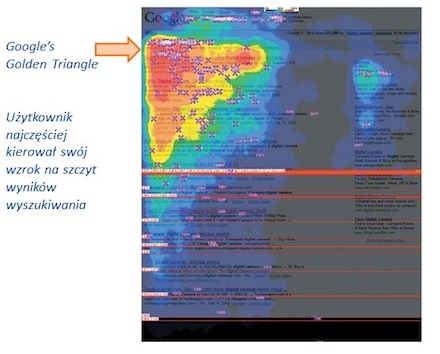 Źródło: 2005 Eyetracking Research Study, Enquiro
Większość użytkowników skupiała się na szczycie wyników wyszukiwania. Uwidacznia się także pewien kształt nazwany później Złotym Trójkątem Google (Google's Golden Triangle). To właśnie to miejsce było w 2005 najcenniejszym obszarem w SERPie (strona z rezultatami wyszukiwania). Pierwsze wyniki budziły dużo większe zainteresowanie i zaufanie w porównaniu z reklamą Adwords.
W ciągu 6 lat strona z wynikami wyszukiwania przechodziła wiele zmian. Niektóre z tych modyfikacji znacząco wpłynęły na zmianę podążania ludzkiego oka w SERPie. Coraz większą role zaczęły odgrywać wyniki płatne
(Adwords). Przy znacznej liczbie zapytań zajmują one trzy miejsca ponad wynikami organicznymi, co miało przełożenie na mocniejszą koncentrację wzroku właśnie w tym miejscu. Reklama Adwords odgrywa coraz większa rolę nawet jeśli wyświetlana jest z prawej strony. Już teraz ten obszar przyciąga większe zainteresowanie niż wyniki organiczne, które są niewidoczne dla użytkownika bez konieczności przewijania strony. Warto także zwrócić uwagę na takie nowe elementy SERPa jak wyniki graficzne, video czy mapy. To właśnie one sprawiły że Złoty Trójkąt Google wydłużył się znacznie w dół.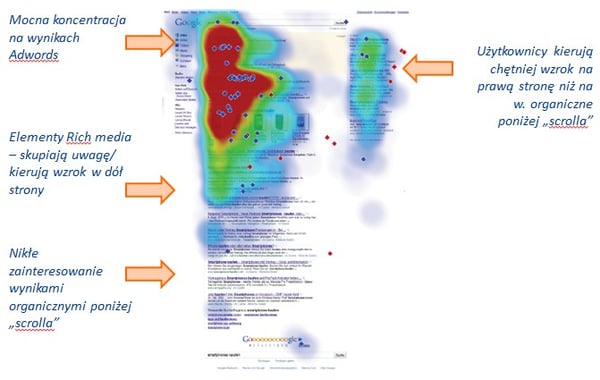 Źródło: Google Eye Square Eye Tracking Study, 2011 www.full-value-of-search.de
Jeśli spojrzymy jak długo użytkownik skupia swój wzrok na poszczególnych obszarach, zauważymy nieznaczną przewagę wyników płatnych nad naturalnymi.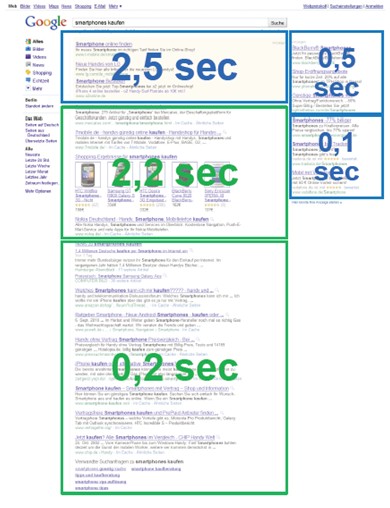 Źródło: Google Eye Square Eye Tracking Study, 2011 www.full-value-of-search.de
Może to wynikać z tego, że reklamy pisane są w sposób bardziej pomysłowy, zawierają liczby, znaki interpunkcyjne i opcje powtarzania zapytania w nagłówku.
Zachowania użytkowników zmieniają się także przy długości zapytań. Wzrasta liczba zapytań jedno i wielowyrazowych, coraz więcej użytkowników wie czego szuka ("nauczyło się" szukać i definiować swoje potrzeby) i oczekuje precyzyjnych wyników wyszukiwania. Z pewnością istotną rolę odgrywają tutaj zapytania produktowe, wpisywane często z dokładną nazwą danego produktu.

Źródło: opracowanie własne na podstawie www.experian.com/hitwise
Zapytania użytkowników można podzielić na 3 w miarę jednorodne grupy:
Nawigacyjne
Informacyjne
Sprzedażowe
Te pierwsze są wpisywane z zamiarem kliknięcia w konkretny wynik wyszukiwania bez analizy pozostałych. Użytkownik ułatwia sobie w ten sposób dotarcie do szukanej przez niego strony, bez koniczności wpisywania pełnej nazwy serwisu w pole adresu przeglądarki. Przykładem takich zapytań może być "youtube", "interia", "allegro".
Drugi rodzaj to zapytania informacyjne, czyli takie, które rozwiązują konkretnie zdefiniowany problem użytkownika. Może to być zapytanie o rozkład jazdy pociągów, przepis na potrawę, czy tekst piosenki. Coraz częściej do tej grupy trafiają także frazy w formie pytającej np. "jak długo gotować ziemniaki?".
Trzeci rodzaj to zapytania sprzedażowe których celem jest w zależności od etapu zakupu, na którym znajduje się użytkownik, zdobycie informacji o produkcie, porównanie cen i wreszcie zakup wybranego modelu.
Autor: Marcin Kolonko, Specjalista ds. SEM, SEMAHEAD Agencja SEM Grupy Interia.pl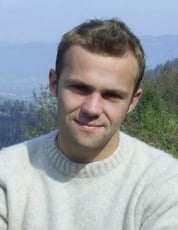 Semahead jest agencją Grupy INTERIA.PL specjalizującą się w marketingu w wyszukiwarkach. W ofercie agencji znajdują się przede wszystkim kompleksowe rozwiązania z zakresu pozycjonowania i optymalizacji, linków sponsorowanych, konsultacje eksperckie oraz oferty specjalne.
Dzięki wieloletniemu doświadczeniu i pozycji INTERIA.PL - wchodzącej w skład Bauer Media Group – stworzona pod jej skrzydłami agencja Semahead zapewnia najwyższą jakość usług oraz innowacyjność proponowanych rozwiązań. Na szczególną uwagę zasługuje fakt, iż zdobywanie ruchu z wyszukiwarek odbywa się za pomocą autorskich narzędzi i rozwiązań, które nie naruszają etyki i standardów Google.
Zespół Semahead tworzą wysokiej klasy specjaliści w branży SEM. Cechuje ich przede wszystkim profesjonalizm i skuteczność działań, o czym świadczą dziesiątki milionów użytkowników pozyskanych z projektów SEO oraz certyfikat Google Qualified Company.