Nowość: Wyniki organiczne wyświetlają teraz produkty. Dają też użytkownikowi możliwość ich porównywania. W skrócie:
Google Zakupy — ale organicznie, za darmo. Musisz tam być!
Zastanawiasz się, jak trafić do organicznych wyników zakupowych? Przygotowałem dla Ciebie wyjaśnienie wraz ze wskazówkami.
W tym artykule dowiesz się:
jaką zmianę wprowadziło Google

w jaki sposób działa nowa funkcja

jak trafić do nowej sekcji wyników wyszukiwania
Na marginesie. Jeśli nie masz czasu wgryzać się w temat marketingu internetowego, a chcesz rozwijać sklep, skorzystaj z gotowej checklisty:
Jaką zmianę wprowadziło Google?
Zanim przejdziemy dalej, musisz wiedzieć jedno (eMarketer):
34,6% zakupów w sieci rozpoczyna się od wyszukiwarki Google
Gigant doskonale rozpoznaje trendy i dostosowuje do nich swoje produkty. Nie inaczej jest w tym przypadku.
Choć wyszukiwarka przynosi firmie Google dochód jedynie z reklam, nie oznacza to, że samymi reklamami żyje. Wręcz przeciwnie. Swoją pozycję monopolisty uzyskała dzięki prezentowaniu najlepszych na świecie organicznych wyników wyszukiwania.
Strona wyników organicznych jest stale rozwijana. Na przestrzeni lat została wzbogacona o takie elementy jak:
Sama reklama w wyszukiwarce nie ogranicza się już tylko do AdWords (Google Ads). Możliwości kupowania ruchu z wyszukiwarki zostały rozszerzone o moduł Google Zakupy.
Sprawdził się on świetnie. Nic dziwnego, że Google idzie za ciosem i zaczyna oferować porównywarkę produktów w wynikach organicznych. Przecież to jest właśnie to, czego chcą użytkownicy! Sprzedawcy natomiast nadal będa mieli możliwość promowania swoich ofert z użyciem Google Zakupy.
Google zbyt wiele nie straci, a może zyskać. Użytkownicy przyzwyczają się do wyszukiwania produktów bezpośrednio w Google, a zatem (prawdopodobnie) częściej będą klikać w oferty z sekcji Google Zakupy.
Oto jak wygląda nowy moduł w praktyce:
Nowa sekcja zakupowa — jak wygląda?
Nowe wyniki wyszukiwania wyświetlają nie tylko produkty, ale również opinie na temat produktu oraz sklepy, które dany produkt oferują.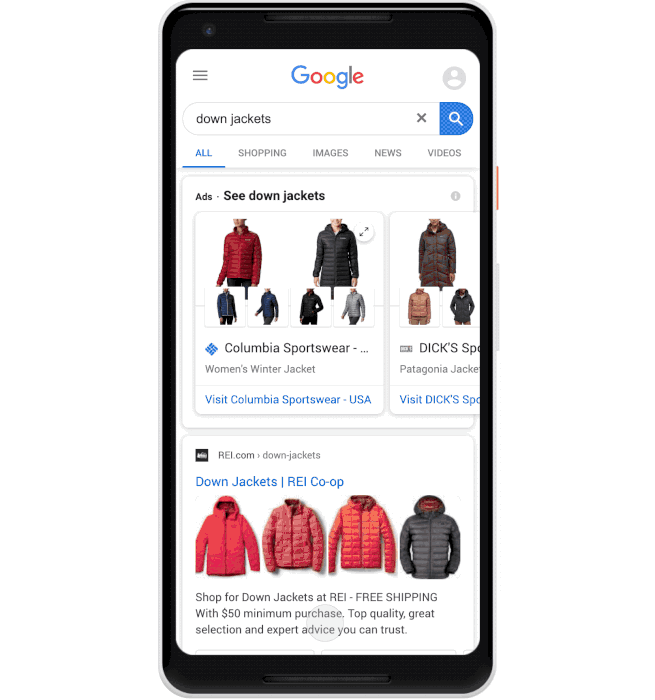 Co więcej, nowa funkcja świetnie integruje się z dotychczasowym interfejsem. Działa szybko i sprawnie: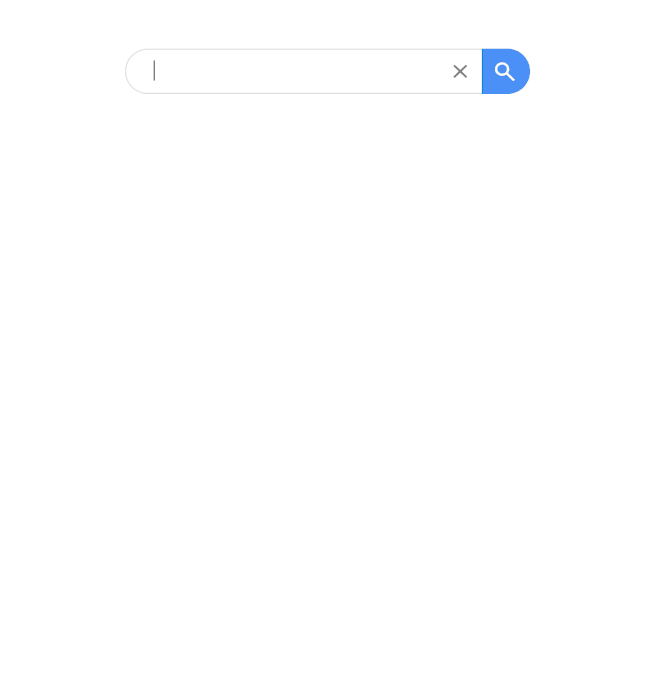 Wygląda świetnie, prawda? Dowiedz się, czy ta opcja jest dostępna dla Ciebie:
Dostępność funkcji dla polskich sprzedawców
Dzięki zagregowanym przez Google danym, może zadziać się magia pt.:
Wyniki wyszukiwania są wzbogacane o produkty automatycznie.
Nie tylko przy odpowiedniej konfiguracji nie musisz nic robić, ale dodatkowo możesz sporo zyskać. Nowa sekcja w organicznych wynikach wyszukiwania może przynieść Ci bowiem dwie następujące korzyści:
1. Obniżysz budżety na Google Zakupy lub Ceneo albo
2. zwiększysz ruch na sklepie z zachowaniem dotychczasowego budżetu.
Nie zdziwisz się zatem, gdy powiem, że nie możesz pozostać obojętnym na tę nowinkę. Niestety:
Nowa funkcja dostępna jest na razie jedynie w Stanach Zjednoczonych.
Co więcej, na ten moment nie wiadomo, kiedy funkcja pojawi się na polskim rynku. Warto być jednak na to przygotowanym, aby pozyskiwać więcej darmowego ruchu.
Nigdy nie wiesz, kiedy funkcja zostanie wprowadzona. Znając Google, nowa funkcja pojawi się w Polsce z zaskoczenia (tak jak pojawiła się w Stanach Zjednoczonych). Przewagę konkurencyjną zdobędą ci, którzy zawczasu przygotują swoje sklepy.
Chcesz być jednym z pionierów? Zobacz, jakie to proste:
Jak się przygotować?
Google zaindeksowało do tej pory setki miliardów stron internetowych (źródło). Przekłada się to na aż 100.000.000 GB danych.
Czy wiesz, że potrzeba byłoby aż 20 milionów płyt DVD, aby zgrać te dane?
Google uwielbia dane! Właśnie teraz musi je jednak prezentować w coraz lepszy, prostszy i bardziej uporządkowany sposób. Wiesz dlaczego? Statista:
Aż 60% wyszukiwań odbywa się z użyciem urządzeń mobilnych.
Jest to prawie dwukrotny wzrost w zaledwie pół dekady: 5 lat temu urządzenia mobilne generowały zaledwie 34% wyszukań.
Jak już dobrze rozumiesz, Google musi się dostosowywać do ograniczonego i uproszczonego interfejsu smartfonów i tabletów.
Google co prawda posiada algorytmy odpowiadające za wybieranie najlepszych stron dla danych zapytań, ale możesz mu pomóc, osiągając dzięki temu lepsze wyniki w wyszukiwarce. W tym przypadku nie chodzi tylko o SEO.
Jak oficjalnie informuje Google:
Dane do nowej sekcji zakupowej będą gromadzone z:


plików udostępnianych za pomocą Google Merchant,

danych strukturalnych strony sklepu.
Więcej informacji na temat Google Merchant (Google Zakupy) uzyskasz na stronach Google:
W czasie oczekiwania na nową sekcję zakupową w wynikach wyszukiwania, możesz skorzystać z reklamy w Zakupach Google:
Zakupy Google — co możesz zrobić teraz?
Zakupy Google to świetna forma promocji e-sklepu. Dzięki tej funkcji wyszukiwarki Google możesz pozyskać nowy ruch w modelu rozliczenia za kliknięcie (CPC).
Jeśli jeszcze nie korzystasz z Zakupów Google jako sprzedawca, zapoznaj się z naszym poradnikiem dla początkujących:
Gdy masz za sobą pierwsze kroki, sprawdź, jak zoptymalizować kampanie:
Koniecznie daj znać, co uważasz na temat nowej sekcji w wynikach wyszukiwania. Jesteśmy ciekawi, czy dostrzegasz potencjał tego kanału, a może uważasz, że zagrozi on rynkowi e-commerce?