Badania przeprowadzone przez instytut opinii publicznej Infas na zlecenie Trusted Shops wskazują, które kryteria są najbardziej istotne dla kupujących.
Skorzystaj z tej wiedzy, aby dostosować swój e-biznes do oczekiwań klientów.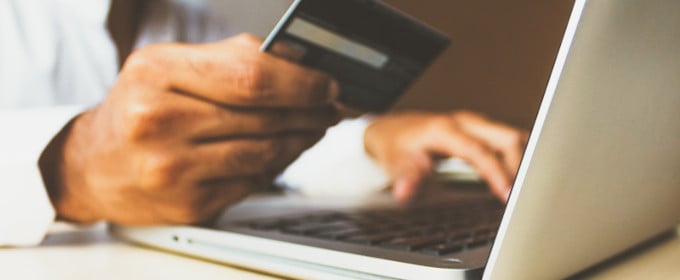 Bezpieczeństwo przede wszystkim
Jak pokazują badania, bezpieczeństwo jest dla Polaków najważniejszym kryterium wyboru sklepu zaraz za ceną – tak wskazało prawie 90% ankietowanych.
Na trzecim miejscu uplasowała się szybka dostawa. Jest ona szczególnie istotna dla Polaków:
Według raportu UKE, w 2018 roku złożyliśmy prawie 1 milion reklamacji na opóźnienie w stosunku do gwarantowanego terminu dostarczenia.
W pierwszej piątce znalazły się również aspekty związane z zaufaniem do sklepu internetowego takie jak gwarancja zwrotu pieniędzy.
Poniższa grafika przedstawia pełne wyniki badania: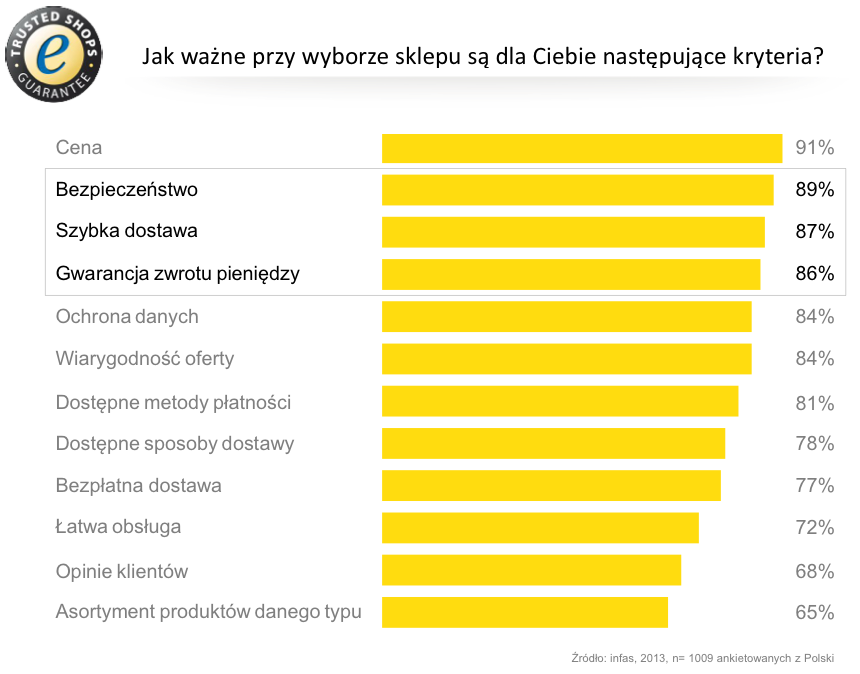 Jednym ze sposobów uwiarygodnienia się w oczach klientów jest zastosowanie znaku jakości (z Ochroną Kupującego).
DobreOkucia.pl zwiększyły konwersję z użyciem znaku jakości:

Sklepy muszą budować wiarygodność
Wyniki sondażu odzwierciedlają główne obawy konsumentów — czy sklep jest godny zaufania?
Rynek e-commerce musi mierzyć się z wyzwaniem zbudowania poczucia wiarygodności i bezpieczeństwa. Choć ustawodawca nakazuje m.in. obsługę zwrotów do 14 dni bez podania przyczyny, wciąż wielu konsumentów nie ufa zakupom on-line.
Warto również zauważyć, że konsumenci coraz większą wagę przykładają również do ochrony danych osobowych. Zależy im bowiem, aby sklepy zarządzały danymi we właściwy sposób i nie udostępniały ich stronom trzecim.
Z drugiej strony, widzimy, że zmieniają się oczekiwania wobec sklepów internetowych. Kupujący wymagają szybkiej realizacji zamówienia. Jak sugerują badania, konsumenci nie postrzegają tego aspektu w kategoriach dodatkowego udogodnienia, ale standardu.
Po raz kolejny konsumenci podkreślają jak ważne jest dla nich bezpieczeństwo transakcji i rzetelność sprzedawcy. Kupujący muszą czuć się bezpiecznie na każdym etapie zakupów, aby zdecydować się na finalny krok, czyli złożenie zamówienia.

Coraz częściej konsumenci wchodzą od razu na strony produktowe; to tam oraz na etapie płatności szukają potwierdzenia wiarygodności sprzedawcy.

Trusted Shops bada nastroje konsumentów i zmieniające się trendy na rynku dostosowując prezentacje symboli zaufania do potrzeb zarówno kupujących, jak i sprzedawców. Na przykład dzięki Ochronie Kupującego konsumenci mają poczucie bezpieczeństwa i chętniej dokonują zakupu.

Anna Rak
Country Manager
Trusted Shops w Polsce
Nie musisz zastanawiać się, co wpływa na zaufanie klientów do sklepu. Pobierz gotową listę z sugestiami
Jak zdobyć zaufanie klienta? — lista do wydrukowania [pobierz]:


Im szybciej tym lepiej
Z roku na rok coraz większego znaczenia nabiera również czas dostawy. Kupujący wymagają bowiem, aby ich przesyłki docierały szybko i bez problemów.
Tę potrzebę na rynku dostrzega Poczta Polska, która oferuje przesyłki pocztowe oraz kurierskie. Sprzedawcy internetowi mogą liczyć na elastyczne i indywidualne rozwiązania, takie jak:
przesunięcie granicznej godziny wysyłania paczek priorytetowych

czy też obsługę przesyłek w specjalnie wydzielonym pomieszczeniu.
Ponadto e-sprzedawcy otrzymują dostęp do aplikacji Elektroniczny Nadawca, która jest przydatna przy wysyłaniu dużej liczby przesyłek.
Poczta Polska dynamicznie rozwija się w segmencie eCommerce, współpracując z niemal 60% e-sklepów. To z myślą o nich opracowaliśmy nową ofertę kurierską.

Jednym z rozwiązań jest usługa Paczka EKSTRA24. Główną zaletą tego rozwiązania jest szybkość doręczenia przesyłek. Paczka nadana w placówce pocztowej dotrze do odbiorcy już następnego dnia.

Wysoka jakość, terminowość oraz zaufanie sprawiają, że Polacy coraz częściej wybierają dostawę za pośrednictwem Poczty Polskiej.

Sławomir Żurawski
Dyrektor Biura Rozwoju Usług KEP Poczty Polskiej
Coraz większą popularnością cieszą się też usługi dostawy tego samego dnia (tzw. Same-Day Delivery). W Polsce oferuje ją na przykład eobuwie.pl.
Podsumowanie
W sondażu na temat decyzji zakupowych oraz zaufania do sklepów internetowych wzięło udział:
1000+ internautów z Polski

4000+ internautów reprezentujących kluczowe rynki europejskie.
Przez kluczowe rynki europejskie rozumiemy Niemcy, Francję, Hiszpanię i Wielką Brytanię.
Respondentów pytano między innymi o kryteria, jakimi kierują się podczas wyboru sklepu internetowego i częstotliwość zakupów.
Wyniki wskazują jednoznaczenie, że oprócz ceny najważniejszymi kryteriami są bezpieczeństwo i zaufanie do sklepu.
Zaufanie można zwiększyć dzięki opiniom dotychczasowych klientów: