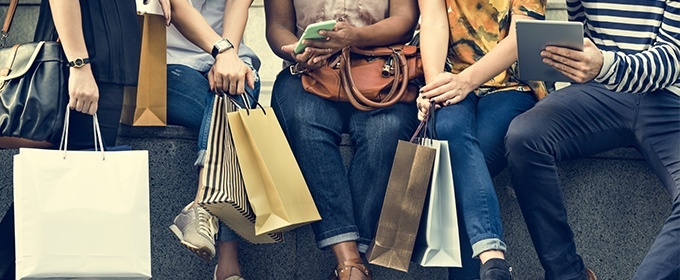 Liczba klientów sklepów internetowych systematycznie rośnie. Według najnowszego raportu "E-commerce w Polsce 2017. Gemius dla e-Commerce Polska", już 54% polskich internautów kupuje online. Wartość całego rynku e-commerce w Polsce szacowana jest obecnie na 36-40 mld złotych.
Eksperci są zgodni, że rynek e-commerce w Polsce ma bardzo duży potencjał rozwojowy i w najbliższych latach będzie rosnąć o 15-20% w skali roku. Czynników tego wzrostu jest sporo, ale wystarczy wymienić kilka. Po pierwsze, z każdym rokiem przybywa klientów, dla których zakupy online są zupełnie naturalne – to ci najmłodsi. Przybywa również tych, którzy przez lata przekonali się, że zakupy w sieci są bezpieczne – to z kolei starsze osoby. Po drugie, zakupy stają się coraz wygodniejsze i dostępniejsze – wielu sprzedawców zrozumiało, że bez mobile nie mają przyszłości, tak jak bez oferowania szybkiej dostawy i przyjaznej dla klientów polityki zwrotu towaru – komentuje Marek Molicki, ekspert Gemiusa.
Zakupy online w Polsce
Polscy klienci sklepów internetowych doceniają szeroką ofertę, której nie zapewni żaden największy tradycyjny sklep czy nawet całe centrum handlowe. Najsilniejszym czynnikiem zachęcającym do e-zakupów jest jednak ich całodobowa dostępność (aż 82 proc. wskazań). Poza tym zakupy w sieci postrzegane są, jako:
wygodne (67 proc.)
nieskomplikowane (65 proc.)
dające większe możliwości wyboru produktów niż sklepy tradycyjne (62 proc.)
tańsze niż sklepy stacjonarne (61 proc.)
zajmujące mniej czasu niż stacjonarnie (60 proc.)
Ponadto coraz mniej osób uważa zakupy online za ryzykowne. W tegorocznym badaniu opinię taką podzieliło tylko 38 proc., podczas gdy w 2016 roku było to 43 proc ankietowanych. Najczęściej kupowane w sieci produkty to: odzież, dodatki, akcesoria oraz książki, płyty i filmy.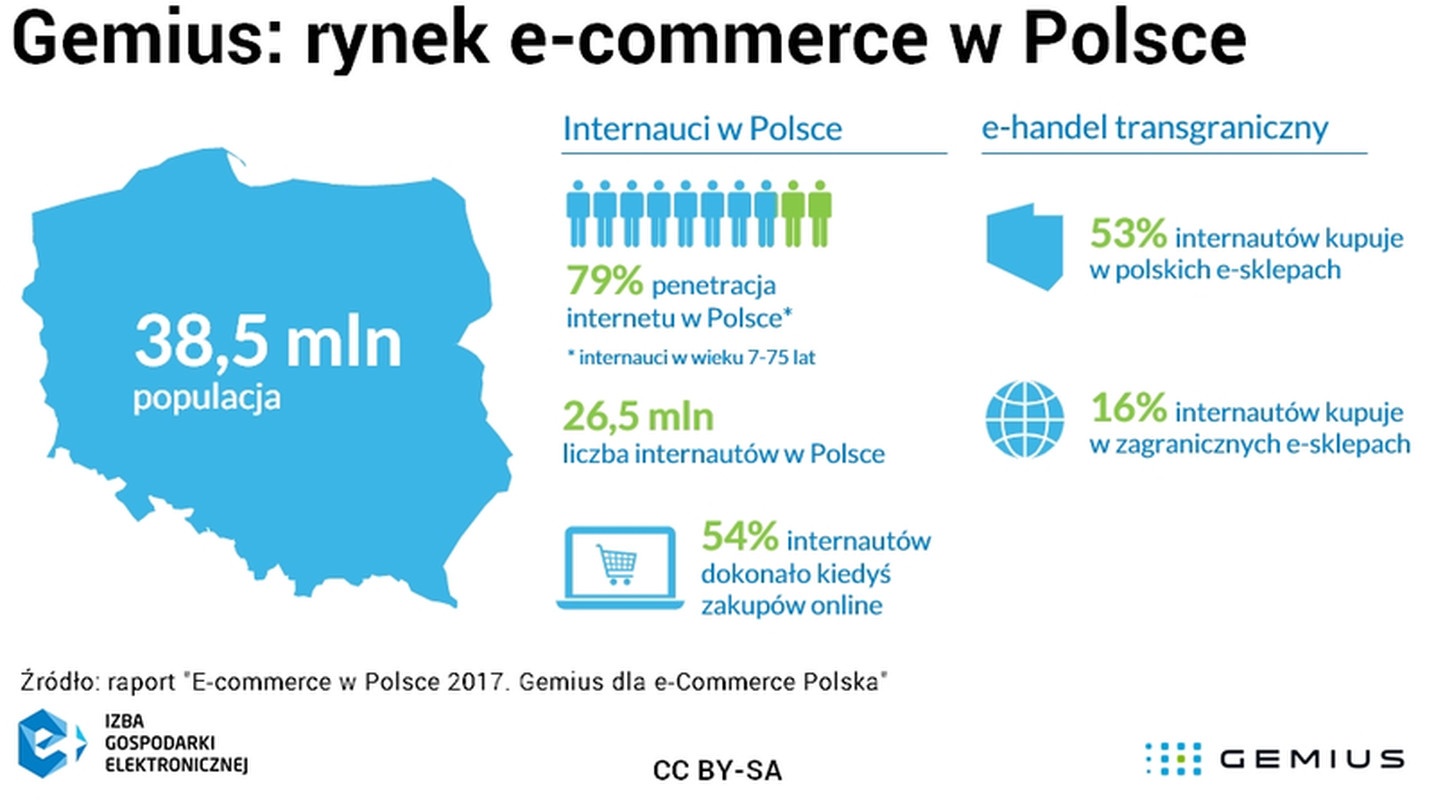 Wyniki wskazują, iż obecnie ponad połowa e-konsumentów (53 proc.) korzysta z oferty krajowych sklepów internetowych. Zakupy w zagranicznych e-sklepach zadeklarowało 16 proc ankietowanych osób. Jak podkreślono w raporcie – z prognoz ekspertów wynika, że już w 2020 r. handel transgraniczny będzie stanowił 1/3 całego e-handlu. Jest to zresztą jeden z ważniejszych trendów charakterystyczny w handlu internetowym na całym świecie. Zakupy transgraniczne są z roku na rok coraz popularniejsze wśród europejskich konsumentów. Jest to ważny sygnał dla e-sklepów z ambicjami dotarcia do szerszej grupy odbior­ców, poza granicami Polski. Sprzedawcy, którzy zdecydują się działać wyłącznie lokalnie, będą musieli liczyć się z rosnącą z roku na rok konkurencją ze strony zagranicznych graczy, w tym również światowych gigantów e-handlu takich jak np. chińska platforma ALiExpress czy amerykański Amazon.
Wyniki raportu wskazują, iż chińska platforma jest rozpoznawana spontanicznie przez 26 proc. kupujących w internecie, którzy korzystają z zagranicznych serwisów. W mediach coraz częściej pojawiają się również spekulacje o otwarciu oficjalnego sklepu Amazon w Polsce. Obecnie serwis ten udostępnia polską wersję językową swojej niemieckiej strony. Niedawno do użytku oddana została także polska wersja językowa aplikacji na smartfony skierowanej na niemiecki rynek. Amazon oferuje również obsługę klienta w języku polskim. Przed trudnym zadaniem obronienia swojej wciąż bardzo silnej pozycji na polskim rynku stoi Allegro (rozpoznawalność spontaniczna – 71 proc.), który niedawno odświeżył wygląd swojej strony głównej i wprowadził kilka zmian w funkcjonowaniu serwisu. Zdaniem ekspertów, Allegro ewoluuje w kierunku wielobranżowego sklepu internetowego, przypominając coraz bardziej chiński ALiExpress czy Amazona.
Badanie "E-commerce w Polsce 2017. Gemius dla e-Commerce Polska" zostało zrealizowane w formie ankiety elektronicznej z wykorzystaniem techniki CAWI na reprezentatywnej próbie 1500 internautów mających co najmniej 15 lat. Dane zbierano od 7 do 14 kwietnia 2017 roku.