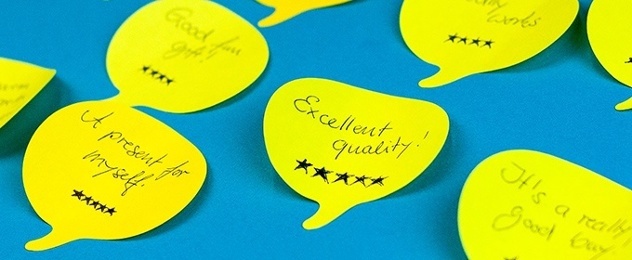 Gdy już zadasz sobie wiele trudu, aby uzyskać opinie klientów, z pewnością chcesz, aby prezentowały się jak najlepiej. Poniżej zamieszczamy pięć wskazówek na temat odpowiedniego wykorzystania opinii w sklepie internetowym. Dzięki temu możesz także uzyskać lepszy współczynnik konwersji.
Widoczne, ale nie rażące
Opinie powinny być łatwe do znalezienia, tak aby odwiedzający stronę sklepu po raz pierwszy nabrali do niej zaufania. Jednak recenzje nie mogą odciągać odwiedzających od głównej działalności, jaką jest sprzedaż produktów i usług przez internet. Dobrym przykładem skutecznego narzędzia do prezentacji opinii jest Trustbadge®, który wyświetla ogólną ocenę sklepu w całym procesie zamawiania.
Wyświetl opinie

Oceny w postaci gwiazdek są ważnym wskaźnikiem dla klientów, ale opinie są dla nich znacznie istotniejsze. Dlatego zalecamy, aby wybrać i wyświetlić od dwóch do sześciu opinii. Ta liczba umożliwi pobieżne zapoznanie się z ich treścią i pozwoli wyrobić sobie zdanie o sklepie. Tę funkcjonalność (i wiele innych możliwości) zapewnia narzędzie Review Sticker.
Dostosuj układ strony

Dostosuj wyświetlanie opinii do swojej witryny. Dzięki temu nie będą one wyglądać jak zewnętrzna podstrona, ale jak integralna część każdej podstrony. Dotyczy to nie tylko koloru, typografii i formatowania, ale także stylu i tematu. Dla przykładu sprzedawca win Lieblingswein, wybrałby ramkę w kolorze czerwieni Bordeaux dla opinii wyświetlanych za pomocą narzędzia Review Sticker.
Nie chowaj oceny sklepu

Umieść recenzje swojego sklepu bezpośrednio na stronie głównej, w dobrze widocznym miejscu na stronie. Jest to lepsze miejsce niż specjalnie przygotowana do tego celu stopka lub dodatkowa ramka z boku strony. Ocena powinna być połączona z profilem opinii, gdzie będzie można zapoznać się ze wszystkimi komentarzami. Oprócz gorszej widoczności, wyświetlanie oceny na dole strony spowodowałoby odciągnięcie uwagi klientów od ważnego procesu zamawiania. Zalecamy użycie względnie niewielkiego elementu z oceną, tak aby odpowiednio wpasował się on w zawartość strony głównej.
Wykorzystaj opinie jako treści użytkowników

Opinie wyświetlane bezpośrednio na stronie głównej będą traktowane jako unikalne treści generowane przez użytkowników. Dzięki temu możesz uzyskać lepsze wyniki wyszukiwania poprzez SEO. Możesz dołączyć informacje od klientów bezpośrednio za pomocą narzędzia Review Sticker lub skorzystać z naszego API. W ten sposób uzyskasz więcej możliwości w zakresie wyświetlania elementu Review Sticker, ale wymaga to nieco większych umiejętności technicznych.