Wdrożenie YouTube Shorts i wprowadzenie możliwości robienia zakupów bezpośrednio na platformie – to najważniejsze z punktu widzenia e-commerce punkty ogłoszonej niedawno przez YouTube strategii na najbliższe miesiące. Narzędzie mające stanowić konkurencję dla TikToka i Instagram Reels będzie dostępne już w marcu – póki co tylko w Stanach Zjednoczonych.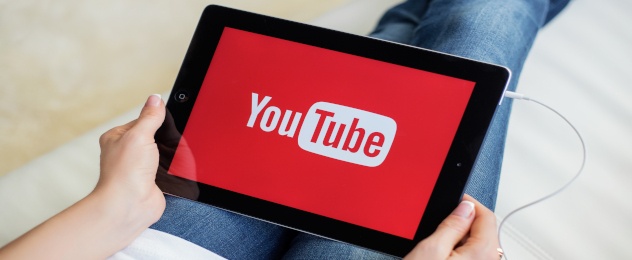 Co to jest YouTube Shorts?
Nowe narzędzie od YouTube umożliwia kręcenie krótkich, maksymalnie 60-sekundowych filmików nagrywanych telefonem komórkowym w orientacji pionowej. Brzmi znajomo? Na takiej samej zasadzie działa popularny w ostatnim czasie TikTok i uruchomione niedawno przez Instagrama Reels. Shortów nie należy mylić jednak z relacjami (Stories), również dostępnymi w serwisie – te mogą bowiem trwać maksymalnie 15 sekund i aby móc je tworzyć, należy mieć co najmniej 10 tys. subskrybentów.
Jak uzasadnia Neal Mohan, Chief Product Officer w YouTube w niedawnym wpisie na blogu serwisu, wprowadzenie nowego formatu ma na celu pomoc mniejszym twórcom z wystartowaniem na platformie.
– Każdego roku coraz więcej osób korzysta z YouTube, by uruchomić własny kanał. Ale wiemy, że wciąż jest ogromna liczba ludzi, dla których poprzeczka kreatywności jest ustawiona zbyt wysoko. Dlatego pracujemy nad Shorts, naszym nowym narzędziem, które umożliwia twórcom i artystom kręcenie atrakcyjnych filmów wyłącznie za pomocą telefonów komórkowych – czytamy.
Shorts póki co w Indiach i Stanach Zjednoczonych
Choć nowy format powstał z myślą o nowych twórcach o ograniczonych zasobach, to z Shorts może korzystać każda osoba posiadająca konto na YouTube. Narzędzie to jest już dostępne w wersji beta w Indiach. Zgodnie z danymi YouTube, obecnie odtwarzacz Shorts generuje 3,5 miliarda wyświetleń dziennie na całym świecie. Widząc ogromny potencjał kryjący się za krótkimi treściami, serwis zaplanował na marzec udostępnienie go większej liczbie użytkowników – póki co tylko w USA.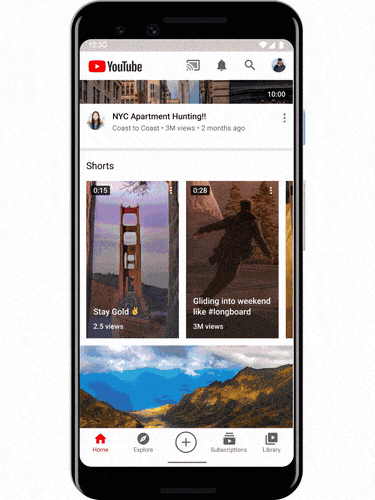 Źródło: blog.youtube
Obecnie nie wiadomo, kiedy YouTube Shorts trafią do Europy. Jeśli jednak w Stanach Zjednoczonych okażą się równie dużym sukcesem co w Indiach, można przypuszczać, że platforma udostępni je także m.in. w Polsce.
Jakie możliwości daje YouTube Shorts dla właścicieli e-sklepów?
Duża popularność TikToka sprawiła, że coraz więcej odbiorców skłania się ku krótkim, prostym formom. YouTube Shorts, podobnie jak jego konkurencja, może stanowić doskonałe narzędzie marketingowe dla e-commerce. Ich siła polega na tym, że do ich stworzenia nie trzeba mieć specjalistycznego sprzętu lub zaawansowanych narzędzi – wystarczy telefon komórkowy.
Oto, jakie zalety niosą za sobą YouTube Shorts:
zwiększenie świadomości marki i dotarcie do nowych grup docelowych – krótkie formy wideo cieszą się największą popularnością wśród młodych odbiorców. Prezentując kreatywny przekaz, możesz pozyskać nowych klientów;

zwiększenie liczby klientów – 60-sekundowe filmiki utrzymują uwagę potencjalnego klienta na dłużej niż kilkunastominutowe przekazy. Wykorzystaj to, tworząc wideo, w którym zawrzesz konkretne, interesujące użytkownika informacje;

budowanie wizerunku marki – wykorzystuj swoją wiedzę, odpowiadając na często pojawiające się pytania klientów czy prezentując statystyki związane z branżą. Dzięki temu wzmacniasz swoją pozycję jako eksperta na danym polu;

pokazanie "ludzkiej strony" Twojego biznesu – daj użytkownikom znać, że masz poczucie humoru czy że za Twoim sklepem internetowym stoją konkretni ludzie, publikując np. nagrania zza kulis;

możliwość zaprezentowania produktów w nietypowy sposób – 60 sekund to naprawdę niewiele – ale to ograniczenie daje Ci możliwość kreatywniejszego podejścia do pokazywania potencjalnym klientom Twojego asortymentu. Porównywanie produktów, prezentowanie ich zastosowania czy efektów "przed" i "po" niesie za sobą dużą liczbę informacji w krótkim czasie.
Wkrótce zakupy na YouTube
Już w ubiegłym roku informowaliśmy, że Google rozpoczęło testowanie YouTube jako platformy zakupowej. Informacje te potwierdza Neal Mohan we wpisie na blogu YouTube:
- Ponieważ klienci w coraz większym stopniu decydują się na zakupy online, mamy szansę sprostać rosnącemu zapotrzebowaniu na e-commerce. Prowadzimy testy beta nowej, zintegrowanej funkcji zakupowej, która umożliwia widzom korzystanie z wiarygodności i wiedzy zaufanych twórców, aby dokonywać świadomych zakupów bezpośrednio na YouTube.
Jak zapewnia, funkcja ta wejdzie w życie już w 2021 roku, nie wiadomo jednak, w których krajach będzie dostępna w początkowej fazie.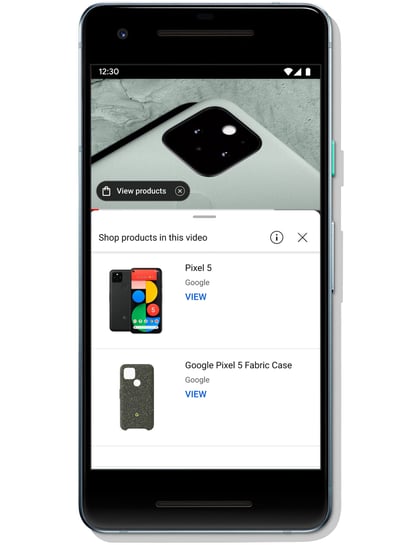 Źródło: blog.youtube
Jak zakupy w ramach serwisu będą wyglądać w praktyce? Oglądając na YouTube film, w którym pojawią się produkty, użytkownikowi na ekranie wyświetli się opcja "Zobacz produkty". Po jej wybraniu widz zostanie przeniesiony do sklepu, który rozwinie się pod wspomnianym wideo. Dzięki temu użytkownik nie będzie musiał wychodzić z platformy lub samodzielnie szukać prezentowanych produktów – wszystko znajdzie w jednym miejscu.
Jeśli weźmiemy pod uwagę, że w ubiegłym roku z YouTube korzystało niemal 2 miliardy widzów na całym świecie, możemy śmiało zakładać, że utworzenie w ramach serwisu platformy zakupowej będzie dla giganta internetowego świetnym posunięciem i możliwością rywalizowania z największymi graczami na rynku e-commerce.
👇Sprawdź, jak nakręcić skuteczne wideo produktu z naszym bezpłatnym poradnikiem: