Zakupy w e-sklepach robi już prawie każdy Polak, który ma dostęp do internetu. Dokładnie 93% respondentów deklaruje, że kupiło coś online chociaż raz w ciągu ostatnich 6 miesięcy. Jedynie 7% przyznało, że nigdy nie zamówiło w e-sklepie. Tak wskazują wyniki ostatniego badania SW Research, przygotowanego na zlecenie Trusted Shops, firmy oferującej gwarancję zwrotu pieniędzy klientom sklepów internetowych. Najnowszy sondaż pokazuje również, że wraz ze wzrostem popularności e-zakupów rośnie też liczba klientów, którzy mieli problemy przy zakupie bądź realizacji zamówienia online.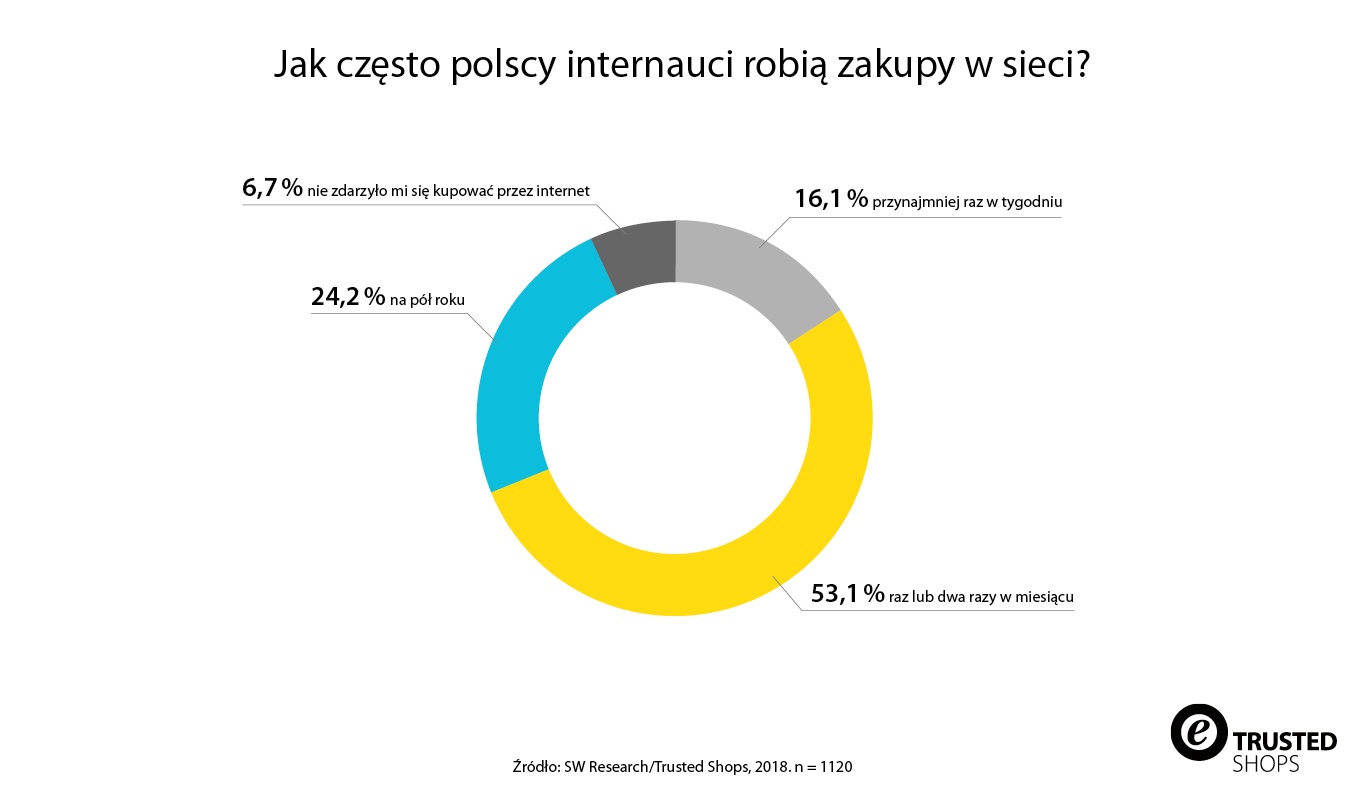 Handel w sieci staje się z roku na rok coraz popularniejszy. Według badania SW Research
pt.: "Zakupy Polaków w internecie", przygotowanym na zlecenie Trusted Shops już ponad 93% internautów przyznaje, że kupuje online. To duża różnica w porównaniu z rokiem 2017, kiedy aż 62% osób deklarowało, że nie robi zakupów przez internet. Co ciekawe, tylko 16% ankietowanych robi zakupy regularnie – przynajmniej raz w tygodniu. Ponad połowa robi
je sporadycznie – raz lub dwa razy w miesiącu, a co czwarty badany dopiero testuje zakupy online, bo zdarza mu się to zaledwie raz na pół roku.
Ile wydajemy online?
Jednostkowe kwoty, które przeznaczamy na zakupy w internecie są podobne do tych w latach poprzednich. 34% internautów robi zakupy o wartości od 60 do 100 PLN, natomiast 35% kupuje online za 100 – 249 PLN, co oznacza niewielki spadek względem lat ubiegłych. Wzrosła natomiast liczba drobnych transakcji o wartości do 59 PLN (16%) oraz zdecydowanie droższych zakupów powyżej 500 PLN, które stanowią już ponad 5%.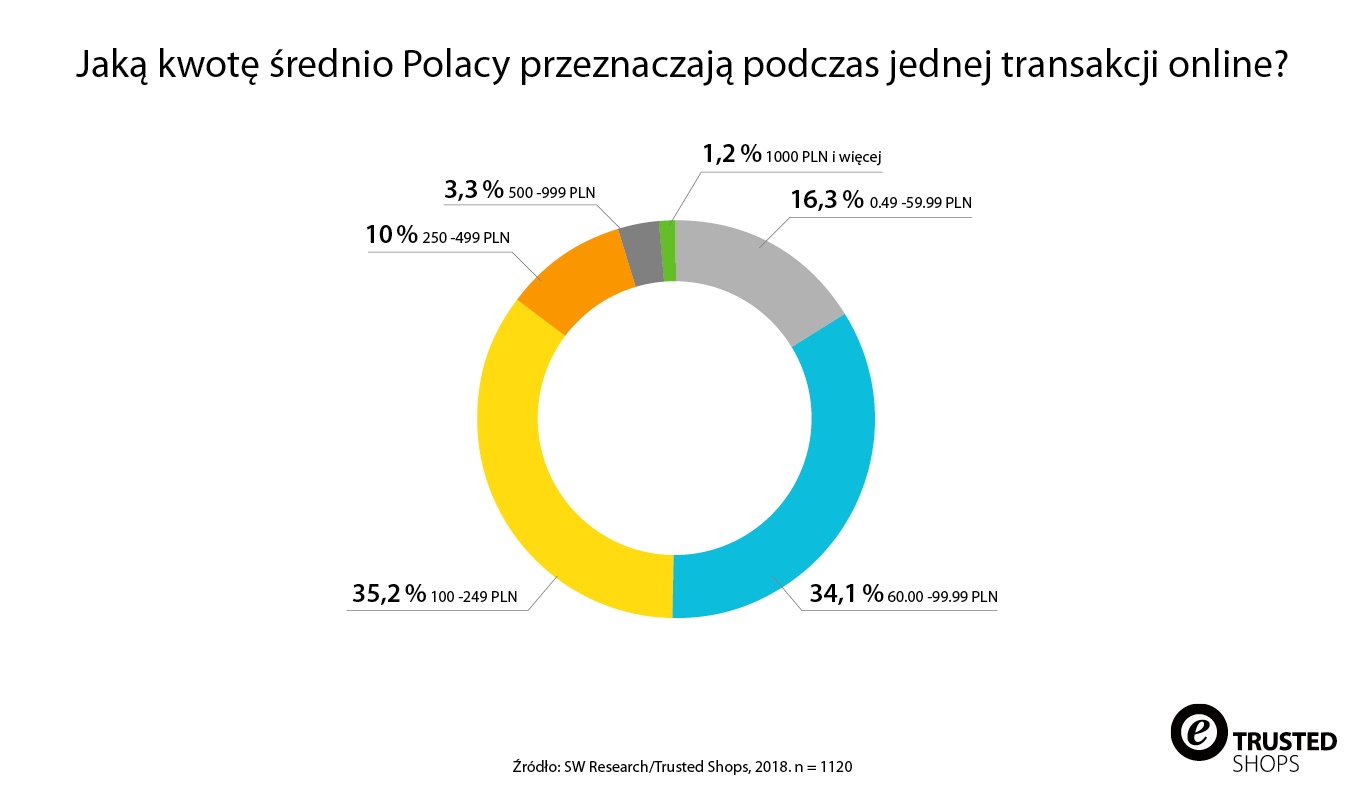 Najczęstsze problemy kupujących online
Wraz ze wzrostem popularności e-zakupów i liczby transakcji, pojawia się coraz więcej problemów z realizacją zamówień. Tylko 54% kupujących przyznaje, że nie miało żadnych trudności z zamówieniem. W przypadku aż 17% respondentów, sklepy nie dotrzymywały terminu dostaw, natomiast 11% miało problem z uszkodzoną przesyłką. Na trzecim miejscu są trudności ze zwrotem i odzyskaniem wpłaconych pieniędzy, które zgłasza już co dziesiąty ankietowany. Zdarza się natomiast mniej pomyłek w stosunku do ubiegłego roku – niecałe 10% w porównaniu do 15%. Niestety tak jak w poprzednim roku aż 7% badanych przyznaje, że przesyłka nigdy do nich nie dotarła i nie udało się odzyskać pieniędzy.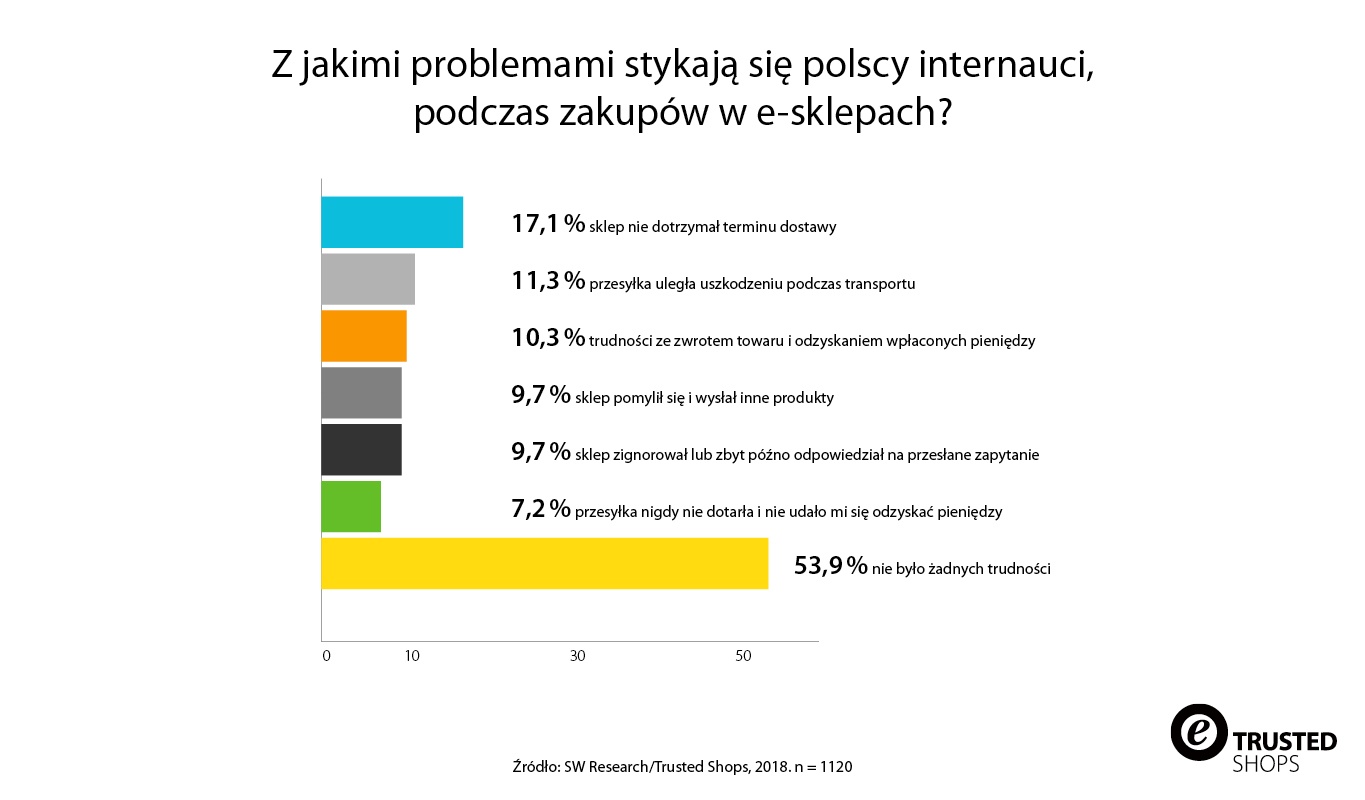 Zastanów się: czego chcą Twoi klienci?
Rynek e-commerce w Polsce rozwija się bardzo dynamicznie. Nasze badania wskazują,
że coraz więcej internautów kupuje online. Więcej jest również osób "testujących" nową formę zakupów. Niestety problemy obecne rok i dwa lata temu, są nadal aktualne. Klienci otrzymują towar z opóźnieniem, a w skrajnych przypadkach paczki nie docierają
do adresatów. Negatywne doświadczenia mogą potęgować obawy konsumentów, którzy boją się, że nie odzyskają swoich pieniędzy, jeżeli nie wszystko pójdzie zgodnie z planem lub zostaną oszukani przez nierzetelnego sprzedawcę. Warto pamiętać, że wiarygodne sklepy oferują ochronę kupującego, czyli gwarancję zwrotu pieniędzy w przypadku braku dostawy lub braku zwrotu pieniędzy po odstąpieniu od umowy. Dzięki temu możemy kupować online bezpiecznie i wygodnie.