Sprzedajesz produkty zarówno w sklepie internetowym, jak i stacjonarnym? Korzystasz z usługi Google Ads, aby zwiększać sprzedaż w Internecie? Skorzystaj z rozszerzeń lokalizacji, dzięki którym możesz zwiększyć ilość wizyt klientów zainteresowanych Twoją ofertą w sklepie.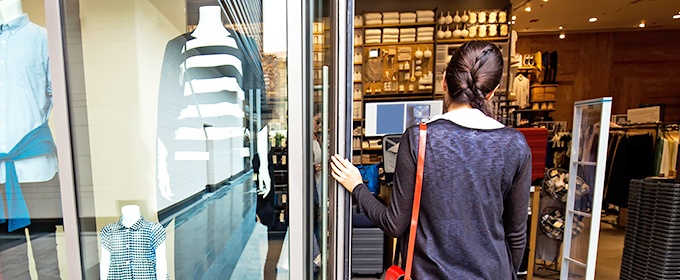 Za ich pomocą możesz informować użytkowników o swoim sklepie, gdy znajdują się w jego okolicy. W ten sposób oferujesz im wszystkie możliwości: albo mimo wszystko zrobią zakupy przez Internet, albo zdecydują się również na wizytę w Twoim sklepie stacjonarnym.
W reklamie tekstowej rozszerzenie lokalizacji wygląda w następujący sposób:

Wyszukiwanie miało miejsce w Kolonii, dlatego wyświetlił się adres najbliższej filii sklepu, która się tam znajduje. Ponadto podane zostały godziny otwarcia.
Po kliknięciu adresu otwierają się Mapy Google, za pomocą których można uzyskać wskazówki dotyczące dojazdu bezpośrednio na miejsce.
Wydajna reklama Google Ads? Możesz to osiągnąć:
Przygotowanie rozszerzenia lokalizacji
Aby stworzyć rozszerzenie lokalizacji, potrzebne jest konto Google MyBusiness. Służy ono do stworzenia kompletnego profilu lokalnego w serwisie Google.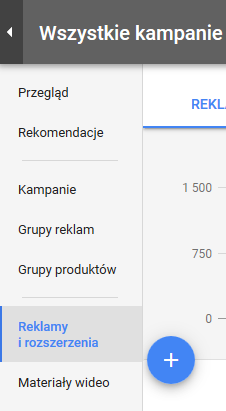 Następnie możesz powiązać to konto ze swoim kontem Google Ads. W tym celu w swoim koncie , w menu po lewej stronie, wybierz "Reklamy i rozszerzenia", a następnie kliknij niebieski symbol plusa. Spowoduje to otwarcie listy z różnymi typami rozszerzenia reklamy.
Z tej listy wybierz opcję "Rozszerzenie lokalizacji". Następnie otworzy się okno, w którym albo pojawi się propozycja bezpośredniego powiązania (gdy Twój adres e-mail jest taki sam na obydwu kontach), albo możliwość powiązania z istniejącym kontem.
Jeżeli obsługujesz kilka lokalizacji, w tym miejscu możesz również, w razie potrzeby, wybrać określone lokalizacje.
Przejdź przez następujący proces i zamknij go poprzez kliknięcie polecenia "Zakończ".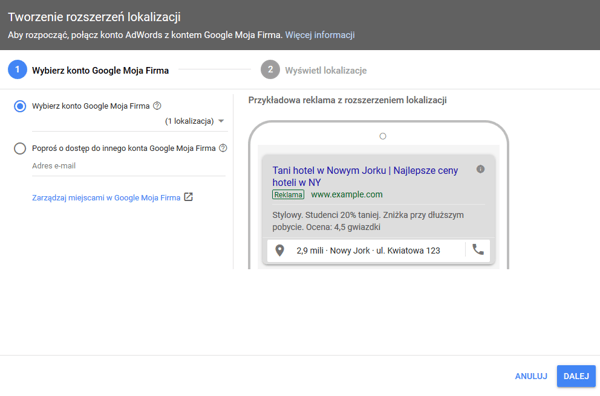 Konfiguracja rozszerzenia lokalizacji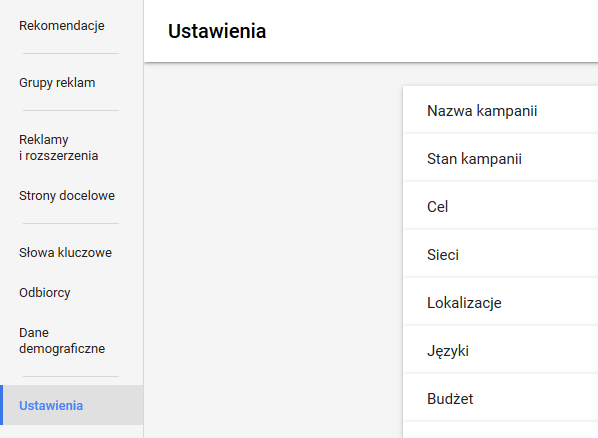 Rozszerzenie lokalizacji możesz wyświetlać użytkownikom, którzy znajdują się w określonym promieniu od Twojego sklepu stacjonarnego. W tym celu określasz promień odległości od Twojej lokalizacji.
Zanim jednak go ustawisz, uwzględnij swój model biznesowy: czy klienci są gotowi pokonać większą odległość, aby kupić Twoje produkty, czy też rozsądniej będzie określić bardzo małą odległość? Ustawiając go, weź również pod uwagę lokalną konkurencję.
Aby określić promień, postępuj w następujący sposób:
W trakcie konfigurowania określonej kampanii wybierz z lewego panelu nawigacyjnego opcję "Ustawienia", a następnie kliknij opcję "Lokalizacje".

W dalszej części wybierz opcję "Promień", a w sekcji "Nazwa miejsca, adres lub współrzędne", konto Google MyBusiness.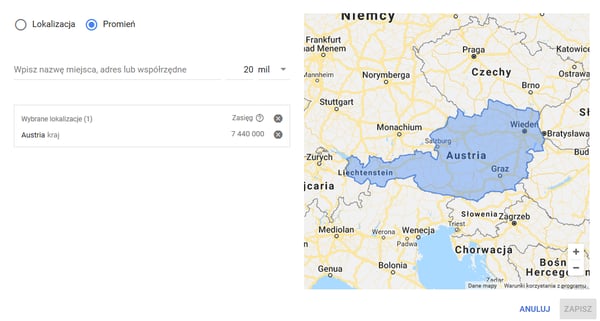 Następnie z lewego panelu nawigacyjnego wybierz opcję "Lokalizacje". W tym miejscu możesz odpowiednio dostosować stawki za wybrany promień. Można także określić więcej niż jeden promień i skonfigurować stawki o różnej wysokości.

Raporty
Aby zobaczyć, jak zachowują się użytkownicy w pobliżu Twojej lokalizacji, możesz skorzystać z następujących raportów.
Na swoim koncie kliknij symbol diagramu, a następnie wybierz opcję "Wstępnie zdefiniowane raporty", "Wybrana lokalizacja" oraz "Odległość".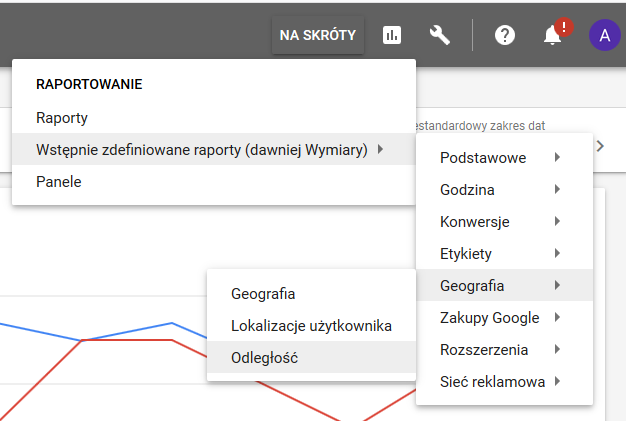 Znajdziesz tam informacje w formie tabeli, a także w innych formatach, o skuteczności reklamy w zależności od odległości.
Na podstawie tych danych możesz jeszcze dokładniej dostosować stawki w zależności od odległości.
Ponadto, ogólne informacje o skuteczności rozszerzenia lokalizacji znajdziesz w sekcji "Reklamy i rozszerzenia" i "Rozszerzenia". Z menu rozwijanego u góry po prawej musisz wybrać opcję "Widok rozszerzeń".