Wykazano, że w obecnym kryzysie handel elektroniczny stał się sojusznikiem wielu sprzedawców detalicznych. Ale tak jak ta sytuacja przynosi wiele możliwości, tak samo stanowi ona wyzwanie w tworzeniu bliskich stosunków z konsumentami.
Z tego powodu firma Google 21 kwietnia ogłosiła , że opracowuje narzędzie dla detalistów internetowych, które pozwoli im na bezpłatną prezentację ich produktów w Google Shopping, a tym samym na zbliżenie się do kupującego i zaspokojenie jego potrzeb.
Przeczytaj dalej, aby dowiedzieć się:
z czego składa się to rozwiązanie,

jakie są jego zalety,

jak uzyskać do niego dostęp

i kiedy będzie dostępne w Polsce.

Darmowe oferty produktów w Google
"Dzięki setkom milionów wyszukiwań Google codziennie wiemy, że wielu sprzedawców detalicznych ma w magazynie przedmioty, których ludzie potrzebują, a które są wręcz gotowe do wysyłki, ale konsumenci mają trudności ze znalezieniem ich online."

– Mówi Bill Ready, prezes ds. handlu
Niemniej jednak, począwszy od przyszłego tygodnia, wyniki wyszukiwania w zakładce Zakupy Google w Stanach Zjednoczonych będą zawierały przede wszystkim oferty bezpłatne.
Co to oznacza dla e-sprzedawcy?
Zaproponowane przez Google rozwiązanie pomoże dotrzeć tysiącom sklepów internetowych do milionów internautów, za darmo.
A dla konsumenta?
W ten sposób konsumenci będą mieli ulepszony dostęp do poszukiwanych produktów. Będą mogli szybciej i skuteczniej docierać do większej liczby sklepów, a tym samym znaleźć poszukiwane produkty.
Wizualizacja zakładki Google Shopping z przykładowymi ofertami: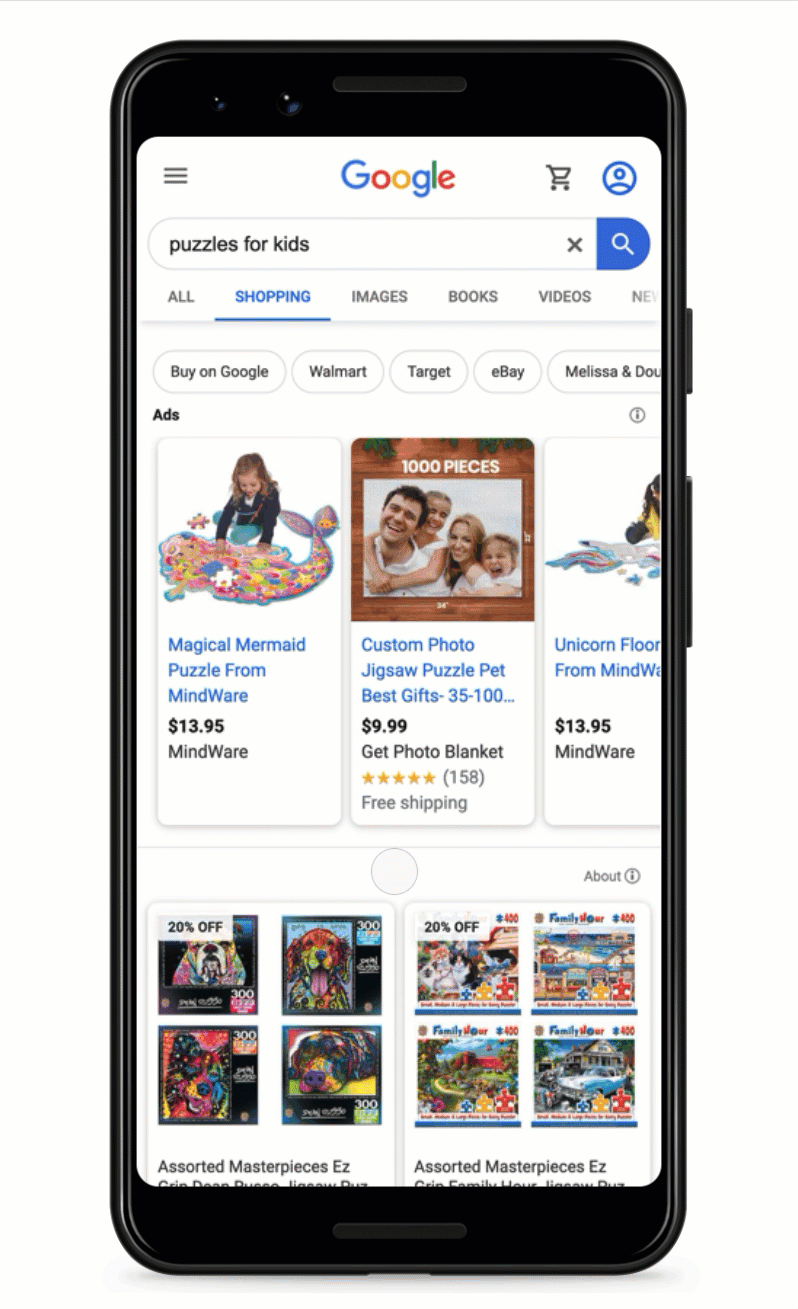 Źródło: Google Blog
Każda firma będzie mogła korzystać z bezpłatnych ofert, niezależnie od tego, czy są one reklamowane w Google.
Zwróć jednak uwagę, że Google nie rezygnuje całkowicie z płatnych, promowanych wyników w Google Shopping. Możesz je zobaczyć na samej górze animacji.
Warto również dodać, że wyniki Google Shopping pozostaną wyświetlane w tradycyjnych wynikach wyszukiwania w ten sam sposób.
Zatem:
Dzięki decyzji Google produkty z Twojego sklepu będą mogły wyświetlać się za darmo w zakładce Google Shopping. Jeśli będziesz chciał promować je na stronie głównej wyników wyszukiwania, nadal będziesz musiał zapłacić za kliknięcie.
Artykuł mogący Cię zainteresować:
Google dofinansuje małe biznesy — dla kogo wsparcie?
Kiedy narzędzie będzie dostępne?
Funkcja ta zostanie wdrożona pod koniec kwietnia w Stanach Zjednoczonych, a globalnie – do końca bieżącego roku.
Dostęp do wykazów produktów
Jeśli jesteś już użytkownikiem Merchant Center i Google Shopping w Stanach Zjednoczonych, możesz już być uprawniony do wyświetlania swoich produktów na za darmo.
Po zalogowaniu się na swoje konto sprzedawcy w Merchant Center, aby wyświetlić swoje produkty w darmowym listingu, należy przejść do:
"Wzrost" → "Zarządzanie programami" z lewego menu nawigacyjnego → "Powierzchnie Google".
Masz również możliwość dodawania nowych produktów do swojej listy, aby wyświetlić ich jeszcze więcej w darmowym listingu.
Polecany artykuł dla Ciebie:
Jak zapewnić rozwój Twojego e-sklepu w czasach koronawirusa?
Dla nowych użytkowników
Jak wspomniałam powyżej, jeśli jesteś nowym użytkownikiem Merchant Center, który jest zainteresowany dołączeniem do tych ofert, nie musisz być reklamodawcą w Google Shopping.
Dostęp nowych użytkowników do ofert nie został jeszcze ustalony, więc Google będzie kontynuował pracę w najbliższych tygodniach i miesiącach, aby przyspieszyć ten proces.
Skorzystaj z okresu wdrażania nowej funkcji, aby utworzyć swoje konto w Merchant Center i rozpocząć tworzenie feedu produktowego. Będziesz miał ten krok za sobą, zanim będziesz mógł użyć narzędzia.
To nie wszystko:
Raportowanie w zakresie darmowych listingów
Dzięki raportowi wydajności bezpłatnych ofert produktów w Merchant Center, będziesz miał dostęp do wyświetlania kliknięć na Twoje artykuły.
Po prostu wybierz "Performance", a następnie "Dashboard" w lewej nawigacji.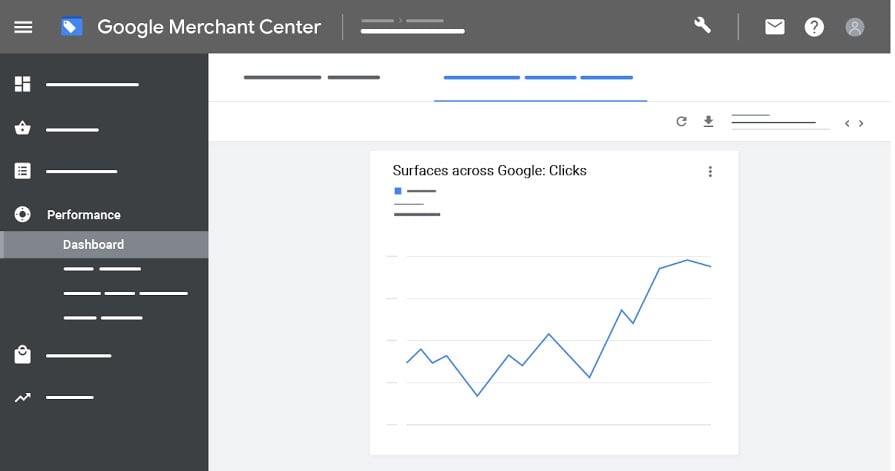 Źródło: Google support
Na koniec chciałabym dodać, że Google właśnie rozpoczął współpracę z PayPal, aby umożliwić sprzedawcom internetowym połączenie ich kont. Ponadto, kontynuują oni współpracę z kilkoma partnerami, takimi jak Shopify i WooCommerce, którzy pomagają sklepom internetowym każdej wielkości w zarządzaniu produktami i zapasami.
Podsumowanie
Wdrożenie rozwiązań Google'a w obliczu obecnego kryzysu nie będzie wcale łatwe. Gigant ma jednak nadzieję, że przyniosą one przedsiębiorstwom pewną ulgę i wzmocnią ich obecność w Internecie w przyszłości.
Niezależnie od tego, czy zdecydujesz się rozpocząć reklamę w Google Shopping, nadal ma sens zakładanie konta sprzedawcy w Merchant Center.
Dzięki temu produkty z Twojego sklepu będą wyświetlane w zakładce Google Shopping za darmo, gdy tylko funkcja zawita do Polski.
Co sądzisz o tej nowej funkcjonalności? Czy widzisz potencjał dla sklepów internetowych? A dla kupujących? Daj znać komentarzu!
Ta publikacja jest tłumaczeniem artykułu pt. ¡Vender en Google Shopping es ahora gratis!.