We Francji 1/3 obrotów branży e-commerce generują sklepy odzieżowe. Sporo? W Polsce to aż 50%!
Bez względu na procentowy udział w rynku, ten francuski jest o wiele większy — blisko 38 mld euro rocznie.
Kto zgarnia największą część tego tortu? Sprawdź w tym artykule.

Oto największe sklepy internetowe we Francji
Ecommercemag.fr opublikował ranking 100 największych biznesów e-commerce we Francji. Decydującym kryterium uplasowania w zestawieniu była wielkość obrotu uzyskanego w 2017 roku.
Lista najpopularniejszych
Zatem — największe francuskie sklepy odzieżowe online to VeePee, Showroomprive oraz Le Redoute.
Ciekawe: Rzadziej, ale więcej – tak kupują w sieci Polacy [warto wiedzieć]
Jak to się zmieniło przez lata...
Ten artykuł został pierwotnie opublikowany w 2012 roku. W tamtym czasie ranking sklepów online we Francji z 2011 roku przedstawiał się następująco:
Jak zatem możesz zobaczyć — w ciągu 6 lat:
CDISCOUNT zwiększył swoje obroty z 1,18 mld euro do 3,4 mld euro

VENTE PRIVEE zmienił nazwę na VeePee i urósł 3-krotnie

hipermarkety otworzyły się na sprzedaż internetową i osiągnęły sukcesy

Showroomprive wzrósł prawie 5-krotnie
W Polsce też można stworzyć dochodowy sklep internetowy. Wystarczy wiedzieć: Jak stworzyć dobrze prosperujący sklep internetowy? [21 Kroków]
Rynek e-commerce we Francji
Jeśli interesuje Cię sprzedaż internetowa we Francji, zerknij na garść statystyk: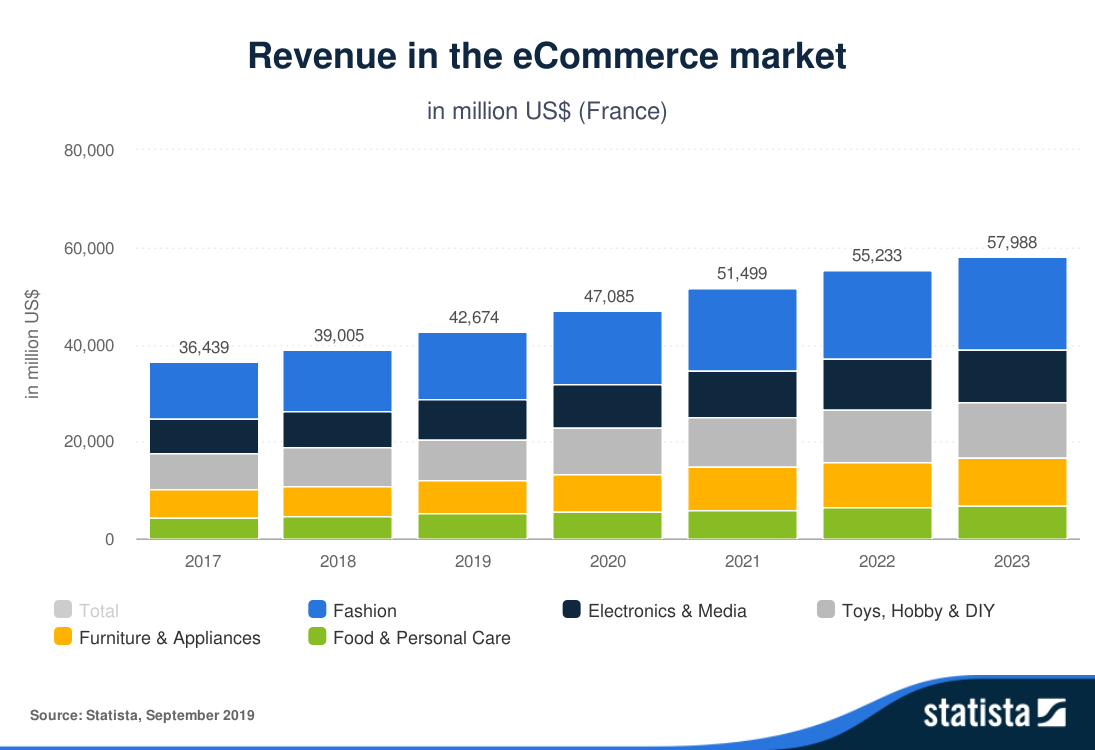 Powyżej znajdziesz archiwalne dane dotyczące wielkości rynku e-commerce we Francji, wraz z podziałem na branże.
Dla porównania wyniki z polskiego rynku:
Jak zatem widzisz, warto zawalczyć na rynku francuskim, gdyż jest on o wiele bardziej zróżnicowany, a także generuje większe obroty.
Fakt, Francja jest krajem większym od Polski, ale nawet nie dwukrotnie! Przy czym francuski rynek e-commerce jest większy ponad 4-krotnie!
Więcej o polskim rynku: Ilu Polaków kupuje on-line? [sprawdź raport]
Rozważasz wejście na rynek francuski ze swoim sklepem? Koniecznie sprawdź nasz poradnik [możesz pobrać za darmo]: