Sprzedawcy internetowi, którzy z uwagi na długi czas dostawy sprawiają na klientach niekorzystne wrażenie, ryzykują nie tylko utratę dobrego wizerunku. Mogą stać się również przedmiotem postępowania prawnego z powodu niedotrzymania terminu wysyłki....
Organizacja pracy magazynu wcale nie musi być trudna! Wystarczy trzymać się kilku logistycznych zasad, aby zapewnić sprawne funkcjonowanie magazynu.
Jakie to zasady? Dowiesz się w tym artykule.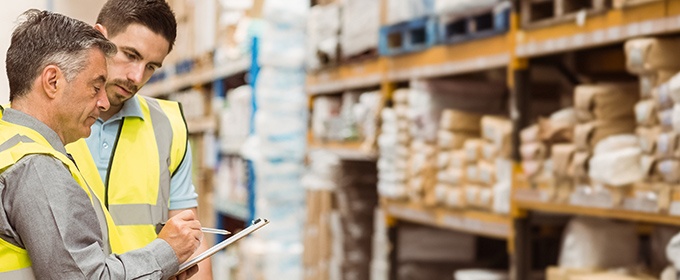 Organizacja magazynu — najważniejsze zasady
Stopień zorganizowania magazynu wysyłkowego zależy przede wszystkim od liczby składowanych towarów.
Sprzedawcy prowadzącemu własną działalność na Allegro może wystarczyć kilka półek we własnym garażu.
Gdy jednak asortyment się powiększa i jest coraz więcej wysyłek, wówczas operator sklepu internetowego szybko osiąga granicę swej wydolności. W takim przypadku konieczny jest magazyn wysyłkowy — własny lub dzierżawiony.
Zanim zabierzesz się za optymalizację magazynu, sprawdź, co jest ważne z punktu widzenia sprzedaży w Twoim sklepie: Co jest ważne dla Twoich klientów? [dowiedz się, jak sprawdzić]
Strefy magazynowe
Większości sklepom internetowym w zupełności wystarczy magazyn podzielony na trzy części.
1. Magazyn przyjęć
Tutaj odbywa się kontrola kompletności i jakości towarów bezpośrednio po ich dostarczeniu. W tym czasie dostawca może odebrać puste europalety.
Magazyn przyjęć można wykorzystać także jako tymczasowy magazyn zaopatrzenia, jeśli dostarczone palety nie zostały jeszcze rozpakowane.
2. Magazyn komisjonowania
W tym magazynie składowane są pojedyncze sztuki poszczególnych towarów. W większości wypadków wystarczają zwykłe regały półkowe lub regały przelotowe, z których pracownik magazynu (komisjoner) pobiera zamówione artykuły.
3. Magazyn wysyłkowy
Tutaj towary są pakowane, przygotowywane i przekazywane do wysyłki. Towary rotujące, czyli produkty często wysyłane, można na krótki czas umieścić w strefie wysyłkowej magazynu.
W ten sposób towary te można komisjonować bezpośrednio z palety. Oszczędza to czas i skraca drogę. W przypadku dużych magazynów wysyłkowych towary rotujące składowane są w strefach wstępnego komisjonowania w części wysyłkowej.
📚Przeczytaj też: Kod SKU: co to jest i do czego służy?
Wskazówka ws. organizacji pracy magazynu
Te trzy części magazynu nie muszą być oddzielone od siebie za pomocą ścian - w przypadku zastosowania wózków widłowych lub paletowych ściany stanowią przeszkodę. Chodzi tutaj bardziej o części magazynu, które oznaczone są na przykład za pomocą znaków znajdujących się na podłodze, aby zapobiec sytuacji, w której palety z magazynu towarów przychodzących odstawia się z pośpiechu w części wysyłkowej.
Kompletny poradnik na temat optymalizacji logistyki w e-commerce:
Miejsce magazynowe — zasady przydzielania
Magazyn, w którym pracownik magazynu (picker) musi najpierw odszukać każdy towar, nie jest wydajny.
Zanim towar zostanie przygotowany do wysyłki, dochodzi do łatwych do uniknięcia opóźnień. Spada przez to maksymalna wydajność logistyczna sklepu, a obrót może w ogóle nie mieć miejsca ze względu na dużą liczbę zwrotów.
Dlatego każdemu towarowi należy przypisać na stałe miejsce magazynowe. Istnieją dwie możliwości realizacji tego procesu:
1. Numeryczne przypisanie miejsca
Artykuły składowane są w kolejności numerów artykułu zawsze w tym samym miejscu. Ta metoda nadaje się do większości małych i średnich sklepów internetowych o stosunkowo niedużym asortymencie i liczbie wysyłek.
2. Chaotyczne przypisanie miejsca
Dla sklepów z dużą liczbą wysyłek system numeryczny nie jest wystarczająco elastyczny, aby reagować na zmiany w asortymencie. Zamiast tego, nowym artykułom przypisuje się automatycznie kolejne dostępne miejsce w magazynie.
Metoda ta wymaga, by każdemu numerowi artykułu przypisać w tabeli numer miejsca w magazynie.
Unikalne opakowanie to jeden z czynników wyróżniających e-sklep. Sprawdź pozostałe: Co zrobić by się wyróżnić? [6 metod dla e-biznesu]
Planowanie magazynu
Poza względami ekonomicznymi, podczas planowania magazynu należy uwzględnić także wydajność techniczną.
W tym kontekście należy wziąć pod uwagę następujące podstawowe czynniki:
liczbę artykułów w asortymencie

wielkość artykułów w magazynie

przeciętny i maksymalny zapas magazynowy dla każdego artykułu w zależności od rytmu jego wydawania i planowanej wyprzedaży

przeciętną i maksymalną liczbę wysyłek na dzień

przeciętną liczbę artykułów w wysyłce; wysyłki zawierające wiele pozycji są bardziej wydajne w komisjonowaniu

liczbę zwrotów.
A Ty — w jaki sposób organizujesz magazyn w swoim sklepie internetowym? Podziel się swoimi spostrzeżeniami w komentarzu poniżej.
Sprawdź również nasz poradnik efektywnego zwiększania liczby klientów: