Treści wideo są obecnie najlepszym sposobem na to, by zainteresować klienta swoimi usługami czy produktem. Filmy online pochodzą w dużej mierze z YouTube, choć ostatnimi czasy na promocję wideo stawia ostatnio także Facebook.


Dlaczego powinieneś założyć konto na YouTube?
Filmy w mediach społecznościowych są najbardziej lubiane z kilku prostych względów:
Ludzie to wzrokowcy,
Są łatwo dostępne, można je uruchomić za pomocą kilku kliknięć,
Można oglądać je podczas wykonywania innych czynności.
Nie da się ukryć, że punkt 3 to w dzisiejszych czasach jeden z najważniejszych powodów, dla których ludzie wybierają właśnie wideo. A skoro tak jest, to... może warto w to zainwestować?
Strategie dotyczące treści wideo
Sposobów na promowanie firmy jest tu bardzo dużo. YouTube to idealne miejsce, by opublikować takie materiały jak film o produkcie, nagranie rozpakowywania produktu i jego omówienia, recenzja, porównanie w formie filmu czy inforeklama. Musisz jednak pamiętać, że najważniejsza jest strategia!
Po pierwsze: zadbaj o to, aby wypaść naturalnie. Nie próbuj bezpośrednio sprzedawać produktu (przez 99% czasu). Twoim celem jest zdobycie zaufania widzów – niech postrzegają Cię jako eksperta lub autorytet w branży. Jeśli będziesz zbyt nachalnie zachęcać do zakupu swoich produktów, zniechęcisz widzów do swoich filmów. Możesz wymienić nazwę marki na początku i na końcu filmu – to naprawdę wystarczy.
Po drugie: aby odbiorcy uznali Cię za osobę autentyczną, podczas nagrywania recenzji sprzedawanego produktu wymieniaj zarówno jego zalety, jak i wady. Jeśli masz obawy co do prezentowania wad, możesz wskazać klientów, których problem będzie dotyczył, i tych, dla których będzie on nieistotny. Pamiętaj, że budowanie zaufania do odbiorcy jest tutaj kluczowym elementem! Każdy z nas, widząc przedstawianie produktu w samych superlatywach, zaczyna szukać gdzie indziej informacji o jego wadach. A takie zawsze się znajdą. Nie daj mu zatem powodów do szukania informacji w innych źródłach. Bądź jego pierwszym i najważniejszym!
Na przykład przed zakupem nowego smartfona zawsze przeprowadzam analizę. W wielu filmach recenzenci wymieniają zbiorczo słabe strony produktu, ale podkreślają jego największe zalety.
Następnie na ogół recenzenci tworzą tzw. "charakterystykę kupującego", ustalając, dla kogo dany telefon będzie najlepszy. Mogą na przykład powiedzieć: "Jeśli sporo podróżujesz i potrzebujesz wydajnej baterii i dużego, jasnego ekranu, to na pewno telefon dla ciebie. Jeśli jednak duże znaczenie ma dla ciebie robienie zdjęć, aparat w tym telefonie może cię rozczarować".
Kolejna sprawa, której warto poświęcić uwagę: postaraj się przedstawić swój produkt w możliwie najciekawszy sposób. Naprawdę nie trzeba uciekać się do niekonwencjonalnych metod, wystarczy, że postawisz na detal, który wyróżni Cię spośród innych sprzedawców.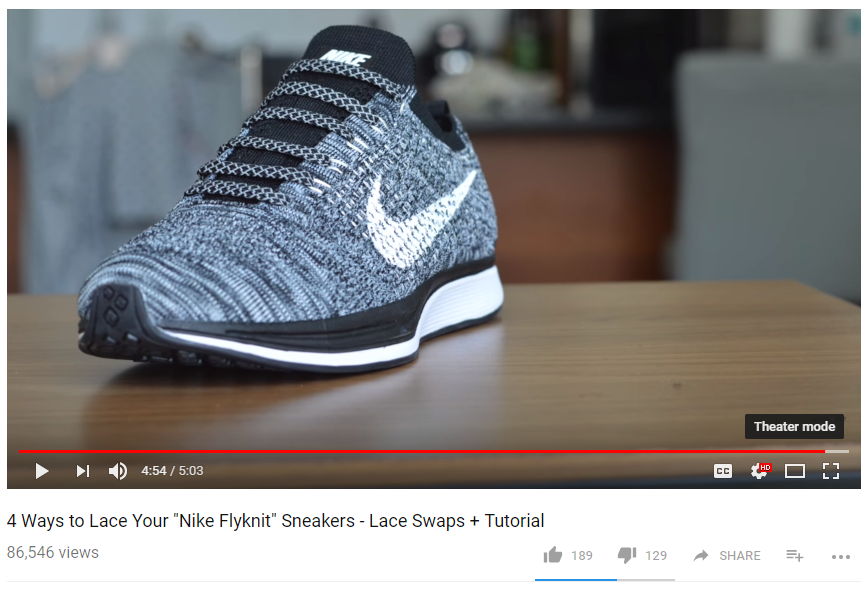 Jeśli filmy o różnych sznurówkach są wyświetlane tysiące razy, to i Twój produkt może wyglądać ciekawie! (Źródło: YouTube, Laces Out)
Pozycjonowanie – słowa kluczowe i tagi na YouTube
To kolejna ważna kwestia, o której nie można zapominać, tworząc treści wideo. Aby Twoje filmy były prezentowane przez YouTube, przed przesłaniem filmu musisz się dobrze zastanowić nad słowami kluczowymi.
Odpowiednie słowa w tytule filmu, opisie, tagach, a nawet w samej nazwie pliku ułatwią mechanizmom YouTube i Google umieszczenie Twojego materiału w ich wyszukiwarkach.
Jeśli chodzi o same słowa kluczowe – wybierz takie, które już są w wyszukiwarce, i przejrzyj podpowiedzi funkcji autouzupełniania.

Sprawdź również, jakie podobne filmy pojawiają się wysoko w wynikach wyszukiwania. Przyjrzyj się ich strategii pozycjonowania i postaraj się ją jak najlepiej naśladować.
To samo dotyczy odpowiednich tagów. Jeśli chcesz zobaczyć, jakich tagów użyto w dowolnym filmie w YouTube, przyjrzyj się kodowi źródłowemu jego strony.
Wystarczy kliknąć prawym przyciskiem puste miejsce na stronie i wybrać opcję "Wyświetl źródło strony". Pojawi się nowa strona, która może wyglądać nieco przerażająco, ale tak naprawdę nie ma się czego bać. Następnie trzeba użyć funkcji wyszukiwania (Ctrl+F), aby wyszukać termin "keywords" (ang. słowa kluczowe). Zwykle lista tagów znajduje się pod drugim znalezionym hasłem "keyterms".
Można też użyć rozszerzenia, np. VidIQ do Chrome, które pokaże tagi bezpośrednio na stronie YouTube.
Podsumowanie
Jeśli chcesz zaistnieć w sieci, strategia wideo będzie Twoją najlepszą strategią marketingową. Dlaczego? Wystarczy, że rozejrzysz się dookoła. Najlepsi już ją opracowali – dołącz do ich grona!