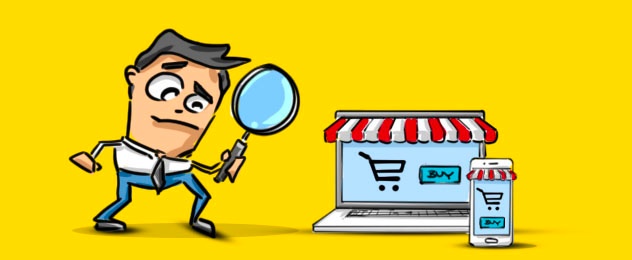 Badanie rynku jest częścią działalności każdego odnoszącego sukcesy przedsiębiorstwa. Także sprzedawcom internetowym opłaca się przyjrzeć poczynaniom konkurentów. Prowadząc sklep internetowy, nie działasz w pustce, a rynek e-commerce ulega ciągłym zmianom.
Oczywiście dobrze jest w pierwszej kolejności skoncentrować się na podstawowych elementach własnej działalności, aby stworzyć solidne fundamenty. Jednak jeśli chcesz wiedzieć, czy ceny Twoich towarów nie odbiegają od wartości rynkowej, czy struktura Twojej strony internetowej jest sensowna albo czy Twoje działania marketingowe przynoszą właściwy efekt, warto się czasem rozejrzeć tu i tam.
Wskazówki pomocne podczas analizy konkurencji:
Odwiedź stronę internetową konkurenta: jeśli chcesz się zapoznać z działaniami rywalizującej firmy, to ten krok masz już z pewnością za sobą. Na spokojnie przejrzyj stronę raz jeszcze i przypatrz się, jakie zmiany zaszły w układzie strony i nawigacji, a także jak kształtują się ceny. Porównaj z własną ofertą możliwe koszty dodatkowe, takie jak koszty dostawy czy montażu.
Przeczytaj wpisy na blogu: kolejna czynność niewymagająca dużego nakładu pracy, która może się okazać niezwykle pomocna. Rzecz jasna na blogu nie uzyskasz wglądu w wewnętrzną działalność firmy, ale na podstawie doboru tematów możesz ustalić, które produkty są reklamowane kierunkowo, jak wygląda komunikacja z klientem, kto stanowi grupę docelową oraz jakie nowości pojawiły się w ofercie konkurencji.
Wygoogluj własne produkty: gdy szukasz swoich najpopularniejszych produktów przy pomocy Google, od razu natrafiasz na konkurencyjne firmy, które także je oferują. Umożliwia to bezpośredni wgląd w ceny konkurencji. Po wybraniu produktu w Google Shopping możesz natychmiast sprawdzić jego cenę w różnych miejscach, klikając link "Porównaj ceny z ponad x sklepów". Poza tym pozwala to wyczuć, w jakim stopniu Twój towar jest wyjątkowy. W przypadku zmywarki uzyskasz więcej wyników na liście niż w przypadku części zamiennych do zabytkowego samochodu. Czynnik ten można wziąć pod uwagę podczas ustalania cen.
Śledź aktywność w mediach społecznościowych: może Ci się wydawać, że nie ma sensu wyświadczać konkurentom przysługi, śledząc ich na Twitterze, Facebooku czy Instagramie, ale możesz się w ten sposób wiele nauczyć. Mamy obecnie do czynienia z wyraźnym trendem polegającym na prezentowaniu produktów właśnie przez te kanały. Potraktuj to jako okazję, by odnaleźć inspirację dla własnego content marketingu. Jeśli nie chcesz pojawiać się jako konkurent, możesz oczywiście wykorzystywać prywatne konta do subskrybowania kanałów.
Czytaj literaturę fachową: czy to blog, czy papierowy magazyn, literatura fachowa — zarówno na temat samej sprzedaży internetowej, jak i Twoich produktów — daje pewne wyobrażenie, co dzieje się u konkurencji oraz jakie trendy panują na rynku. Przede wszystkim wymieniane są tam większe firmy (również z nazwy), jednak jest też miejsce dla małych start-upów z wyjątkowymi pomysłami.
Zamów coś na próbę: nie musi to być zaraz motorówka za 160 000 euro, ale być może dzięki takiemu testowi wpadniesz na parę pomysłów, jak zoptymalizować swój własny proces realizacji zamówienia. Jak przekierowano Cię do koszyka? Jakie dane są wymagane do złożenia zamówienia? Jak wygląda potwierdzenie zamówienia? To kwestie, nad którymi też pewnie się zastanawiasz, i rozwiązania, które można łatwo ze sobą porównać.
Porozmawiaj z przyjaciółmi i znajomymi: przysłuchuj się temu, co Twoi przyjaciele i znajomi mówią o produktach, które oferujesz. Gdzie je do tej pory nabywali i dlaczego? Co przeważyło o podjęciu decyzji o zakupie? Jeśli potrzebujesz neutralnych opinii, porozmawiaj z innymi właścicielami sklepów. Można ich spotkać na targach, szkoleniach lub spotkaniach tematycznych, które znajdziesz np. na portalu Meetup.
Szukaj inspiracji zamiast wdawać się w wojenki.
Nie bój się czerpać inspiracji podczas analizy konkurencji, ale nie kopiuj cudzych rozwiązań i nie posuwaj się do nieczystych zagrań, takich jak fałszywe negatywne opinie bądź wprowadzające w błąd komentarze w serwisach społecznościowych. Abstrahując od tego, że nie jest Ci to potrzebne jako odnoszącemu sukcesy przedsiębiorcy, szkody wizerunkowe mogą okazać się ogromne, jeśli ktoś Cię nakryje. Lepiej zbierać dobre pomysły dla własnej firmy i umiejętnie dbać o pozycję na rynku.
Ta publikacja jest tłumaczeniem artykułu w j. niemieckim: So analysieren Sie Ihre Mitbewerber.