Masz małą firmę i chcesz ją wypromować w okresie wielkanocnym? Nawet jeśli nie sprzedajesz czekolady, to i tak warto zasygnalizować klientom, że w handlu zaczyna się nowy sezon. Przypomnij wszystkim, że w powietrzu czuć już wiosnę, słychać ptasi świergot, a lato jest tuż-tuż.

Nie zaliczasz się do rekinów biznesu, które mogą sobie pozwolić, by wydawać krocie na szalone marketingowe kampanie, takie jak gigant czekoladowy Cadbury na facebookowy kciuk w górę z czekolady czy Whiskas na aplikację z "wielkanocnymi" kotami w roli głównej? Czym Ty, będąc właścicielem małej firmy, możesz zabłysnąć? Przeczytasz o tym w poniższym artykule.
1. Wzbogać swoje newslettery o wielkanocne akcenty
Pewnie nie trzeba Ci przypominać, że najcenniejsi klienci to ci lojalni. Jeśli rozsyłasz biuletyn, masz świetną okazję, by wypromować swoje działania. Teraz możesz na przykład zareklamować specjalny wielkanocny produkt albo wyprzedaż — pamiętaj, by zaznaczyć to na początku e-maila! To dość oczywiste, prawda?
Jeśli nie sprzedajesz specjalnego produktu, pamiętaj, by chociaż odpowiednio "ozdobić" wiadomość. Biuletyn z wielkanocnym motywem naprawdę może uświadomić Twoim klientom, że czas pomyśleć o zbliżających się świętach. W zależności od oprogramowania, którego używasz do zarządzania kampaniami e-mailowymi, możesz znaleźć różne wtyczki na stronie dostawcy lub skorzystać z oferty niezależnych programistów. Ciekawe, ale i niedrogie rozwiązania zewnętrznych programistów można znaleźć na przykład w przypadku Magneto.
2. Ulepsz swoją witrynę
Ten sam pomysł może sprawdzić się także w przypadku samej witryny internetowej. W okresie ważnych świąt usługodawca najprawdopodobniej oferuje różne wtyczki do wdrożenia na stronie. Drobna zmiana potrafi skutecznie wprawić klientów w zakupowy nastrój. Różnicę może zrobić nawet taki drobiazg jak dodanie paru wielkanocnych zdjęć.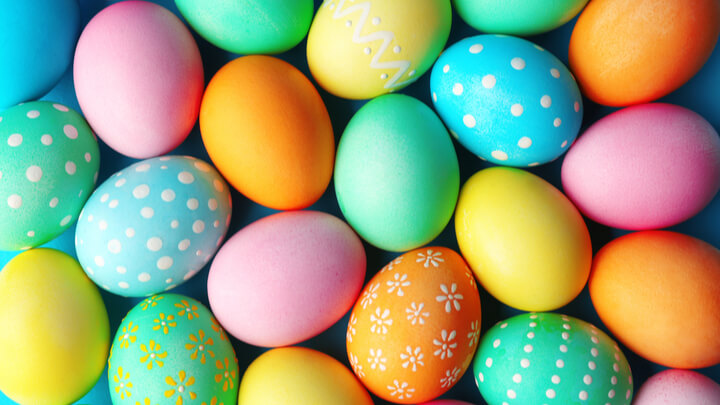 Idąc dalej tym tokiem myślenia, możesz nawet zorganizować w swojej witrynie poszukiwanie pisanek. To całkiem sprytny sposób na zaoferowanie klientom rabatu. Najlepsze jest jednak to, że klient musi "zwiedzić" całą witrynę, by je znaleźć — w ten sposób wejdzie na strony, które w innym przypadku mógłby zignorować. Po znalezieniu wszystkich pisanek następuje przekierowanie na stronę z kodem rabatowym. W połączeniu z wielkanocnym newsletterem pomysł na pewno przełoży się na zwiększenie liczby odwiedzin (i konwersji). Niektóre proste wtyczki z WordPress są stosunkowo niedrogie i łatwe do dodania.
3. Zsynchronizuj kampanie w mediach społecznościowych
No… nareszcie zaczyna to wyglądać jak porządna kampania! A czymże byłaby sensowna kampania bez mediów społecznościowych? Mówiąc prościej: spróbuj zsynchronizować strony i wpisy w social mediach, tak by komponowały się z tematyką witryny i biuletynu. Jeśli organizacja poszukiwania pisanek na stronie okazuje się zbyt skomplikowana, prościej można je "ukryć" w postach w np. na Facebooku czy Instagramie.
Pamiętaj, by regularnie przypominać klientom o konkursie. Dzięki temu będą okresowo sprawdzać Twoje posty. Dodaj też parę ładnych zdjęć produktów (najlepiej z ludźmi), które chcesz wypromować. Wstaw swoje hashtagi, wspomnij o wszystkich wyprzedażach i kodach rabatowych, a także o innych rzeczach, które uznajesz za istotne. Dobra kampania w mediach społecznościowych powinna mieć swój styl, możesz więc śmiało puścić wodze fantazji i dobrze się przy tym bawić!
👇Przeczytaj więcej w naszym bezpłatnym poradniku:
4. Zorganizuj konkurs
Social media są naprawdę wyjątkowe. To jedyny sposób na to, by klienci (także potencjalni) mogli bezpośrednio i publicznie wchodzić w interakcje z kampanią. Właśnie dlatego organizacja konkursu może okazać się doskonałym sposobem na zainspirowanie grupy docelowej do działania. Poszukiwanie pisanek, ranking najlepszych selfie czy też konkurs na podpis pod opublikowanym zdjęciem — każde tego typu urozmaicenie jest szansą na nawiązanie relacji pomiędzy firmą a odbiorcami. Pamiętaj tylko, by odpowiednio ten konkurs zareklamować we wszystkich wspomnianych kanałach. Dzięki temu może nawet zyskasz paru obserwujących!
5. Wyświetl płatne reklamy
Aby dotrzymać kroku mediom społecznościowym, warto rozważyć płatne reklamy, które mogą się naprawdę dobrze sprawdzić. Możesz precyzyjnie określić grupę docelową konsumentów, jednocześnie koncentrując się na motywie kampanii (np. Wielkanocy!). Stwórz reklamę, określ budżet i regularnie sprawdzaj wyniki. Możesz nawet wyświetlić kilka reklam w tym samym czasie, by zobaczyć, która zdobędzie najwięcej kliknięć (czyli przeprowadzić "test A/B"). Następnie optymalizuj, optymalizuj i jeszcze raz optymalizuj. Tę strategię można, a nawet należy stosować także poza okresem świątecznym.
Podsumowanie
Jest wiele sposobów promowania małego sklepu internetowego w świątecznym sezonie handlowym. Ważne jest, by planować z wyprzedzeniem oraz rozpocząć promocje i kampanie przypominające o zbliżających się świętach już na kilka tygodni przed samym wydarzeniem. Parę udoskonaleń na stronie, sensowna kampania w mediach społecznościowych i nieco dobrej zabawy zwiększą zainteresowanie Twoim sklepem, nie nadwyrężając przy tym budżetu.
Ta publikacja jest tłumaczeniem artykułu w j. angielskim: 5 Marketing Ideas for the Easter Holidays