6 kwietnia 2023 r. w EXPO XXI w Warszawie po raz kolejny odwiedzający będą mogli spotkać się z największymi przedstawicielami branży e-commerce w Polsce podczas 23. edycji Targów eHandlu. Pojawi się tam również Trusted Shops – i to w podwójnej roli. Spotkaj się z nami i sprawdź, jak możesz rozwinąć z nami swój biznes!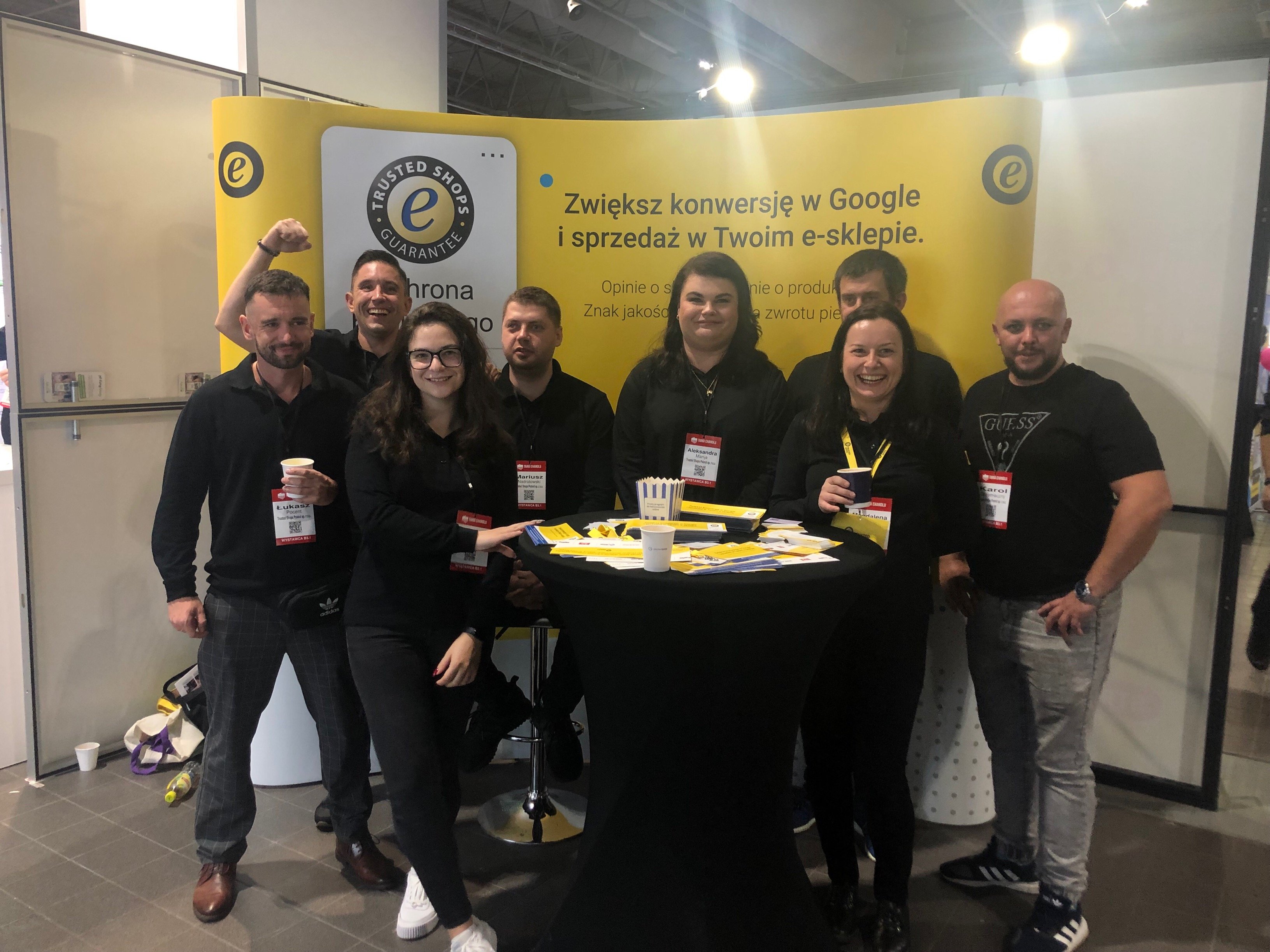 Niezależnie od tego, czy jesteś już naszym członkiem, czy zastanawiasz się nad skorzystaniem z produktów Trusted Shops – eksperci, z którym będziesz mógł porozmawiać podczas wydarzenia, chętnie odpowiedzą na wszystkie pytania dotyczące naszej oferty. Pomogą Ci także w jak najbardziej optymalnym dopasowaniu naszych rozwiązań i dadzą konkretne wskazówki, byś mógł prowadzić sklep internetowy z jeszcze większym sukcesem oraz zwiększyć sprzedaż.
Znak jakości z Ochroną Kupującego, opinie klientów, pakiety prawne, Menedżer Wizerunku czy nowy Smart Review Assistant – Targi eHandlu to okazja, by poznać jeszcze więcej szczegółów dotyczących produktów Trusted Shops i otrzymać. Nasi przedstawiciele będą czekać na Ciebie na stanowisku C1.8.
Targi eHandlu to nie tylko możliwość porozmawiania z przedstawicielami konkretnych firm, lecz także pogłębienia swojej wiedzy z zakresu e-commerce. Podczas eventu odwiedzający będą mogli wziąć udział w prezentacjach ekspertów z wielu branż. Trusted Shops reprezentować będzie Jacek Kilian. Nasz Head of ACT Poland wystąpi z prezentacją 4 Legal-NIE-dozwolone praktyki biznesowe związane z Dyrektywą Omnibus. Dowiedz się, dlaczego zapewnienie konsumentom bezpiecznych zakupów jest teraz ważniejsze niż kiedykolwiek wcześniej. Wystąpienie odbędzie się o godz.11:50 na scenie B.
Więcej szczegółów na temat 23. Targów eHandlu znajdziesz tutaj.