Wzmożony ruch pod koniec 2018 roku — właśnie to spotkało niektóre serwisy internetowe. Miła niespodzianka, choć nie każdy wiedział, z czym związana.
Google Discover zaskoczył wydawców internetowych. Wciąż zaskakuje tych, których serwis internetowych zostanie wyróżniony.
Wysoka efektywność Google Discover jest dostępna również dla Ciebie.
Google Discover – czym jest?
Popularność internetu mobilnego na świecie wciąż rośnie. W Polsce korzysta z niego 28,55 miliona osób (źródło). Nic dziwnego, że funkcja dedykowana smartfonom potrafi generować tak duży ruch.
Na fali popularności internetu mobilnego, Google wystartował z usługą Google Feed. Z biegiem czasu nazwa usługi została zmieniona na Google Discover.
Narzędzie zostało wbudowane w mobilną przeglądarkę Google Chrome. Jego działanie polega na wyświetlaniu kart z linkami do interesujących serwisów na stronie głównej przeglądarki.
Google Discover skupia się przede wszystkim na newsach oraz treściach uniwersalnych. Dodatkowo, często faworyzuje treści wzbogacone o zdjęcia, infografiki czy klipy wideo.
Vogue wygenerował więcej ruchu z Google Discover niż wyszukiwarki w październiku 2019!
Jak to działa?
Google Discover wykorzystuje dwie technologie:
1. Google News AI/ML – aby analizować najnowsze wiadomości.
2. Topic Layer in the Knowledge Graph – aby zrozumieć zainteresowania użytkowników (i jak rozwijają się w czasie).
A skąd Google zna zainteresowania użytkowników?
historia wyszukiwania

historia przeglądania

aktywność w aplikacjach

lokalizacja urządzenia mobilnego.
Dzięki tym mechanizmom Google Discover może wyświetlać użytkownikom treści dostosowane do ich zainteresowań.
Ważna aktualizacja
Google Discover jest dostępny na rynku już od dwóch lat. Mimo to nie wszystkie strony internetowe mogły korzystać z wyróżnienia w ten sam sposób.
Różnice widać na poniższym zrzucie ekranu:
Drugi link wygląda inaczej. Obrazek nie jest rozciągnięty na pełną szerokość. Karta z linkiem zawiera jedynie miniaturkę. Takie linki są rzadziej klikane.
Sytuacja bierze się z tego, że ten środkowy link prowadzi do strony internetowej, która nie posiada wersji AMP.
(Stronę AMP poznasz po ikonce błyskawicy w prawym górnym rogu).
Właśnie to ma się teraz zmienić. Bez względu na to, czy strona docelowa występuje w wersji AMP, czy też nie – obrazek wyróżniający wyświetli się w pełnym rozmiarze.
Jak zostać wyróżnionym?
Abby Hamilton z serwisu Search Engine Journal przeprowadziła badanie:
Przez rok analizowała ruch z Google Discover na 11 tysięcy adresów URL z ponad 60 domen.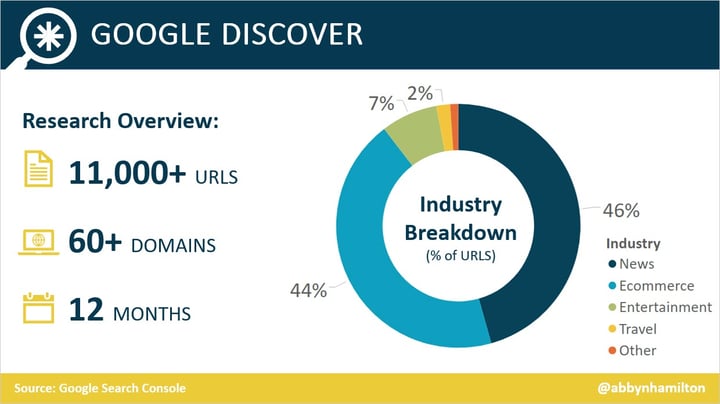 Abby doszła do następujących wniosków:
Serwisy newsowe zgarniają 99% kliknięć

Treści na Google Discover szybko przemijają

Użytkownicy bardzo lubią treści na Google Discover
Aby zostać wyróżnionym w Discover, zwróć uwagę na te elementy:
Upewnij się, że Twoja strona dobrze działa na smartfonach

Discovery jest funkcją dla urządzeń mobilnych. Google zwraca zatem szczególną uwagę na kompatybilność stron ze smartfonami (stąd wcześniejsze faworyzowanie stron w technologii AMP).
Twórz treści interesujące dla Twojej grupy docelowej
Gdy tworzysz treści pod kątem ruchu organicznego z Google, skupiasz się przede wszystkim na słowach kluczowych oraz Search Volume. W przypadku Discovery najważniejsze jest, aby treści były angażujące dla wybranej grupy docelowej. Nie ma znaczenia, jak dużo ruchu organicznego zbiera dany artykuł czy strona internetowa.
Wykorzystuj obrazki o wysokiej rozdzielczości
Google sugeruje, aby obrazki w treści artykułów lub stron internetowych występowały w rozmiarze 1200 pikseli szerokości.