Dzień Singla może nie jest znany wszystkim w Europie, ale nie da się ukryć, że z roku na rok staje się coraz popularniejszy. W ciągu ostatnich kilku lat Black Friday i Cyber Monday były dwoma największymi dniami zakupów na świecie, szczególnie w USA i na całym Starym Kontynencie. Wiele wskazuje na to, że Dzień Singla niedługo do nich dołączy. Czy Twoja firma powinna wziąć udział w tym wydarzeniu?
Co to jest Dzień Singla?
Dzień Singla to święto, które ma swój początek w Chinach, w latach 90. Jak można łatwo zgadnąć, miało ono być swego rodzaju "Anty-Walentynkami". Sprytnie, Dzień Singla odbywa się 11 listopada (11.11), ponieważ data, gdy jest zapisana numerycznie, składa się tylko z samych jedynek.
Zgodnie z tą stosunkowo nową tradycją, samotni ludzie mieli tego dnia rozpieszczać samych siebie prezentami. Z biegiem lat Dzień Singla stał się tak popularny, że często jest to data, gdy odbywają się spotkania towarzyskie i imprezy (często w celu poznania nowych ludzi). Jest to również popularny dzień organizowania wesel!
Jednak największą oznaką jego rozpoznawalności jest fakt, że... jest to największy zakupowy dzień na świecie.
Tak, przeczytałeś poprawnie. Dzień Singla to największy zakupowy dzień na świecie.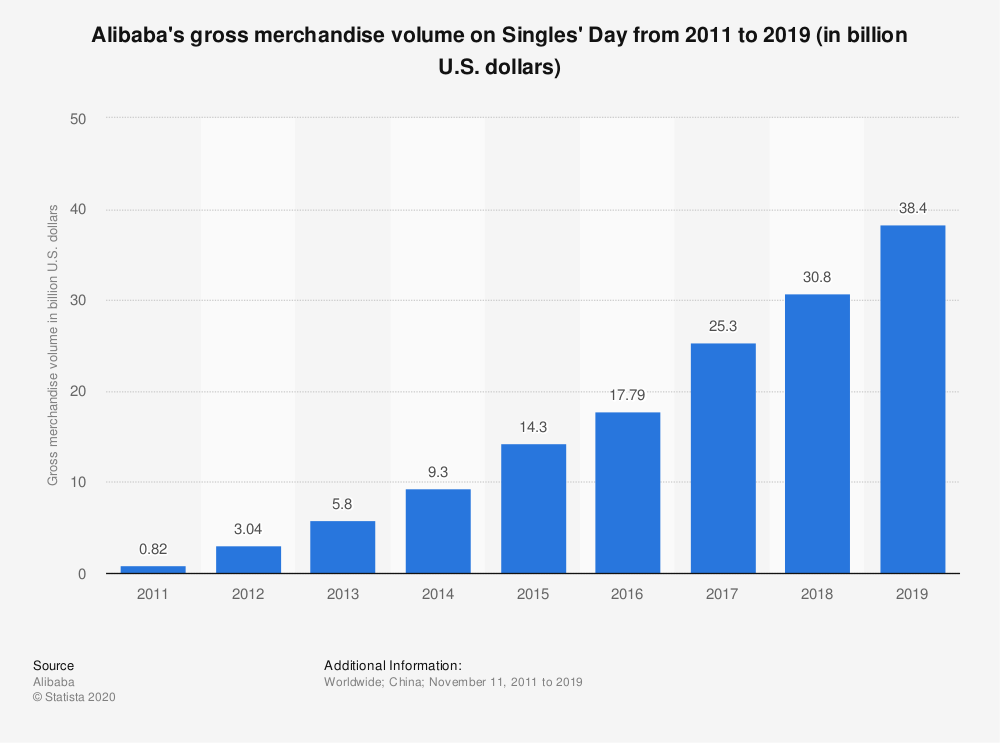 To, że Dzień Singla możemy nazywać największego dnia zakupowego na świecie, jest zasługą marki Alibaba (Źródło: Statista)
A dokładniej, według portalu Techcrunch, jest on 2,5 razy większy niż Black Friday i Cyber Monday razem wzięte! Nie wierzysz? Spójrz tylko na poniższy wykres ze Statisty na temat wyników sprzedaży podczas Dnia Singla w 2017 roku. Sama Alibaba (założyciele AliExpress) odnotowała ponad 1,48 miliarda transakcji na całym świecie w tamtym czasie. Również godne uwagi: 90 proc. sprzedaży pochodziło z urządzeń mobilnych.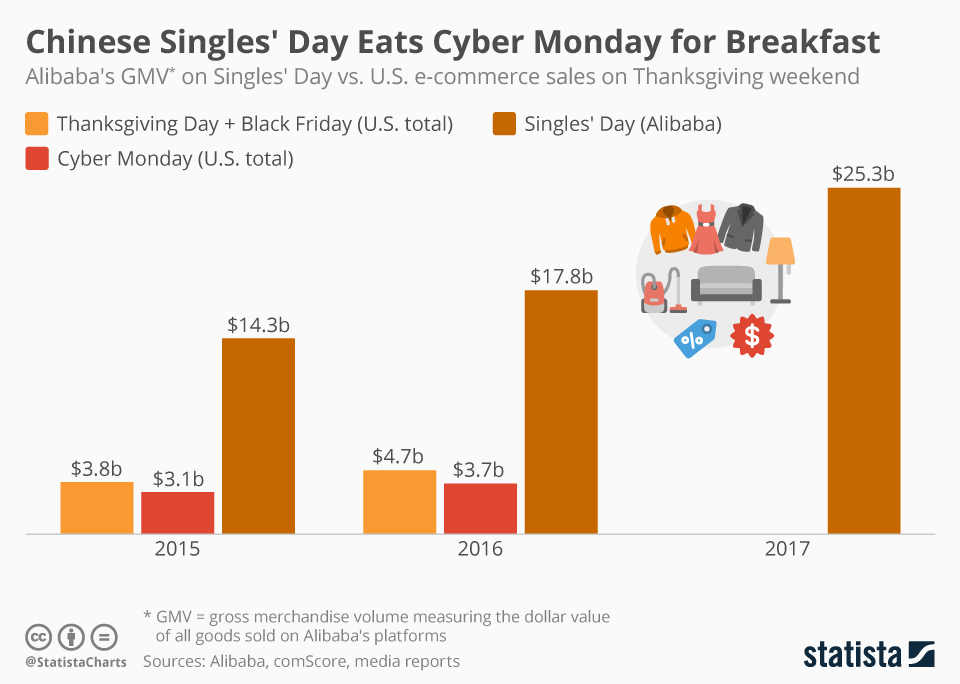 Jeśli wziąć pod uwagę liczbę ludności Chin, nie powinno to być zbyt szokujące (Źródło: Statista)
Ale to nie wszystko! Alibaba nie tylko zarobiła dużo pieniędzy w Dzień Singla. Przyjęła też niesamowitą liczbę zamówień: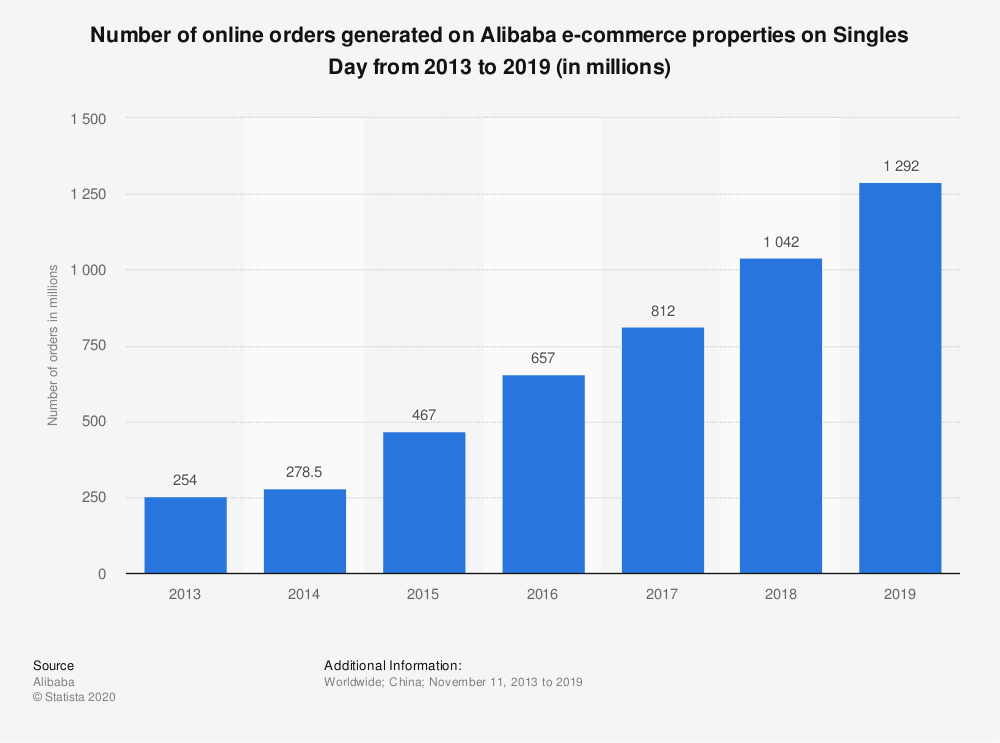 Alibaba w Dzień Singla przyjęła około 1,2 miliarda zamówień w ciągu jednej doby (Źródło: Statista)
Możesz teraz powiedzieć: "Chiny Chinami, ale tutaj o tym święcie nikt nie ma pojęcia". Cóż, może nie konkuruje ono z Bożym Narodzeniem pod względem rozpoznawalności, ale Europejczycy mają coraz większe pojęcie o tym dniu: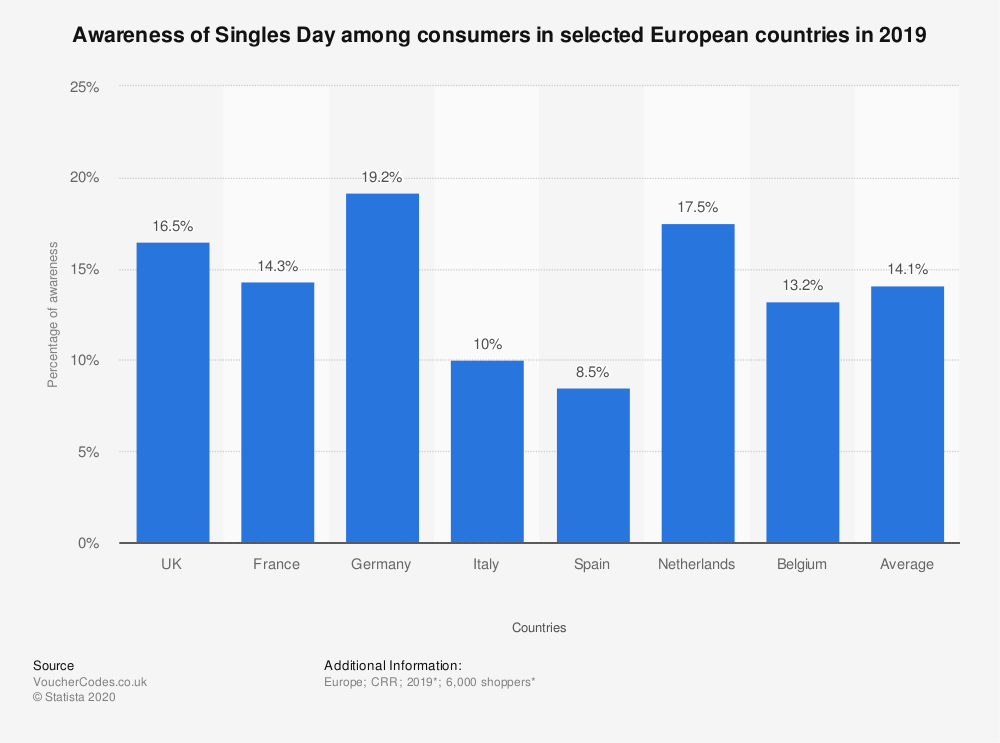 Według stanu na 2019 rok, świadomość klientów co do Dnia Singla wzrasta (Źródło: Statista)
Jak widać, Dzień Singla to jest właściwie znane z tego, że jest trochę "nowe". Sprawdza się to szczególnie w przypadku Wielkiej Brytanii, Niemiec, Francji i Holandii.
Jeśli nadal nie jesteś przekonany co do popularności Dnia Singla w Europie, to może dzięki ostatniemu wykresowi zmienisz zdanie. Z Wielką Brytanią i Niemcami na czele, to właśnie taka jest przewidywana wartość sprzedaży dla różnych krajów europejskich tego dnia: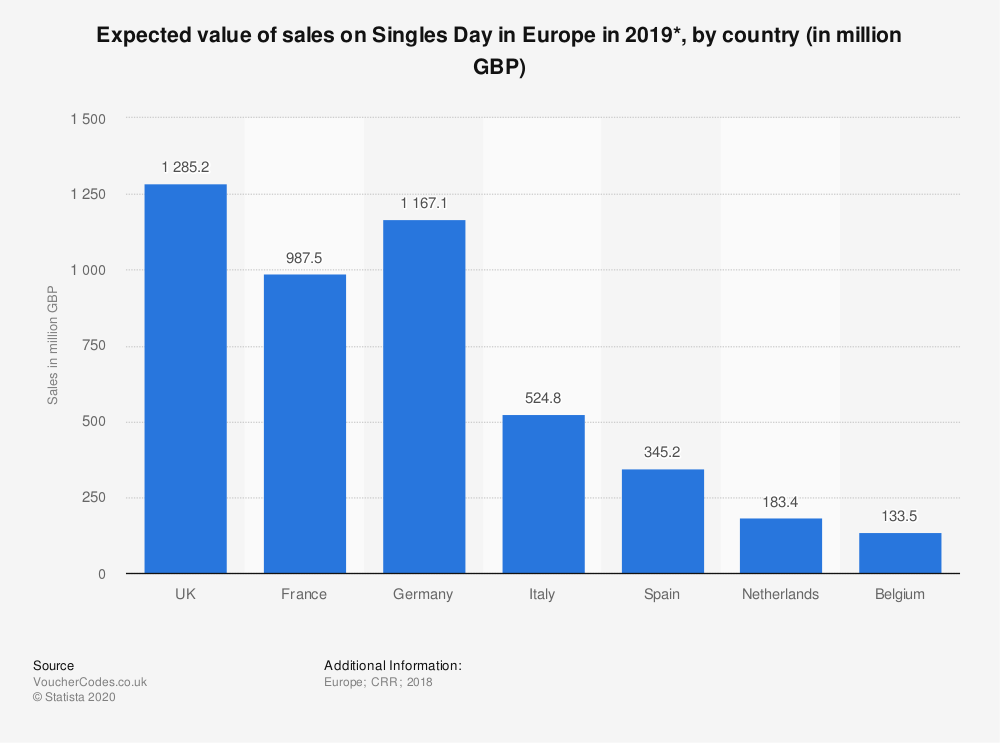 Przewidywana wartość sprzedaży podczas Dnia Singla w Europie w 2019 r. na podstawie wyników sprzed roku (Źródło: Statista)
Według Statisty, brytyjskie firmy zarobiły około 1,11 miliarda funtów w 2018 roku w dniu Singla, a w 2019 roku prognozowano wzrost tej kwoty o 13 proc.
Dlaczego twoja firma powinna zwracać uwagę na Dzień Singla
Chińczycy obchodzą to święto online jako swoją wersję Czarnego Piątku. Choć dzień ten nie do końca przebił się do mainstreamu w Wielkiej Brytanii, to jednak stale zyskuje na popularności. Dzięki globalnemu sukcesowi Alibaby, w ciągu ostatnich kilku lat te listopadowe wyprzedaże stały się bardziej rozpoznawalne na całym świecie.
Alibaba nie jest zresztą jedyną marką, która korzysta z nich korzysta. JD.com również odnotowało duże zyski w ciągu ostatnich kilku lat. Brytyjska marka ASOS także bierze w tym udział. Szybkie wyszukiwanie w Google udowadnia, że istnieje wiele stron internetowych poświęconych rabatom i promocjom organizowanym w czasie Dnia Singla.
Jako że Black Friday i Cyber Monday stały się niezwykle popularne w ciągu ostatnich kilku lat, można zauważyć, że niektóre marki starają się wyjść jeden krok do przodu przed konkurencję. W ciągu ostatnich kilku lat odbywa się wiele wyprzedaży przed Czarnym Piątkiem lub takich z cyklu "Odliczanie do Black Friday".
Ponieważ Dzień Singla ma miejsce na początku listopada, wydaje się, że jest to idealny moment na rozpoczęcie sprzedaży w okresie bożonarodzeniowym, zwłaszcza, że "nowe" święto staje się coraz bardziej popularne każdego roku.
Wniosek
Jeśli chcesz uzyskać znaczną przewagę w prowadzeniu świątecznych wyprzedaży, powinieneś zdecydowanie rozważyć rozpoczęcie promocji na Dzień Singla. Kluczem jest tu rozpoczęcie kampanii marketingowej z kilkutygodniowym wyprzedzeniem. Wykorzystaj media społecznościowe by rozpowszechniać informacje na ich temat. Na przykład, przeprowadź kilka sond na Instagramie, aby zbadać zainteresowanie taką ofertą wśród swoich odbiorców.
Przygotuj się na świąteczne wyprzedaże:
Ta publikacja jest tłumaczeniem artykułu w j. angielskim - Singles' Day: Outperforming Black Friday & Cyber Monday.