Jeśli reklamujesz się online, najprawdopodobniej korzystasz już w tym celu z Facebooka i/lub Google. Są to bardzo dobre sposoby na dotarcie do wybranej grupy docelowej ze względu na szeroki wachlarz opcji targetowania. Jeśli jednak sklep internetowy kieruje swoją ofertę do firm, warto także rozważyć reklamę na należącym do Microsoftu LinkedInie.

LinkedIn w Polsce
Podobnie jak wiele popularnych portali społecznościowych LinkedIn został założony w USA. Po uruchomieniu w 2003 r. wypełnił jedną z nisz na tym rynku, bardzo szybko stając się najważniejszym medium społecznościowym przeznaczonym dla profesjonalistów.
Na przestrzeni lat ugruntował swoją pozycję na rynku i, mimo pojawienia się konkurencyjnych portali w poszczególnych krajach (np. Goldenline w Polsce), globalnie pozostaje najważniejszym serwisem społecznościowym w sektorze B2B.
Wyniki badania Gemius/PBI opracowane przez Wirtualnemedia.pl pokazują, że w grudniu ub.r. Linkedin.com odwiedziło 2,3 mln internautów, czyli 8,2 proc. wszystkich użytkowników sieci w Polsce, natomiast Goldenline.pl (należący do Agory) - 2,08 mln użytkowników, co dało 7,4 proc. zasięgu.
Targetowana reklama skierowana do firm jest na LinkedIn szczególnie skuteczna. Najwyraźniej im większe nasze zarobki, tym większe prawdopodobieństwo, że będziemy aktywni na tym serwisie. Dlatego umożliwia on targetowanie osób decyzyjnych na stanowiskach menedżerskich.
Formaty reklamowe na LinkedInie
LinkedIn oferuje kilka formatów reklamowych. Pierwszym z nich są treści sponsorowane prezentowane podobnie jak na Facebooku. Posty te są oznaczone jako "promowana treść" i pokazywane w aktualnościach na kontach użytkowników. Mogą być świetnym sposobem na podzielenie się stworzonymi przez Ciebie treściami takimi jak artykuł na blogu.
Drugi format to reklamy tekstowe, do których można dodać małą grafikę, nagłówek i krótki tekst. Zazwyczaj pojawiają się na stronie głównej i mogą zostać rozliczone w modelu CPM (za tysiąc wyświetleń) lub CPC (za kliknięcie).
Sponsorowane wiadomości InMail trafiają z kolei bezpośrednio do skrzynki targetowanych użytkowników wtedy, gdy są oni zalogowani w serwisie. Dzięki temu dostarczalność tych wiadomości jest większa.
📚Przeczytaj też: Marketing na LinkedInie za darmo
Poniżej znajdziesz kilka wskazówek, które warto wziąć pod uwagę przed rozpoczęciem pierwszej kampanii na LinkedIn.
#1 Wielkość grupy docelowej
Wybierając opcje targetowania, dowiesz się, do ilu osób będziesz mógł dotrzeć. W trosce o dobre wyniki warto zdecydować się na kampanię o zasięgu 100,000-300,000 użytkowników, w zależności od wybranego formatu reklamowego.
W przypadku treści sponsorowanych LinkedIn zaleca targetowanie przynajmniej 300,000 użytkowników. W kampaniach z zastosowaniem reklam tekstowych widełki są większe. Zalecany target to 60,000-400,000 użytkowników. Jeśli zaś chodzi o wiadomości InMail, targetowanie powinno być jak najdokładniejsze. Rekomendacja LinkedIn to 100,000 lub mniej użytkowników.
#2 Testowanie reklam
Tworząc kampanie, warto przygotować kilka wersji reklamy. Wypróbuj 3-4 różne zestawienia grafiki i tekstu, by przeprowadzić testy A/B i sprawdzić, które z wariantów sprawdzają się najlepiej. Testy te będą dla Ciebie bardzo cenne podczas optymalizacji reklam, która umożliwia uzyskanie jak najlepszych wyników przy określonym budżecie na kampanie.
#3 Modele rozliczeniowe
LinkedIn pozwala Ci na wybór sposobu rozliczenia kampanii. Możesz zacząć od płatności w modelu CPC (opłata za kliknięcie), który jest bardziej zrozumiały i przejrzysty podczas optymalizacji. Jest to także model, który będzie dla Ciebie najbardziej odpowiedni w sytuacji, gdy Twoim głównym celem marketingowym jest generowanie nowych leadów.
Po jakimś czasie możesz przejść do rozliczeń w modelu CPM (opłata za 1000 wyświetleń). Dzięki temu zyskasz więcej wyświetleń, co wykorzystywane jest najczęściej w kampaniach mających na celu zwiększenie rozpoznawalności marki.
Jeśli jeszcze nie jesteś pewien, na czym chcesz się skoncentrować, zawsze możesz utworzyć dwie kampanie rozliczane w różnych modelach, przetestować je i sprawdzić, która przynosi najlepsze efekty.
#4 Targetowanie grup
Plusem kampanii w mediach społecznościowych jest niewątpliwie dostępna tam duża ilość danych umożlwiająca skuteczne targetowanie reklamy do odpowiednich użytkowników. Na LinkedInie możliwe jest skierowanie jej do różnych grup, np. na podstawie nazwy stanowiska, poziomu w hierarchii, obowiązków służbowych, wielkości firmy, lokalizacji czy kraju.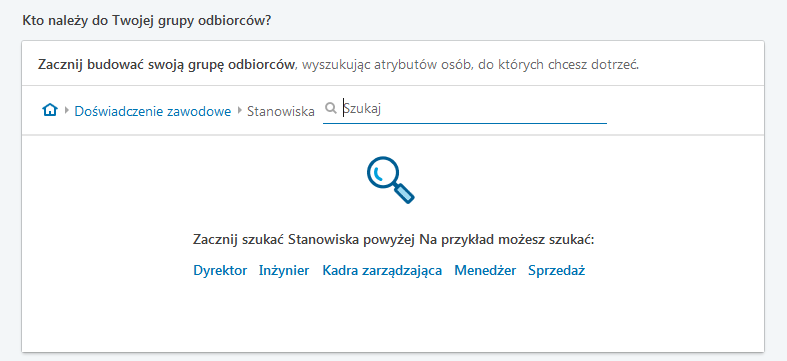 Jeśli stworzyłeś już profil swojego idealnego klienta (buyer persona), pomoże Ci on w określeniu, jakiej grupie chcesz zaprezentować swoją reklamę. Wypróbuj różne zestawienia grup i sprawdź, co przynosi najlepsze efekty.
#5 Optymalizacja targetowania
Po uruchomieniu kampanii warto ją obserwować i optymalizować reklamy. Zacznij od sprawdzenia statystyk demograficznych i statystyk grup wybranych zgodnie ze wskazówkami w punkcie 4.
Dowiedziawszy się, co działa, a co nie, możesz odpowiednio skorygować targetowanie kampanii. Innymi słowy: jeśli zauważysz, że wybór danej lokalizacji lub nazwy stanowiska nie generuje wystarczającej liczby kliknięć lub ma negatywny wpływ na współczynnik klikalności (CTR), nie uwzględniaj ich podczas targetowania w przyszłości.
Wnioski
LinkedIn oferuje bardzo pomocne opcje targetowania i przydatne informacje, które pomogą Ci w efektywnym prowadzeniu kampanii. Jeśli Twoja firma działa w sektorze B2B, serwis ten będzie sprzymierzeńcem w pozyskiwaniu nowych leadów i zwiększaniu ruchu na Twojej stronie internetowej.
Poszukujesz dalszych informacji o sprzedaży B2B w sieci? Zapoznaj się z naszym bezpłatnym poradnikiem ten temat.

Ta publikacja jest tłumaczeniem artykułu pt. 5 Beginner's Tips for LinkedIn Ads.