Jeśli jesteś sprzedawcą internetowym, z pewnością czasem zastanawiałeś się, czy oferować swoje produkty na marketplace'ach takich jak Allegro lub Amazon, czy też skoncentrować się raczej na swoim własnym sklepie internetowym. W poniższym artykule przyjrzymy się bliżej obu możliwościom, aby pomóc Ci zdecydować, jaka strategia będzie najlepsza dla Twojej firmy.

Budowanie wizerunku marki
Bez wątpienia własna strona internetowa daje większą kontrolę nad wizerunkiem marki. Każdy, kto korzystał kiedyś z Amazona lub eBaya, wie, że serwisy te nie oferują wielu możliwości personalizacji wyglądu własnej strony produktu. Kolory, czcionki i układy graficzne są tam raczej ustandaryzowane, chociaż jeśli chodzi o strony produktów, eBay zapewnia więcej opcji niż Amazon. Nikt nie pokusi się jednak o stwierdzenie, że strony te są szczególnie dynamiczne.
Oczywiście, jest kilka rzeczy, które pozwolą Ci się wyróżnić. Jeśli chodzi o strony produktów, czynnikiem decydującym o sukcesie są wyjątkowe zdjęcia, niezależnie od tego, czy sprzedajesz na marketplace, czy za pośrednictwem własnej strony internetowej. Równie ważne są oryginalne i pomocne opisy produktów.
To już jednak wszystko, co mają do zaoferowania internetowe platformy handlowe. Budując własną stronę, można zapewnić swoim klientom znacznie lepiej dostosowane do ich potrzeb doświadczenia zakupowe.
Dobra marka ma osobowość i nawiązuje do stylu życia swojej grupy docelowej, a wszystko to powinno znaleźć odzwierciedlenie w projekcie strony internetowej sklepu.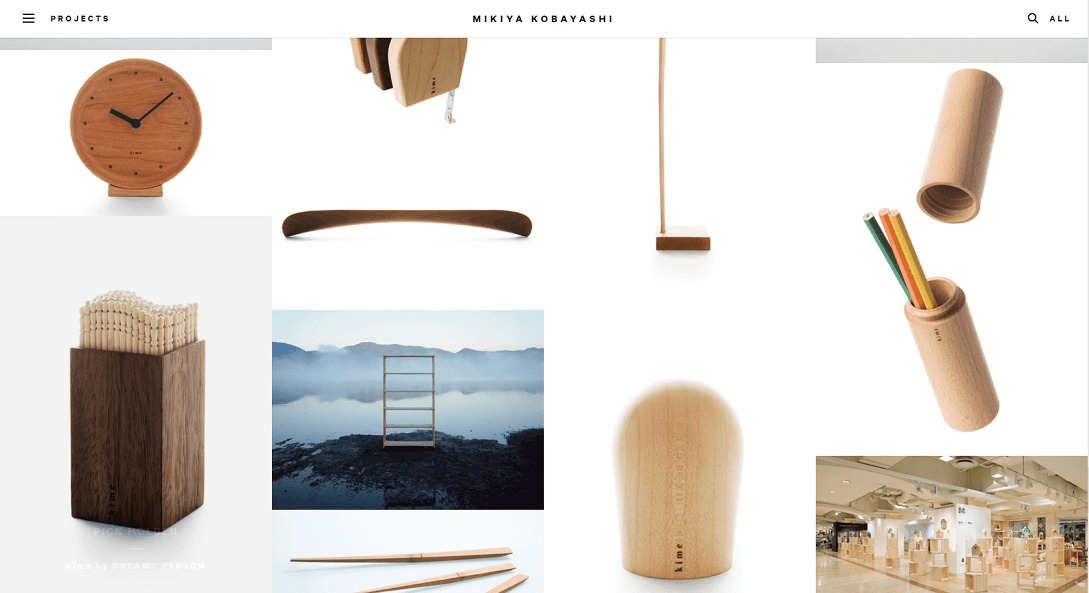 Projektant Mikiya Kobayashi jest znany ze swojego zamiłowania do materiałów. Odzwierciedlają to minimalistyczne zdjęcia i zbliżenia prezentujące jego produkty. Źródło: mikiyakobayashi.com
Należy także pamiętać, że marketplace wymaga bardzo ostrożnego podejścia do pozycjonowania swojej marki, szczególnie jeśli prowadzisz sprzedaż na Amazonie.
Serwis ten zabrania sprzedawcom wspominania o swojej firmie w jakikolwiek sposób. Oznacza to, że nie można umieszczać nazwy sklepu na dołączanych do zamówień fakturach ani dodawać do paczek żadnych wizytówek. Mimo że jest to postrzegane jako dobra praktyka biznesowa, Amazon interpretuje takie działanie jako próbę odwrócenia uwagi klientów od swojego serwisu, a jest to coś, za czym (delikatnie mówiąc) nie przepada.
Inne internetowe platformy handlowe mają podobne zasady. Etsy pozwala jednak chociażby na wstawianie linków do własnych stron w mediach społecznościowych.
Cokolwiek robisz, zawsze dokładnie czytaj warunki handlowe serwisów. Jeśli je naruszysz, Twoje konto może zostać zablokowane.
Wskazówka: Jeśli udaje Ci się zdobyć wielu klientów na marketplace, upewnij się, że Twój sklep ma zapadającą w pamięć i łatwą do wyszukania nazwę. Możliwe, że klienci powrócą do niego za pośrednictwem Google.
Zwycięzca: Twój własny sklep... i to z dużą przewagą
Ruch i sprzedaż
Sprzedajesz w Internecie, więc i skuteczny online marketing jest kluczem do sukcesu Twojej firmy. Ofert w sieci jest jednak bardzo dużo, a zwrócenie uwagi klienta na własną stronę internetową wymaga ciężkiej pracy.
Jako sprzedawca prawdopodobnie masz krótko- i długoterminowe cele. Do celów długoterminowych należy m.in. budowanie marki. Równie ważna jest jednak sprzedaż, a reklamowanie produktów tak, aby szybko je sprzedać, jest niezbędne do osiągnięcia celów krótkoterminowych.
Jeśli posiadasz własny sklep internetowy, istnieje wiele sposobów na skierowanie ruchu na jego stronę, np. optymalizacja strony internetowej pod kątem wyszukiwarek lub reklamy AdWords, na Facebooku, Instagramie, Twitterze czy Pinterest. Wszystko to może jednak kosztować dużo czasu i wysiłku, a – jak wiadomo – czas to pieniądz.
Zaletą sprzedaży na marketplace jest to, że Twoi klienci prawdopodobnie szybciej znajdą Twoje produkty, niezależnie od ich specyfiki czy konkurencji na portalu. Ma to związek z popularnością takich serwisów wśród konsumentów.
Z drugiej strony, jeśli produkt zostanie sprzedany, część zysku trafi na konto platformy handlowej, która pobiera prowizje od transakcji zewnętrznych firm.
Zwycięzca: marketplace, jeśli zależy Ci na szybkiej sprzedaży
A co z user experience?
Jeśli klient jest zadowolony z zamówienia złożonego na stronie Amazon, skojarzy swoje dobre doświadczenia z tym serwisem, mimo że produkt pochodzi z Twojego sklepu. Można to zmienić, prowadząc własny sklep internetowy.
Jeśli klient dokonuje zakupu na Twojej stronie, cały proces zakupowy pozostaje pod Twoją kontrolą. Może wymaga to nieco więcej pracy, ale to Ty wówczas zapunktujesz u kupujących.
Zwycięzca: Twój własny sklep internetowy
Podsumowanie
Choć zalety posiadania własnej strony są niezaprzeczalne, nie zaszkodzi wypróbować marketplace, aby osiągnąć jeszcze większą sprzedaż. Chociaż takie serwisy nakładają na sprzedawców pewne ograniczenia, cieszą się jednocześnie dużą popularnością i mogą zaoferować Twojej firmie wiele korzyści.
Z drugiej strony, nie należy rezygnować z własnego sklepu i skupiać się wyłącznie na sprzedaży za pośrednictwem zewnętrznych serwisów. Z biznesowego punktu widzenia najbezpieczniejszym rozwiązaniem jest połączenie różnych kanałów sprzedaży.

Ta publikacja jest tłumaczeniem artykułu pt. Should I Only Sell in Marketplaces Like Amazon and eBay or Focus on My Own Website?.