Mistrzostwa świata w piłce nożnej już za chwilę. To doskonały moment na promocję swojego sklepu – wykorzystaj go! Chociaż nie jest tajemnicą, że FIFA jest dość surowa w kwestii wykorzystania swojego logo przez inne marki, nie jest niemożliwe wykorzystanie jednego z największych wydarzeń sportowych na świecie do zwiększenia sprzedaży Twojej firmy. Dzisiaj przyjrzymy się pięciu sposobom, w jaki możesz promować swoją firmę w przeddzień mistrzostw świata.

Twórz i sprzedawaj produkty z symbolami narodowymi
Mistrzostwa świata to przede wszystkim wspieranie drużyny narodowej. Wykorzystaj więc nasze barwy i flagę. Oprócz tego, że będzie to bardziej patriotyczne, to nie naruszysz przy tym żadnych praw autorskich. W szczególności praw FIFA, która chroni nimi swoje symbole.
Pamiętaj: zanim stworzysz jakiś produkt na tę okazję, zajrzyj do oficjalnego przewodnika, który z okazji nadchodzących mistrzostw przygotowała FIFA. Znajdziesz w nim wszystkie znaki, które są zastrzeżone przez organizację. Jeśli chcesz ich użyć, musisz uiścić odpowiednią opłatę.
Jeśli obawiasz się, że Twoja firma nie ma produktów, które są adekwatne do wydarzenia, pamiętaj, że podczas mistrzostw świata fani są gotowi kupić mnóstwo różnych, dziwnych przedmiotów.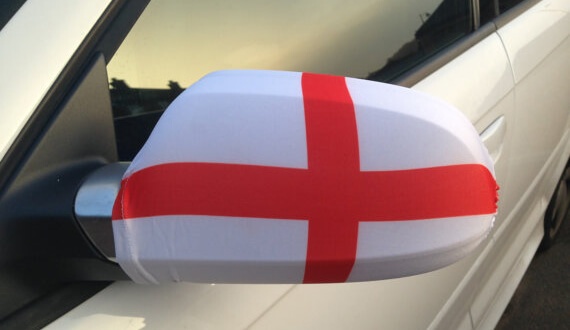 To nie jest żadne dziwactwo w porównaniu z innymi produktami widywanymi w trakcie mistrzostw świata (źródło obrazu: Etsy)
Doczepiane do samochodów flagi, pokrowce na lusterka samochodowe, sznurowadła, a nawet kubki do kawy czy miski dla pupili. Kibice demonstrują swój patriotyzm podczas mistrzostw na wiele różnych sposobów. Masz więc duże pole do popisu!
Nasza rada: Zacznij od kupna niewielkiej liczby produktów i przyglądaj się wynikom sprzedaży. Jeśli będą zadowalające, możesz zastosować tę samą strategię podczas igrzysk olimpijskich lub mistrzostw Europy.
Projekt strony internetowej
Jak już wspominaliśmy powyżej, nie wolno Ci używać żadnych oficjalnych znaków logo. Chyba, że zapłacisz FIFA za prawo do ich używania. Możesz jednak wyraźnie zasygnalizować, że promujesz mistrzostwa świata, nie używając żadnych oficjalnych logotypów.
Dodaj do strony internetowej unikatowy, tymczasowy nagłówek. Przypomnisz odwiedzającym, że oferujesz produkty inspirowane mistrzostwami. Dodanie do nagłówka zegara odliczającego czas do rozpoczęcia mistrzostw wzmocni u klientów poczucie pilności i może zwiększyć liczbę konwersji. Pamiętaj, że przyciągająca grafika to podstawa!
📚Przeczytaj też: Visual content marketing: jak zwiększyć ruch dzięki obrazom?
Jeśli rozwijasz swoją działalność na kilku rynkach i Twoja strona posiada kilka wersji językowych, to świetnie! Pamiętaj jednak o tym, aby strona kazdego rynku miała charakterystyczne dla siebie elementy. Właściciel sklepu pochodzący z Polski może z dumą prezentować na swojej stronie białego orła, jednak zastosowanie tego samego projektu nie będzie zbyt mile widziane np. we francuskiej wersji sklepu.
Zaoferuj promocję na swoje produkty
To bardzo ważne, dlatego dobrze przemyśl, co dokładnie zamierzasz zaoferować klientom i w jaki sposób to zrobić.
Zdobądź się na kreatywność!
Możesz na przykład poinformować, że za każdego gola zdobytego przez drużynę narodową w danym meczu, przez następne 24 godziny klienci uzyskają dodatkowe 10% zniżki na określone produkty. Możesz również dawać dodatkowe zniżki, gdy któraś z innych drużyn strzeli gola zaciekłym rywalom drużyny narodowej.
Wykorzystaj obecność w mediach społecznościowych
Pamiętaj, że siła mediów społecznościowych tkwi w ich szybkim reagowaniu. Kiedy na świecie dzieje się coś niesamowitego, one reagują na to w kilka chwil. Zwłaszcza, jeśli chodzi o wydarzenia sportowe!
Wspaniałe gole zamieniają się w batalie memów, a wpadki – w dowcipne reklamy.
Pamiętaj więc o tym by być na bieżąco i śledzić boiskowe wydarzenia, które mogłyby mieć potencjał do wykorzystania w ramach strategii real time marketingu. Takie treści rozchodzą się po sieci w mgnieniu oka, pokazują Twoją kreatywność i bycie na czasie! Spójrz tylko, jak zwycięstwo Francji podczas ostatnich mistrzostw uczcił paryski Luwr na swoim koncie na Twitterze: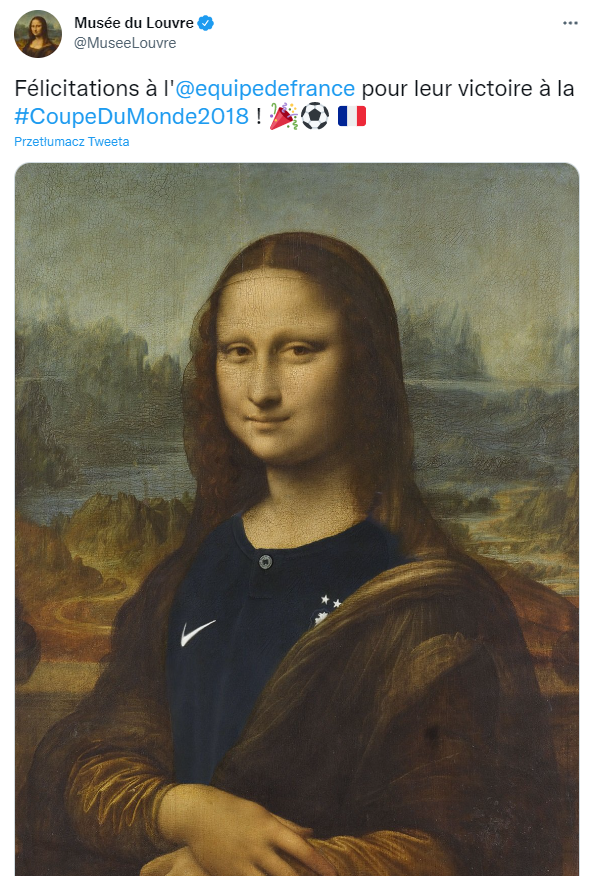 Promuj się w sieci
Jeśli organizujesz wyprzedaż, promuj ją w płatnych kampaniach marketingowych, a także na swoich profilach w mediach społecznościowych. Zachęć także innych do informowania o niej. Zajrzyj także do naszego darmowego poradnika, w którym dowiesz się jak robić to skutecznie!
Pamiętaj: uważaj na to, jakich sformułowań, obrazów i logotypów używasz do działań marketingowych. Nawet fraza "Qatar 2022" jest chroniona, więc wykorzystaj swoją kreatywność. Najważniejsze jest, aby nie tworzyć reklam w jakikolwiek sposób sugerujących, że Twoja firma ma "powiązanie komercyjne" (określenie używane przez FIFA) z mistrzostwami świata.
Dzień otwarcia mistrzostw zbliża się nieubłaganie, dlatego już teraz zacznij przyciągać klientów na swoją stronę internetową. Do dzieła!