Ponadczasowym tematem w handlu internetowym jest kwestia unikania zwrotów. Przede wszystkim sprzedawcy internetowi, którzy działają w branży modowej muszą się liczyć ze zwiększoną liczbą zwrotów. Z upływem czasu wypracowali oni różne strategie, które pozwalają wyeliminować lub zminimalizować ryzyko zwrotu towarów.


Charakterystyka tematu
Zwroty towaru są dla e-sprzedawców bardzo kłopotliwe, należą one jednak do ogólnego ryzyka transakcji. Sprzedawcy, którzy sprzedają na odległość ubrania i artykuły związane z modą, muszą się liczyć z tym, że odsetek zwróconych towarów przekroczy 50 procent. Częstym zwrotom sprzyjają dwa główne czynniki:
Obszerne prawo do odstąpienia od umowy umożliwiające dokonanie zwrotu. Kupujący w Internecie lub w sprzedaży wysyłkowej nie może być traktowany gorzej w stosunku do klienta sklepu stacjonarnego , a zatem musi mieć wystarczająco dużo czasu, aby zmierzyć i sprawdzić zakupiony produkt.
Dobrowolne przejęcie kosztów zwrotu przez nadawcę. W przeciwieństwie do prawa do odstąpienia od umowy sprzedawca ma tutaj większe pole manewru. Wielu klientów jest przyzwyczajonych, że duże sklepy przejmują na siebie również koszty zwrotu towaru o wartości poniżej 40 euro. To z kolei ma wpływ na na zachowanie i oczekiwania klientów podczas robienia zakupów w Internecie.
Alternatywa dla zwrotu towarów
Zwrot wybranych towarów występuje najczęściej w przypadku handlu produktami związanymi z branżą modową. Klient zamawia produkt w różnych rozmiarach, kolorach lub o różnych cechach. Artykuły, które nie przypadną klientowi do gustu są odsyłane do e-sklepu. Efektem jest z reguły nierentowny przepływ towarów pomiędzy sprzedawcą a klientem.
Tego typu zwrot towarów oznacza dla sprzedawcy nie tylko utracony dochód, lecz również dodatkowe koszty związane z zarządzaniem zwrotami. Dlatego sprzedawcy internetowi podejmują środki, które zapewniają kontrolę nad klientami, którzy zwracają dużo towarów. Ankieta Trusted Shops przeprowadzona wśród prawie 280 sprzedawców internetowych pokazuje, że prawie co drugi e-sprzedawca zawiesza dostawy do klientów, którzy nagminnie zwracają zakupione produkty. Wprawdzie brak dostawy oznacza również utratę przychodów, ale nie prowadzi do powstania dodatkowych kosztów.
Niektóre sklepy internetowe już podczas prezentacji produktu próbują zminimalizować ryzyko zwrotu towaru, tak, aby utrzymać klienta i zmniejszyć liczbę zwrotów.
Rozmiary i informacje dotyczące kroju powinny być łatwo dostępne i wyeksponowane w centralnym miejscu na stronie produktu, a nie gdzieś na brzegu strony w mało widocznym miejscu. Informacje dotyczące rozmiaru stanowią dla klienta ważną wskazówkę, czy dany strój będzie pasował, czy też nie. Ważne jest, aby w opisach produktów były umieszczone informacje o wymiarach.
Pozycjonowanie ukierunkowane na klienta oznacza również, że dodatkowe informacje na temat produktu są łatwo dostępne dla klienta.
Cyfrowy manekin krawiecki
Model o standardowych wymiarach ciała, dostępny w dwóch wariantach: damskim i męskim, pełni funkcję statycznego, cyfrowego manekina krawieckiego. Użytkownicy mogą mu zakładać ubrania. Cyfrowy model dostępny jest w trzech widokach: z przodu, z tyłu oraz z profilu.
Wirtualny pokaz mody
Inne podejście wybrał KnickerPicker.com, sklep internetowy sprzedający bieliznę i ubrania sportowe. Tutaj zamiast sfotografowanego modelu mamy film video.
Spośród pięciu zdefiniowanych modeli o różnych proporcjach ciała użytkownicy mogą wybrać model najbardziej zbliżony do ich własnej sylwetki. Można także wybrać specjalne produkty z asortymentu, które następnie zostaną zaprezentowane przez modelki. Przy tym użytkownik może obracać modelem wokół własnej osi lub pozwalać mu poruszać się do przodu lub do tyłu. W przeciwieństwie do statycznych modeli fotograficznych zastosowany został materiał video z prawdziwymi modelkami i modelami, dzięki czemu wirtualny pokaz mody wygląda bardzo realistycznie.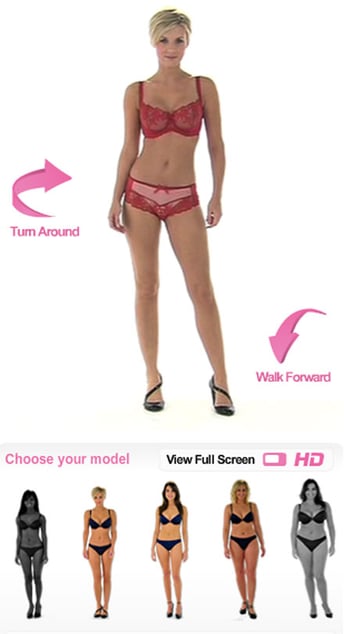 Podsumowanie
Informacje o kroju i tabele z rozmiarami, jak również cyfrowe manekiny krawieckie i wirtualne modele mogą pomóc w zmniejszeniu liczby zwrotów towarów. Jak dotąd są to jednak tylko pojedyncze rozwiązania. Dotyczy to również dostępnych na rynku rozwiązań typu Augmented Reality.
Być może w przyszłości indywidualne dane dotyczące wymiarów klienta (w przypadku, gdy dane zostaną udostępnione sprzedawcy) zostaną powiązane z informacjami na temat kroju danego produktu. Przy wyborze rozmiaru, system sklepu internetowego podejmie stosowne korekty rozmiaru, bazując na tych danych. To, z kolei, w połączeniu z cyfrową przymierzalnią i własnym video, może znacząco zmniejszyć liczbę zwrotów.
Wprowadzenie tych danych może mieć miejsce już dziś za pomocą skanerów ciała, które są stosowane w wielu projektach technologicznych domów handlowych. Wymiary klienta są automatycznie pobierane, następnie zapisywane na smartfonie, pamięci USB lub innym nośniku danych i mogą być wyświetlane w dowolnym miejscu i czasie.