Marketing mix to strategia biznesowa polegająca na pracy nad obszarami operacyjnymi, które mogą wyeksponować wszystkie zalety produktu lub usługi. Jak sama nazwa wskazuje, marketing mix to a połączenie działań marketingowych które pozwolą Ci osiągnąć cele, które sobie wyznaczyłeś w odniesieniu do rynku, na którym działasz, a tym samymzapewniają sukces produktu.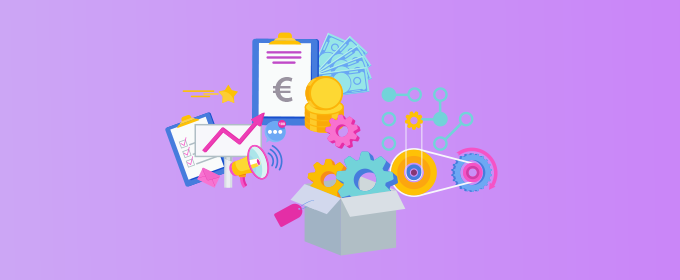 Aby lepiej zrozumieć, czym jest marketing mix, musisz znać jego składniki i dowiedzieć się, czemu odpowiadają. Dlaczego warto stosować marketing mix? Jakie są cechy tej strategii? Spróbujmy zrozumieć marketing mix w 4 punktach.
Dlaczego stosować marketing mix?
Dla firmy marketing mix to umożliwia lepiej przemyśleć strategię biznesową w celu prowadzenia skuteczniejszych kampanii marketingowych i uzyskiwania lepszych wyników.
Nie wiesz, jak to zrobić? Agencja marketingowa może pomóc Ci w zdefiniowaniu szkicu Twojego marketing mix.
4 główne składniki marketing mix
Stworzony w latach 40. XX wieku marketing mix do dziś opiera się na czterech zasadniczych elementach, znanych jako 4P: product (produkt), price (cena), place (miejsce), promotion (promocja).
Polityka produktowa
Termin "produkt" obejmuje kilka rzeczywistości. Jest to oczywiście to, co sprzedajesz. Równie dobrze może to być np. materialny lub niematerialny produkt i/lub usługa. Muszą one odpowiadać oczekiwaniom i potrzebom Twojego celu.
Polityka cenowa
Cena wyraża wartość produktu. Na szeroko rozumianą cenę w dziedzinie marketingu składa się kilka elementów:
cena wyświetlana,

cena podana,

wszelkie zniżki,

koszty wysyłki,

polityka cenowa,

ceny, jakie narzucają konkurenci.
Jak ustalić cenę produktu? Oto, co należy wziąć pod uwagę:
koszty produkcji,

badania,

rozwój,

koszty wysyłki,

długoterminowy cykl życia produktu,

przydatność produktu do celu w dłuższej perspektywie, itp.
Polityka cenowa, którą przyjmiesz, ma decydujące znaczenie dla pozycjonowania Twojej marki na rynku.
📚Przeczytaj też: 5 strategii cenowych, które zwiększają sprzedaż
Polityka dystrybucji
Trzecie P to "miejsce" (place). Za tym pojęciem kryje się idea "lokalizacji", gdzie będzie sprzedawany Twój produkt.
Dystrybucja obejmuje wszystkie środki, jakimi dysponuje Twoja firma, aby dostarczyć produkt do konsumenta :
platformy i strony internetowe,

fizyczne lokalizacje,

zapasy,

metody dostawy.
📚Przeczytaj też: Dostawa w sklepie internetowym – jakie formy dostawy oferować klientom?
Aby Twoi potencjalni klienci mogli nabyć Twój produkt, musisz pomyśleć o różnych kanałach dystrybucji, których chcesz użyć. Wybory Twoich konkurentów mogą pomóc Ci w zidentyfikowaniu najbardziej obiecujących środków.
Poświęć czas na przeanalizowanie, gdzie jest Twoja grupa docelowa i w jaki sposób konsumuje. Jeśli oferujesz produkt w sklepach stacjonarnych, podczas gdy większość Twoich klientów korzysta z internetu, tracisz dużą część sprzedaży.
Polityka komunikacyjna
Promocja ma na celu reklamowanie produktu i sprawienie, aby Twoja grupa docelowa chciała go kupić.
Do komunikowania o swoim produkcie możesz skorzystać z następujących kanałów:
płatna reklama,

poczta pantoflowa,

public relations,

marketing treści.
📚Przeczytaj też: Jak aktualizować treści, by poprawić SEO?
Nowe, komplementarne elementy marketing mix
W ostatnich latach specjaliści od marketingu uznali za interesujące dodanie nowych P w celu wdrożenia jeszcze bardziej zaawansowanej strategii marketing mix:
procces (proces),

people (ludzie),

partners (partnerzy),

physical evidence (dowody rzeczowe),

packaging (opakowanie),

payment (płatność).
📚Przeczytaj też: Metody płatności w internecie – jakie oferować w e-sklepie?
Ta publikacja jest tłumaczeniem artykułu w j. francuskim: Marketing Mix : le comprendre en 4 points