SEO, czyli optymalizacja pod kątem wyszukiwarek, to niełatwa procedura. Wymaga nieustannej pracy, analiz oraz czasu, by przyniosła sukces. Różnego rodzaju narzędzia mogą ułatwić raportowanie i optymalizację, ale zazwyczaj są one bardzo drogie.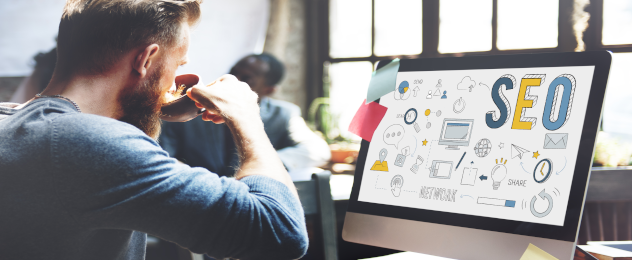 Zaawansowani specjaliści SEO raczej nie będą mogli uniknąć inwestycji w narzędzia premium, ale nie martw się: optymalizacji można dokonywać także przy pomocy bezpłatnych usług.

W tym artykule przedstawiamy darmowe narzędzia SEO, które pomogą Ci zoptymalizować stronę internetową i zwiększyć liczbę odwiedzających.
1. SERP Snippet Generator od Sistrix

SERP Snippet Generator firmy Sistrix to doskonałe narzędzie do poprawiania tagów meta title i meta description przed kliknięciem przycisku "Opublikuj".
📚Przeczytaj też: Czym są znaczniki meta title i meta description i jak je pisać?
To niewielkie, ale skuteczne narzędzie pomaga zoptymalizować widok w wynikach wyszukiwania, zwiększyć współczynnik klikalności, a tym samym pozyskać więcej odwiedzających z Google.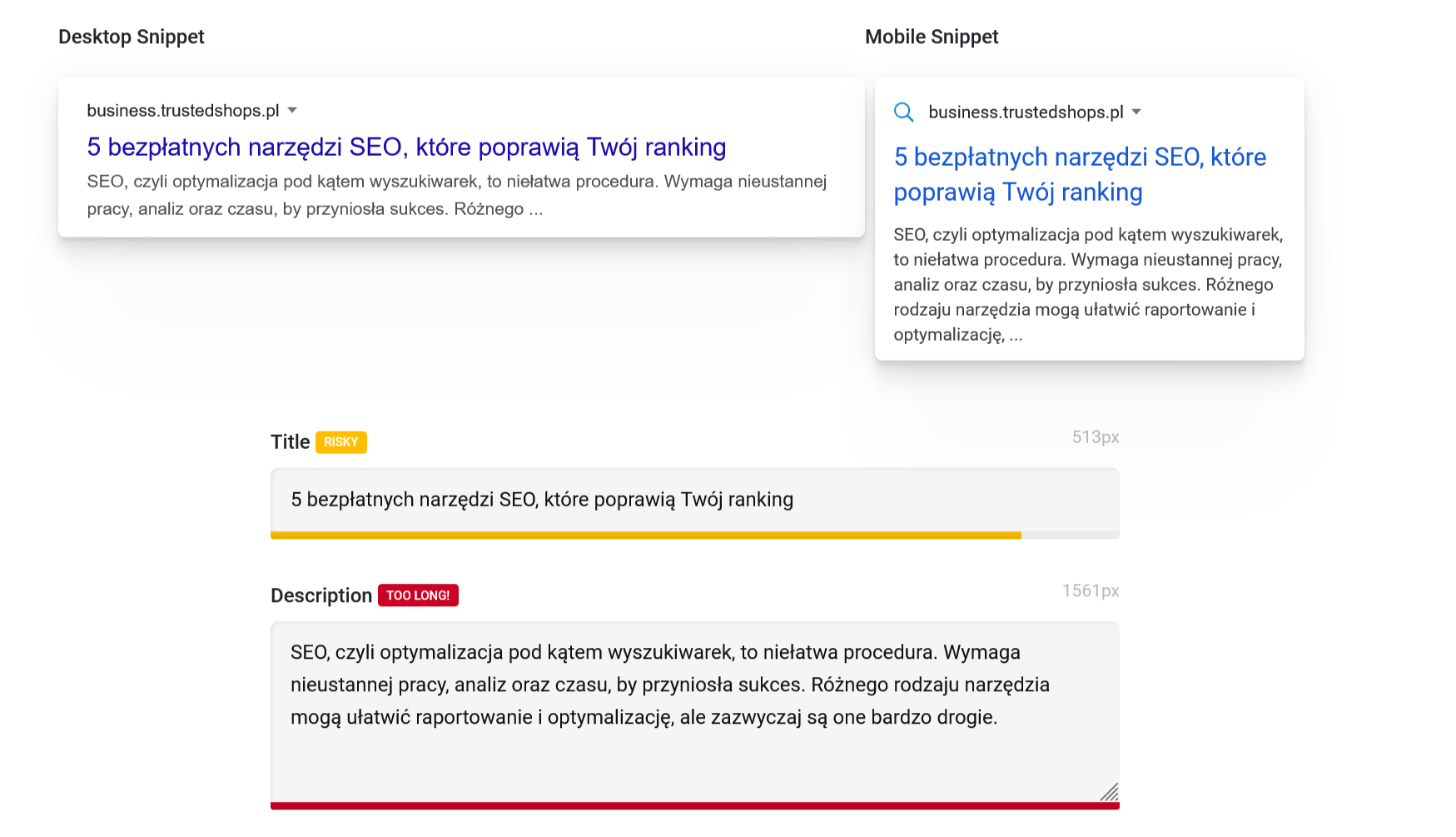 Można tu również dodawać znaki specjalne, wyróżniać słowa kluczowe i optymalizować inne elementy, takie jak rich snippets czy daty. Szczególnie pomocne są dawane przez narzędzie ostrzeżenia, kiedy nagłówek lub opis jest zbyt długi, przez co mógłby zostać skrócony przez Google.
2. Google Search Console
Każda osoba prowadząca stronę internetową powinna posiadać bezpłatne konto w Search Console (dawniej Webmaster Tools), gdyż to ono pokazuje pierwsze sygnały o potrzebach optymalizacyjnych.

Ciekawym raportem są na przykład Podstawowe wskaźniki internetowe (Core Web Vitals), który można znaleźć w sekcji Eksperymenty i personalizacja.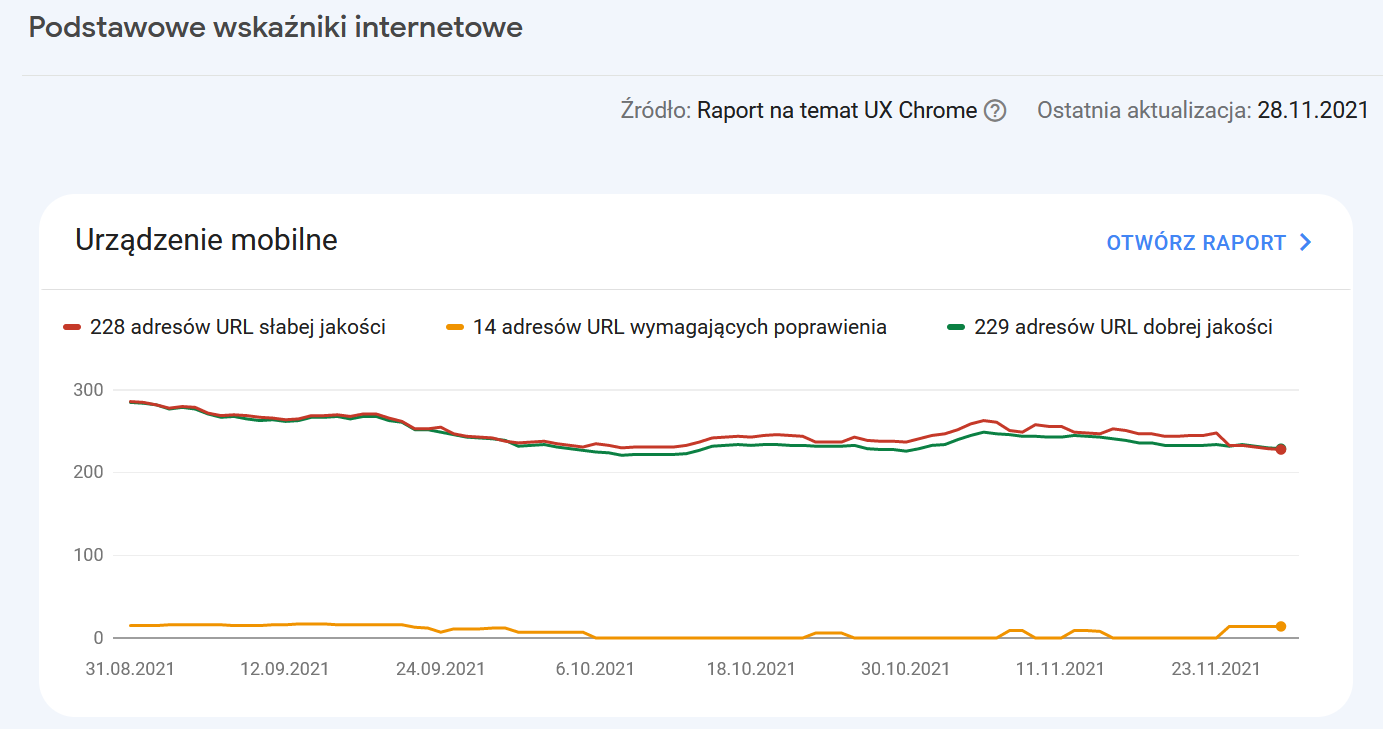 W tym miejscu znajdziesz adresy URL na swojej stronie, które wymagają optymalizacji i nie są przyjazne dla użytkownika. Mierzone są tu trzy czynniki:

Largest Contentful Paint (LCP): ta metryka mierzy czas potrzebny na załadowanie głównej zawartości strony. Jako wartość idealną wyszukiwarka podaje 2,5 sekundy lub szybciej.
First Input Delay (FID): FID opisuje czas od pierwszej interakcji użytkownika ze stroną (np. kliknięcie przycisku lub linku) do momentu, gdy przeglądarka pokaże reakcję na tę interakcję.

Cumulative Layout Shift (CLS): metryka CLS mierzy stabilność układu strony oraz to, czy jego poszczególne elementy ulegają przesunięciu podczas użytkowania. Google określa 0,1 lub mniej jako wartość idealną.

Jeśli poprawisz wymienione błędy, Twoja witryna będzie bardziej przyjazna dla użytkownika i wzrośnie prawdopodobieństwo uzyskania lepszej pozycji w wynikach wyszukiwania.
📚Przeczytaj też: Co to jest UX i dlaczego jest ważne dla e-sklepu?
Bonus: Google PageSpeed Insights
Wprowadź adres URL, a narzędzie przetestuje jego czas ładowania i wydajność na komputerach i urządzeniach mobilnych. Następnie oceni wydajność Twojej witryny w skali od 0 do 100.

PageSpeed Insights pokazują dokładnie, jak długo trwa ładowanie strony według różnych kryteriów, a także sugerują obszary wymagające poprawy.

Alternatywy: Pingdom, WebPageTest i GTMetrix
3. Screaming Frog SEO Spider
To narzędzie to prawdziwe must-have w optymalizacji pod kątem wyszukiwarek. I choć wygląd programu nie jest najbardziej nowoczesny, pozostaje on jednym z najlepszych darmowych narzędzi SEO.

Screaming Frog jest programem, który musi być zainstalowany lokalnie, zanim będzie można rozpocząć analizę. Rdzeniem Screaming Frog jest crawler, który przeszukuje Twoją stronę i wypisuje jej najważniejsze elementy w ustrukturyzowanej formie.

Chociaż nie ma tu bezpośrednich wskazówek dotyczących optymalizacji, tak jak w przypadku innych narzędzi SEO, to jednak na pierwszy rzut oka można tu zobaczyć więcej danych. Obejmują one m.in. niedziałające linki, tytuły stron, meta opisy i wiele innych.

Mały bonus: crawl może być wykorzystany do generowania sitemap, które z kolei mogą być przechowywane w Search Console.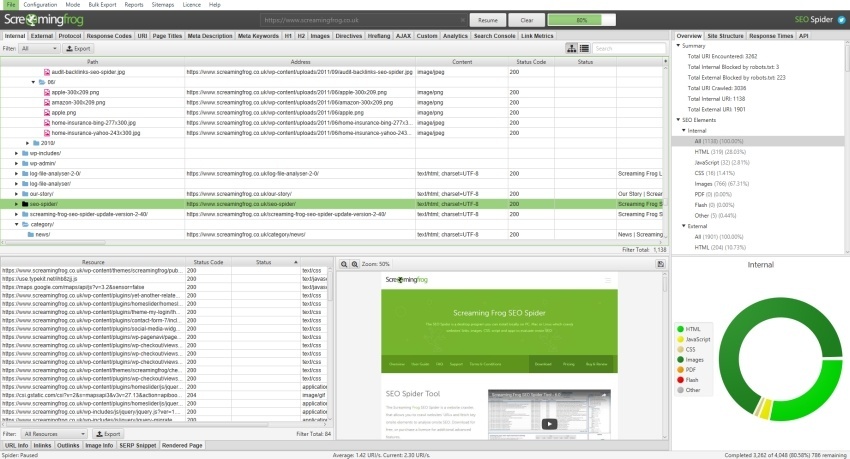 Istnieje również wersja premium narzędzia, ale w darmowej można przecrawlować 500 adresów URL, co powinno wystarczyć dla mniejszych stron i sklepów.
Alternatywa: Xenu's Link Sleuth
XENU działa podobnie do Screaming Froga i przeszukuje daną stronę internetową. Jest to szczególnie skuteczny sposób na wykrycie niedziałających linków.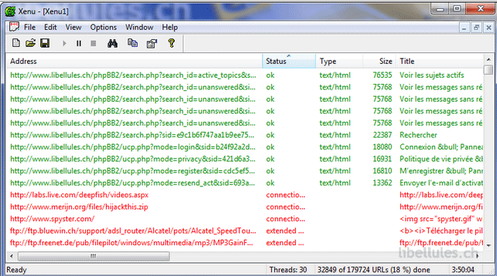 4. SEO Minion: wtyczka Chrome
Używając SEO Minion, wszystko, co musisz zrobić, to przejść do strony, którą chcesz zbadać, a następnie kliknąć rozszerzenie na pasku narzędzi. Na samej stronie zobaczysz menu z dostępnymi kilkoma funkcjami.

Po kliknięciu na konkretną z nich, pozostaniesz na swojej stronie i będziesz mógł kontynuować tylko w menu narzędzia.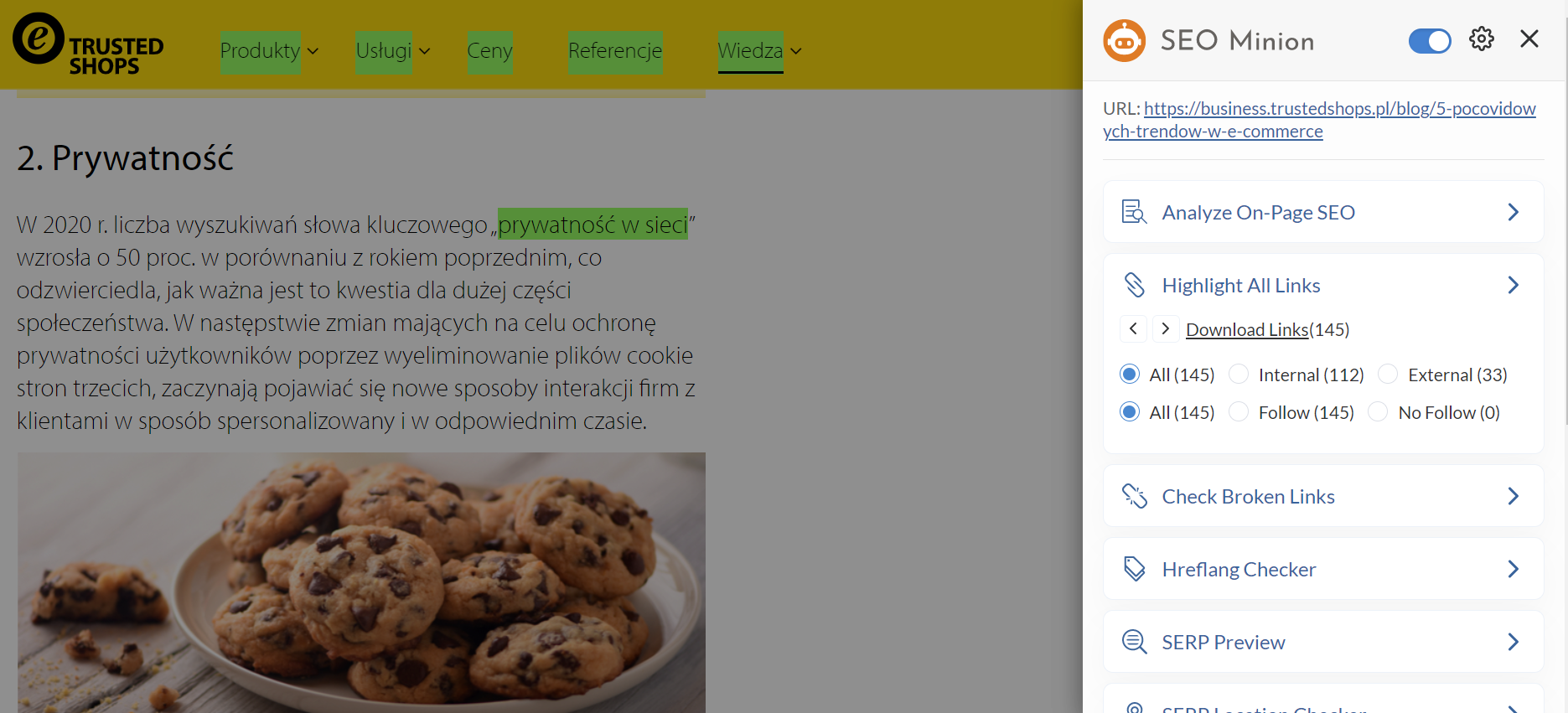 Dzięki temu rozszerzeniu możesz mieć oko na podstawowe kwestie związane z SEO - np. tytuł, linki wewnętrzne, nagłówki H1, H2, H3, itp. znajdujące się na stronie.
Możesz też sprawdzić, gdzie znajdują się linki na Twojej stronie, czy są uszkodzone oraz czy mają ustawione przekierowania. Działające odnośniki wyświetlane są na zielono.
📚Przeczytaj też: 5 darmowych wtyczek SEO do Google Chrome
5. Webmaster Tools od Ahrefs
Zarejestruj się na stronie Ahrefs Webmaster Tools, zweryfikuj swoją stronę i zacznij ją sprawdzać pod kątem ponad 100 technicznych problemów SEO. Narzędzie daje również sugestie, jak je naprawić.
📚Przeczytaj też: Jak przeprowadzić audyt SEO: przewodnik
Po sprawdzeniu, narzędzie sugeruje również obszary, w których można pzoptymalizować linkowanie wewnętrzne, by poprawić ranking w wyszukiwarkach.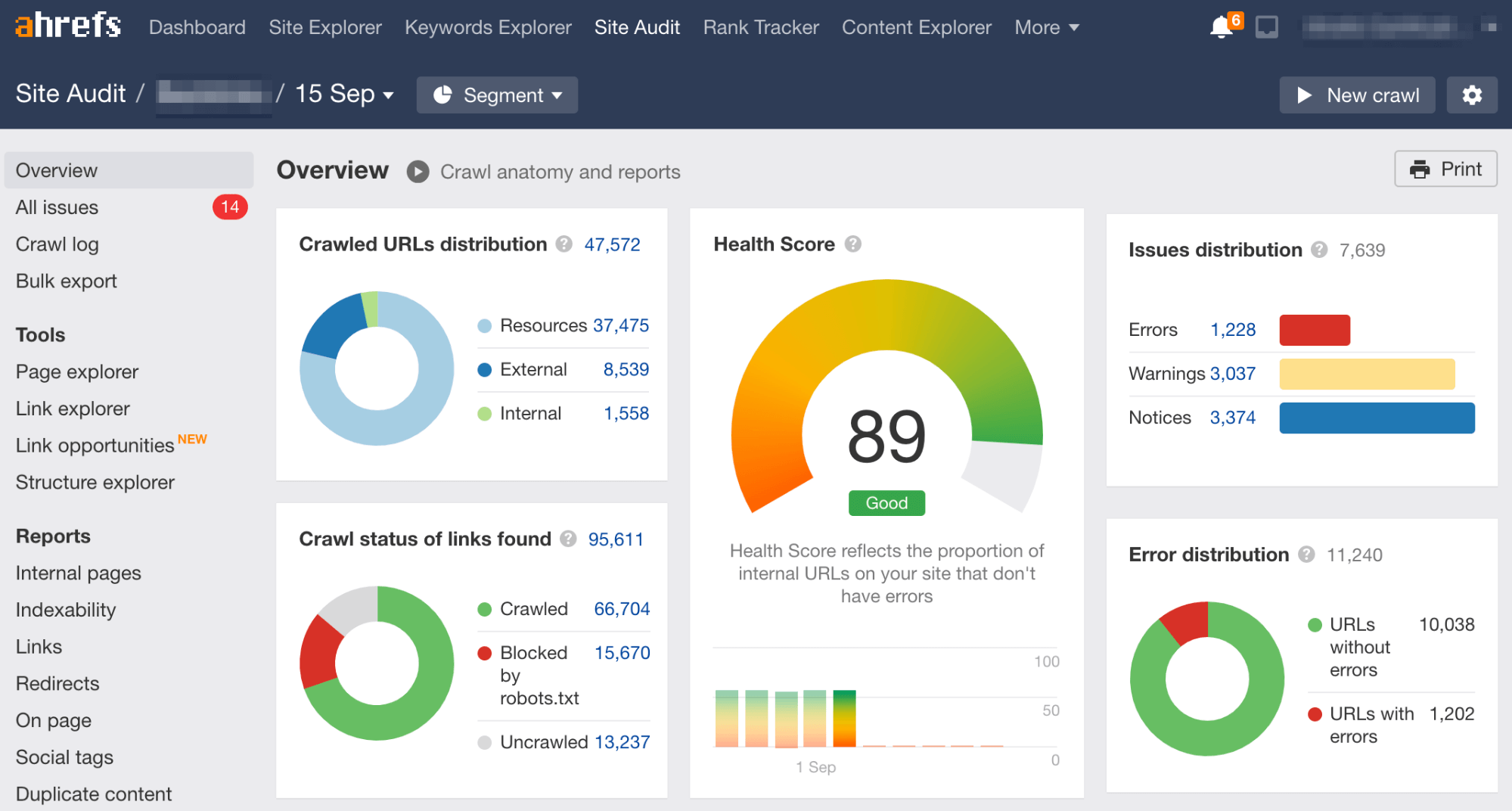 Webmaster Tools pozwala również zobaczyć rankingi organicznych słów kluczowych i zobaczyć, kto linkuje do Ciebie.
Uwaga: wersja darmowa narzędzia posiada ograniczenia.
Ta publikacja jest tłumaczeniem artykułu w j. niemieckim: 5 kostenlose SEO-Tools, die Ihr Ranking verbessern