Facebook, Twitter, Instagram i inne media społecznościowe stały się elementami obowiązkowymi dla e-commerce. Mają one duży potencjał do zwiększenia sprzedaży i widoczności Twojego biznesu, jeśli są prawidłowo wykorzystywane. Aby jednak odnieść sukces w mediach społecznościowych, należy najpierw zrozumieć kilka kluczowych pojęć.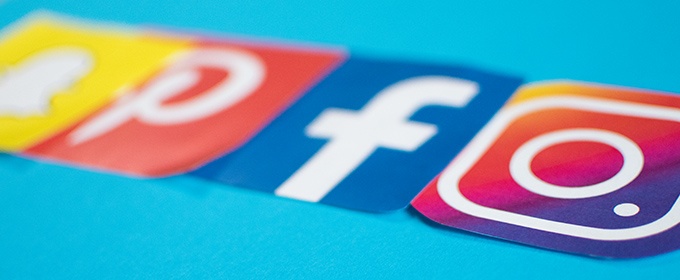 1. Feed
Feed w mediach społecznościowych to strona główna, na której wyświetlają się w kolejności chronologicznej wszystkie wpisy utworzone na danym koncie. Jest to więc strona danego profilu w social mediach. W feedzie użytkownicy mogą przeglądać treści interesujących ich marek (na przykład zdjęcia i filmy) i wchodzić z nimi w interakcje.
2. Stories lub relacje
Relacje to rodzaj krótkiej publikacji składającej się z treści audiowizualnych (obrazów, filmów, tekstu, muzyki itp.). Stories znikają z sieci po 24 godzinach.

Dzięki relacjom w mediach społecznościowych marki mogą prezentować swoje produkty i dzielić się doświadczeniami w szybki, łatwy i kreatywny sposób.

W interakcjach z odbiorcami dzięki tego typu treściom najlepiej sprawdzi się Instagram.
📚Przeczytaj też: Więcej obserwujących na Instagramie – bez płacenia
3. Społeczność
Termin ten odnosi się do całkowitej liczby użytkowników, którzy utworzyli profil w danej sieci społecznościowej oraz otrzymują powiadomienia z tej strony i toczą konwersacje na dane tematy. Na przykład, na Twitterze czy Instagramie noszą oni miano "obserwujących", zaś na YouTube – "subskrybentów".
Jednym z głównych wyzwań dla firm jest stworzenie silnej społeczności w social mediach, której można zaoferować swoje produkty. Aby to zrobić, należy przede wszystkim przeprowadzić analizę, dzięki której dowiesz się, na jakich kanałach przebywają Twoi potencjalni klienci. Pomoże Ci w tym poniższy artykuł 👇
📚Przeczytaj też: Grupy docelowe w social mediach
Gdy już uda się zebrać społeczność, kluczem jest zarządzanie nią (community management). Użytkownicy oczekują szybkich i spersonalizowanych odpowiedzi na wiadomości, dlatego ważne jest zapewnienie wysokiej jakości obsługi klienta również w tym kanale.
4. Zasięg organiczny i płatny
Organiczny zasięg odnosi się do liczby użytkowników, którzy widzą opublikowany post. Oprócz obserwujących mogą to być inni użytkownicy, np. ich znajomi, którzy udostępnili post swojej społeczności.

Równolegle funkcjonuje zasięg płatny, w ramach którego wykorzystując budżet reklamowy, post (reklama) jest pokazywany innym użytkownikom, którzy nie są followersami, a którzy mogą być zainteresowani daną treścią. To ostatnie dzieje się również dzięki algorytmom.
5. Hashtag
Hashtag (lub tag) to słowo lub zestaw słów poprzedzonych znakiem hash (#), które służą jako słowa kluczowe lub terminy wyszukiwania. Są one szczególnie istotne na Twitterze i Instagramie.
Używając hashtagów, użytkownicy łączą swoje posty z określonymi tematami, aby inni internauci mogli je znaleźć. W ten sposób tagi zapewniają lepszy przegląd ogromnej ilości informacji w sieciach społecznościowych.
📚Przeczytaj też: Hashtagi i ich moc w social media marketingu
6. Interakcje
W mediach społecznościowych interakcje odnoszą się do działań, jakie użytkownik podejmuje z Twoimi treściami/postami. Mierzone są komentarzami, polubieniami, liczbą udostępnień danego postu, liczbą kliknięć w link itp.

Interakcje z odbiorcami pozwalają na stworzenie społeczności lojalnych obserwujących na długie lata. Co więcej, algorytmy mediów społecznościowych podążają za tą koncepcją i nadają priorytet treściom, które cechuje wysoki poziom interakcji.
7. CTR (współczynnik klikalności)
CTR to wskaźnik, który ocenia wydajność danej publikacji, czy to organicznej, czy płatnej, na podstawie otrzymanych wyświetleń oraz liczby kliknięć.Dlatego, aby obliczyć CTR wystarczy podzielić liczbę kliknięć w reklamę lub post przez jego liczbę wyświetleń.
CTR = liczba kliknięć ÷ liczba wyświetleń
Niski współczynnik klikalności oznacza, że wygenerowałeś mało kliknięć w porównaniu do liczby razy, kiedy użytkownicy widzieli Twoją reklamę, więc Twój CPC (koszt za kliknięcie) będzie wyższy.

Pobierz nasz bezpłatny poradnik i dowiedz się, jak zwiększyć współczynnik klikalności w mediach społecznościowych!
8. ROI (zwrot z inwestycji)
ROI (Return on Investment) przedstawia zwrot z inwestycji Twoich działań w mediach społecznościowych. Innymi słowy, ROI definiuje sukces Twoich kampanii.
Metryka ta pomaga w:
określeniu obszarów do poprawy,

zobaczeniu, które sieci społecznościowe generują największe przychody,

zbadaniu, które kampanie mają najlepszy odzew.
ROI Twoich kampanii jest obliczany w następujący sposób:
ROI = (przychód - inwestycja) ÷ inwestycja
9. Retargeting
Retargeting to technika marketingowa, która polega na kierowaniu kampanii (reklam) w mediach społecznościowych do tych użytkowników, którzy wcześniej weszli w interakcję z Twoimi treściami.

Po nawiązaniu pierwszego kontaktu z Twoją marką, łatwiej jest doprowadzić tych użytkowników do dokonania zakupu.
10. Influencer marketing
Influencer marketing to podejście marketingowe, w którym popularność danej osoby (influencera) jest wykorzystywana do zwrócenia większej uwagi na produkt lub markę.
📚Przeczytaj też: Kampanie marketingowe z udziałem influencerów
Według badania przeprowadzonego przez Tomoson, influencer marketing jest uważany za najszybciej rozwijający się kanał pozyskiwania klientów online, przewyższając organiczne wyszukiwanie i e-mail marketing.
Ta publikacja jest tłumaczeniem artykułu w j. hiszpańskim: 10 palabras clave usadas en redes sociales.