Dobre czy złe, opinie klientów mogą być bardzo zróżnicowane. W związku z tym należy na bieżąco monitorować nowe oceny. Niezależnie od tego, czy są to opinie wykazujące dużą satysfakcję klienta, czy zaskakująco negatywne, ta forma treści generowanych przez użytkowników jest niezwykle cenna w demonstrowaniu jakości marki.
Odwiedzający sklep internetowy korzystają z opinii, aby określić wiarygodność danego sklepu i uzyskać wsparcie w podejmowaniu świadomych decyzji zakupowych. Jeśli jednak konsument odwiedza sekcję opinii i odkrywa, że zarówno te negatywne, jak i pozytywne są pozostawiane bez odpowiedzi, może założyć, że marka nie jest zainteresowana zdaniem kupujących.
Dlaczego odpowiadanie na opinie jest ważne?
Nikt nie chce czuć się ignorowany. Jeśli więc opinie są pozostawione bez odpowiedzi, klienci mogą być mniej skłonni do pozostawienia własnej. Mniejsza liczba recenzji powoduje gorszą wiarygodność marki. Ta z kolei prowadzi do niskiej stopy konwersji. Ostatecznie sprzedawcy, którzy nie odpowiadają na opinie, ryzykują niższą sprzedażą.
Aby pomóc naszym członkom w śledzeniu otrzymywanych opinii i ułatwić im interakcję z klientami, Trusted Shops opracował nową funkcję na platformie eTrusted: powiadomienia e-mail o nowych opiniach. To narzędzie dla sprzedawców, którzy chcą monitorować opinie klientów i natychmiast na nie odpowiadać.
Powiadomienia e-mail o nowych opiniach
Jak to działa
Nowa funkcja jest dostępna na platformie eTrusted dla wszystkich członków Trusted Shops. W ustawieniach użytkownika eTrusted sprzedawcy muszą aktywnie zasubskrybować powiadomienia e-mail. Powiadomienia można konfigurować również na podstawie oceny w gwiazdkach. Na przykład można aktywować powiadomienia dla opinii 1- i 2-gwiazdkowych, 3-gwiazdkowych i/lub 4- i 5-gwiazdkowych.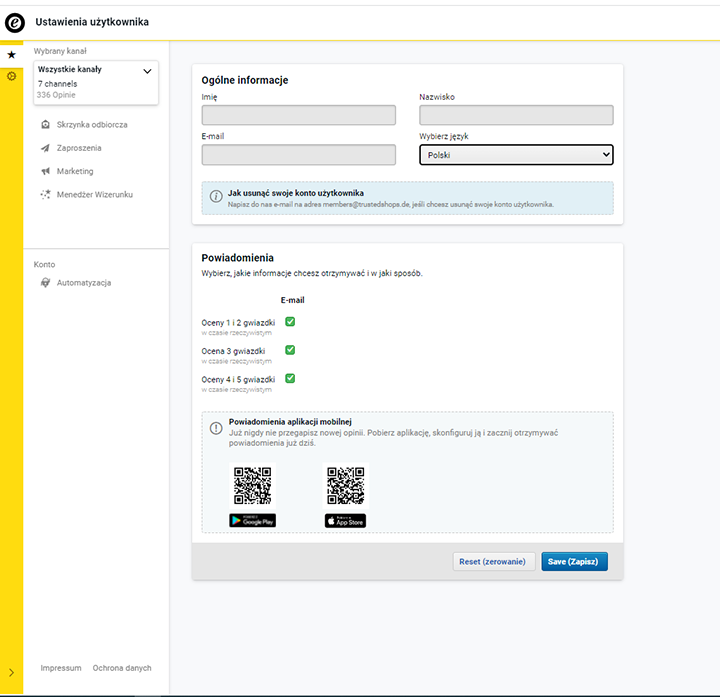 Co zawiera wiadomość e-mail z powiadomieniem?
Za każdym razem, gdy klient przesyła ocenę usługi lub produktu, na adres e-mail użyty do zalogowania się w eTrusted zostaje wysłana wiadomość z powiadomieniem opartym na wcześniej ustawionej konfiguracji na platformie eTrusted. Zawiera ono m.in. pełną treść opinii i jej tytuł (bez względu na to, czy dotyczy ona usługi czy produktu), liczbę gwiazdek oraz bezpośredni link do opinii na eTrusted.
Jakie są zalety tej funkcji?
Po aktywacji członkowie są na bieżąco informowani o nowych opiniach. Dzięki temu są w stanie natychmiast reagować na otrzymane informacje. Jest to szczególnie ważne w przypadku opinii negatywnych. Szybko reagując na nieprzychylne recenzje, sprzedawcy mogą błyskawicznie rozwiązać wszelkie problemy, z którymi borykają się klienci, i wykazać się troską.
📚Przeczytaj też: Jak reagować na negatywne opinie klientów?
Kolejną zaletą tej funkcji jest możliwość wyboru opinii, o których członkowie chcą być powiadamiani. Jeśli sprzedawca jest bardziej zainteresowany szybką odpowiedzią na negatywne opinie, może aktywować powiadomienia o opiniach jedno- i dwugwiazdkowych. Jeśli chce otrzymywać powiadomienia o wszystkich opiniach, może po prostu aktywować wszystkie kategorie. W związku z tym funkcję można dostosować do indywidualnych potrzeb.
Powiązane funkcje Trusted Shops
Aplikacja mobilna Trusted Shops to kolejne narzędzie, za pomocą którego sklepy internetowe mogą śledzić opinie i odpowiadać na nie. Dzięki aplikacji członkowie Trusted Shops mogą otrzymywać powiadomienia push o negatywnych opiniach, odpowiadać na opinie klientów i udostępniać je w mediach społecznościowych. Oprócz funkcji powiadomień, aplikacja mobilna eTrusted umożliwia przeglądanie opinii i zarządzanie nimi w podróży.
Aby uzyskać więcej informacji na temat korzystania z aplikacji eTrusted, przeczytaj ten artykuł.
Jeśli chcesz uzyskać dodatkowe informacje na temat powiadomień e-mail lub dowiedzieć się więcej o produktach Trusted Shops, skontaktuj się z nami tutaj.