Czy możesz pochwalić się dobrymi opiniami sklepu na wszystkich platformach zbierających opinie? Kiedy nowy klient ma zamiar dokonać zakupu, często najpierw sprawdza w internecie, jakie recenzje ma dane miejsce. Ale czy te rzeczywiście odpowiadają jakości obsługi, którą zapewniasz? Strony, którymi nie zarządzasz, mogą tworzyć mniej pozytywny obraz Twojego biznesu. Jak więc sprawić, by wszędzie cieszyć się dobrą reputacją? Trusted Shops ma rozwiązanie: Menedżer Wizerunku!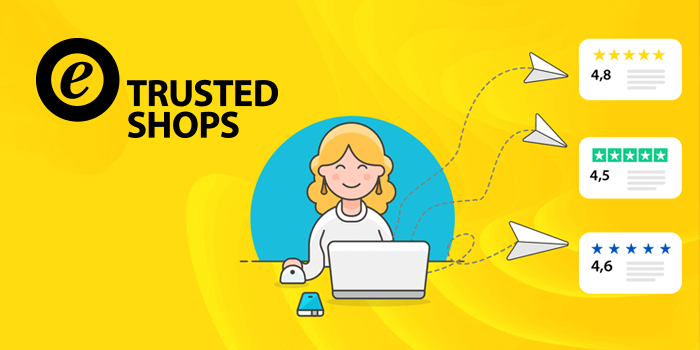 💬 Dlaczego Twoja reputacja online jest ważna?
Jeśli masz sklep internetowy, dostajesz wiele recenzji. Również na stronach, na których nie stworzyłeś profilu. Pomyśl na przykład o Trustpilot i Google Moja Firma. Wszystkie te opinie są czytane przez (potencjalnych) klientów i na ich podstawie ci podejmują decyzję o złożeniu zamówienia u Ciebie lub Twojego konkurenta. Jak nietrudno zgadnąć, wybierają biznes, który cieszy się najlepszymi recenzjami. To właśnie na tym miejscu powinieneś być!
⚖️Dlaczego recenzje różnią się w zależności od platformy?
Wyobraź sobie, że jesteś klientem. Złożyłeś zamówienie i otrzymałeś je zgodnie z planem i na czas. Czy w takiej sytuacji zamierzasz aktywnie szukać firmy online, aby powiedzieć im, co myślisz o zamówieniu? A jeśli zamówienie nie zostało dostarczone w należyty sposób? Większość ludzi szuka firmy po dokonaniu zamówienia tylko wtedy, gdy coś pójdzie nie tak. Oznacza to, że wielu zadowolonych klientów się nie udziela.
Aktywnie prosząc swoich klientów o zostawienie opinii, masz szansę, że kupujący z pozytywnymi doświadczeniami również dadzą Ci o sobie znać. Wielokrotnie przekonujemy się, że aktywne pytanie klientów przyczynia się do powstawania lepszych recenzji! Istnieje zatem duża szansa, że masz dobry wynik na platformie opinii Trusted Shops.
Oczywiście chcesz, by sytuację tę rozszerzyć na inne platformy z opiniami. I właśnie dlatego proponujemy wyjątkowe rozwiązanie.
✨ W jaki sposób Menedżer Wizerunku pomaga poprawić reputację online?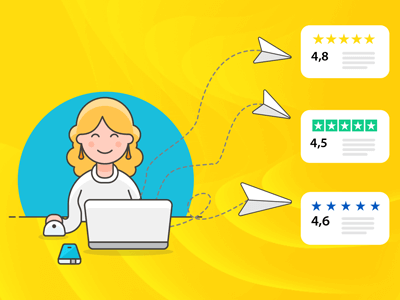 Jeśli korzystasz z opinii Trusted Shops, nasz system automatycznie wyśle do Twojego klienta zapytanie o zostawienie oceny. Dzięki temu masz pewność, że to prawdziwy klient zostawia recenzję i zachęca innych do zrobienia tego samego.
Standardowo opinie trafiają tylko do profilu Trusted Shops, ale dzięki Menedżerowi Wizerunku możemy iść o krok dalej.
Dzięki nowemu narzędziu Trusted Shops możesz wysyłać wnioski nie tylko do swojego profilu opinii na naszej platformie, ale także do innych dostawców, takich jak Trustpilot i Google My Business. Wystarczy, że będziesz członkiem Trusted Shops, co oznacza, że nie musisz płacić za profile w innych serwisach! Poza tym korzystanie z Menedżera Wizerunku jest bardzo proste.
⚙️Jak dokładnie działa Menedżer Wizerunku?
To trzy proste kroki:
Krok 1. Dodaj profile innych usługodawców
Tutaj możesz określić profile, dla których chcesz zbierać recenzje. Obecnie możesz dodać swoje profile z Trusted Shops, Trustpilot i Google Moja Firma.
Krok 2. Skonfiguruj dystrybucję
Tutaj określasz, jaki procent Twoich recenzji jest przeznaczony na którą platformę. Masz pełną kontrolę!
Krok 3. Automatyczne wysyłanie zaproszeń
Nie musisz już nic robić. Nasz system automatycznie wysyła prośby o recenzję.
Rezultat: dobra opinia na każdej platformie!
Zdobądź reputację, na którą zasługujesz na wszystkich wprowadzonych profilach.
🔄Podsumowanie
Jeśli chcesz poprawić swoją reputację w sieci na wszystkich platformach recenzyjnych, Menedżer Wizerunku jest rozwiązaniem dla Ciebie.
Pełne wyjaśnienie można znaleźć na stronie narzędzia. Tam możesz też skontaktować się z naszymi ekspertami, by uzyskać bezpłatną konsultację na temat Menedżera Wizerunku i innych produktów Trusted Shops, które mogą pomóc Twojemu e-sklepowi.
Kliknij przycisk poniżej, aby odwiedzić stronę Menedżera Wizerunku!