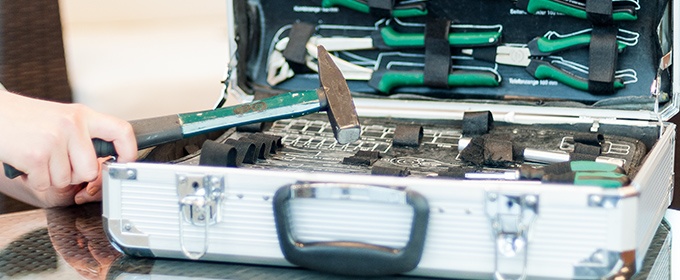 Kiedy zaczynamy prowadzenie sklepu internetowego, szukamy narzędzi, które ułatwią nam start. Czasem ciężko jest znaleźć takie, które będą nam odpowiadać — zarówno pod kątem ceny, jak i możliwości.
Wyszliśmy naprzeciw temu wyzwaniu. Przygotowaliśmy dla Ciebie listę narzedzi na start.
W tym artykule poznasz narzędzia ułatwiające:
zarządzanie procesami
tworzenie strategii SEO
monitorowanie internetu
samodzielne tworzenie materiałów graficznych
badanie trendów na rynku.
Zarządzanie czasem, zadaniami i zespołem
Trello to darmowa aplikacja internetowa. Jest bardzo prosta i intuicyjna. Służy do zarządzania zadaniami, oferując nam wirtualne tablice kanban.
Metoda tablicy kanban ułatwia zarządzanie dzięki wizualizacji procesu.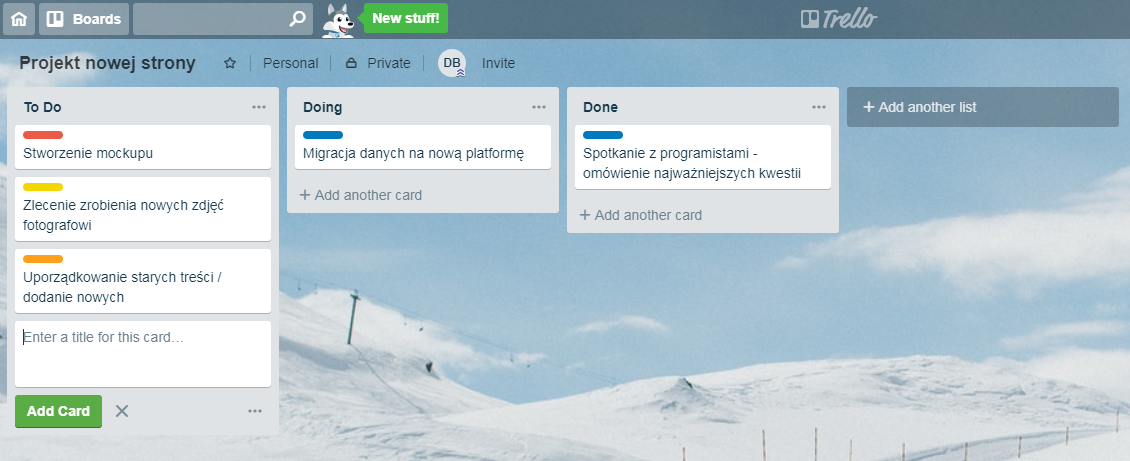 Aplikacja Trello dostępna jest przez przeglądarkę na komputerze. Posiada również wersję na smartfona. Dostęp mobilny do naszych tablic kanban pozwala na szybkie dopisanie nowych zadań (kart) lub edycję dotychczasowych.
Każdej karcie na tablicy mogą zostać przypisane dodatkowe wartości:
data (np. ukończenia zadania)
osoba lub osoby (np. odpowiedzialne za realizację zadania)
załączniki
komentarze
W razie potrzeby tablice możemy udostępniać współpracownikom, partnerom, a również uczynić je publicznie dostępne (np. roadmapa dla klientów).
Chcesz lepiej zorganizować procesy logistyczne w swoim sklepie internetowym? Pobierz darmowy poradnik i zwiększ efektywność:
SEO — słowa kluczowe
Jeśli szukasz dobrego narzędzia do wyszukiwania słów kluczowych, możesz wypróbować KWFinder. Narzędzie jest proste w obsłudze, a jednocześnie daje możliwość wnikliwej analizy.
Dzięki dobrze dobranym słowom kluczowym będziesz mógł przygotować lub zlecić napisanie artykułów na tematy, które przyciągną Twoją grupę docelową.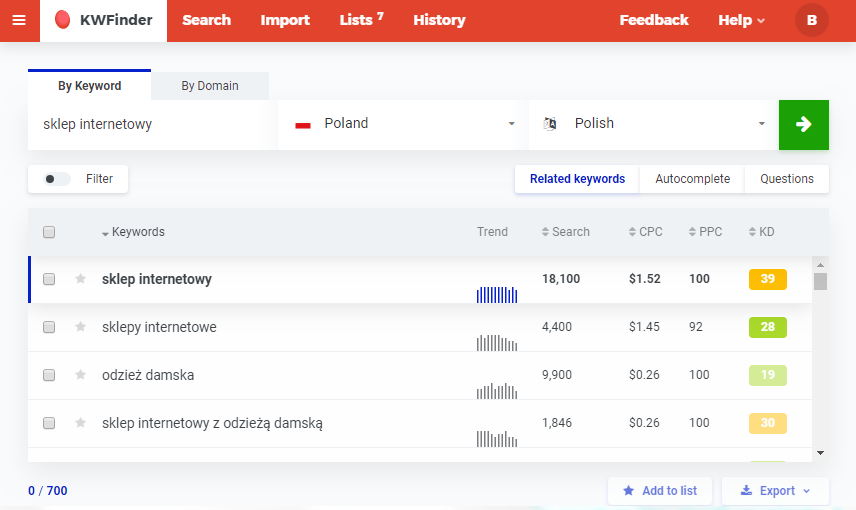 Dobrze zaplanowana i zrealizowana strategia SEO daje największy zwrot z inwestycji w działania marketingowe. Według raportu BrightEdge Organic Search Survey, ruch organiczny z Google wciąż dla większości stron stanowi główny kanał pozyskania nowego klienta.
KWFinder nie tylko podpowiada, których słów kluczowych warto użyć. Podaje również ważną informację o poziomie trudności danego słowa.
Gdy w wynikach wyszukiwania znajduje się dużo dobrze zoptymalizowanych artykułów z silnych domen, poziom trudności jest wyższy. Jeśli dopiero zaczynasz z optymalizacją SEO, szukaj łatwiejszych słów kluczowych. Twoja strona musi obrosnąć w content, aby kolejne artykuły osiągały coraz to wyższe pozycje.
Zyskaj nowych klientów niewielkim kosztem. Pisz teksty i optymalizuj je:
Monitoring internetu
Brand24 to zaawansowana platforma do monitoringu internetu. Daje możliwość śledzenia wzmianek na dowolny temat. Możesz zatem skonfigurować śledzenie:
wypowiedzi na temat Twojej marki
informacji na temat Twojej konkurencji
nowych wzmianek na temat Twojej branży
Narzędzie Brand24 przeszukuje zakamarki zarówno stron internetowych, jak i for dyskusyjnych oraz social media.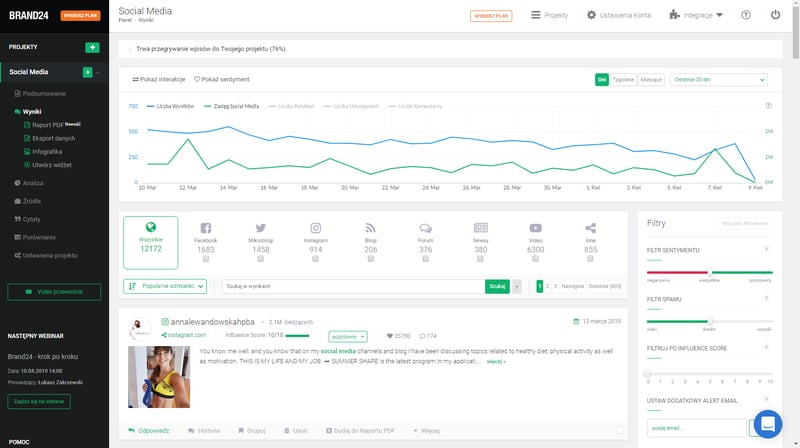 Oprócz wyszukiwania konkretnych wzmianek oferuje również dodatkowe funkcje takie jak określanie sentymentu. Możesz dzięki temu w raportach sprawdzić, jak często w sieci użytkownicy wypowiadają się pozytywnie lub negatywnie na temat Twojej marki.
Opinie na temat swojej marki najlepiej zbieraj u siebie. Zyskaj kontrolę i możliwość bezpośredniej komunikacji z klientami: Opinie klientów
Tworzenie materiałów graficznych
Nie musisz być grafikiem by tworzyć materiały graficzne na potrzeby Twojej strony, sklepu czy profilu w social media. Wystarczy, że skorzystasz z Canvy.
Z pomocą tego narzędzia w łatwy sposób stworzysz grafiki dzięki ogromnej bazie gotowych elementów. Canva posiada zarówno darmowe, jak i płatne elementy. O cenie jesteś poinformowany z góry. Opłatę ponosisz, gdy zechcesz wyeksportować grafikę wykorzystującą płatny element.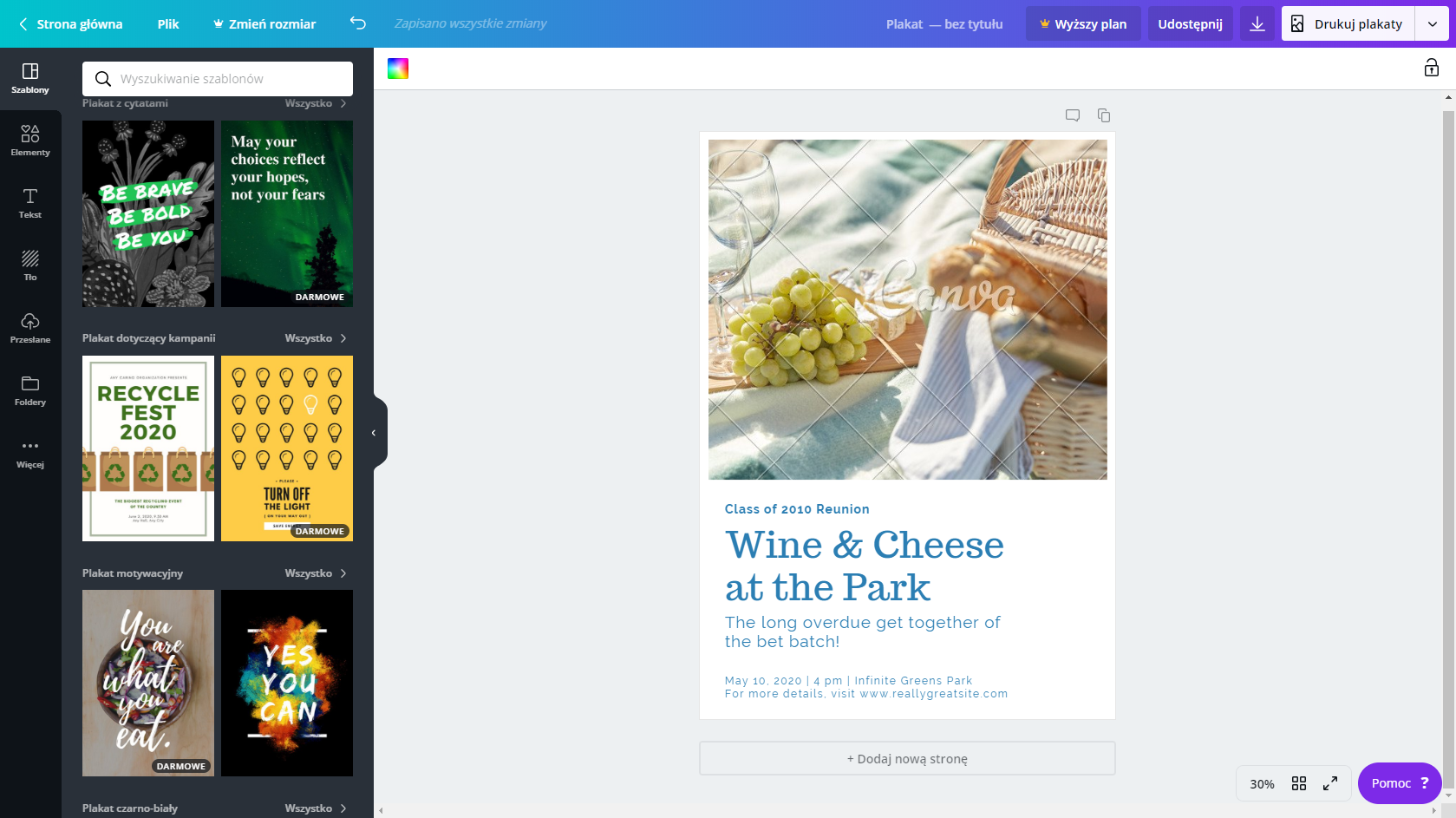 Niemniej sporo osób korzysta z Canvy bez płacenia. Liczba gotowych szablonów jest naprawdę spora. Na płatną wersję Canvy decydują się większe marki, które chcą zachować unikalność (nie korzystać z gotowców) oraz usprawnić proces (płatna wersja umożliwia powielanie tego samego projektu na różne wielkości bannerów).
Opanowałeś Canvę? Pora na wykorzystanie umiejętności w praktyce. Dobra grafika przyciągnie uwagę na Instagramie. Sprawdź:
Znajdywanie nowych trendów
Jeśli chcesz zawsze na bieżąco śledzić, co jest na czasie i o czym jest obecnie głośno w internecie, koniecznie musisz zaglądać do Trendów Google. Dzięki nim możesz sprawdzać, co najczęściej wpisuje w wyszukiwarkę na całym świecie.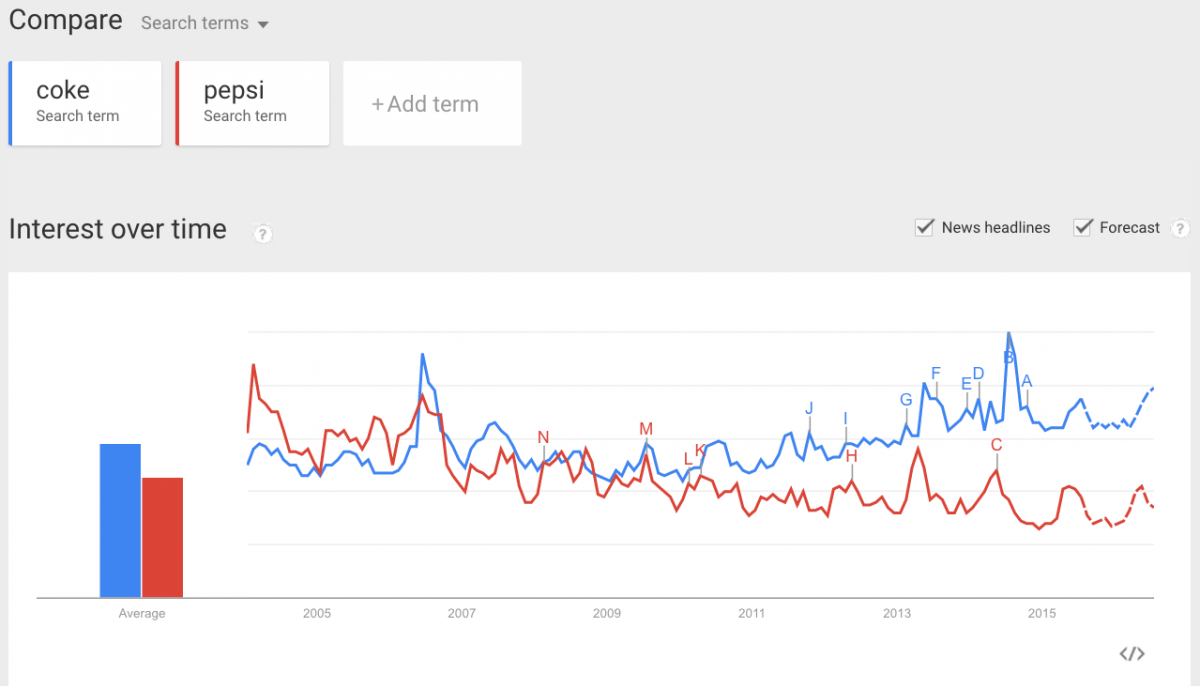 Wystarczy, że wybierzesz zakres, który Cię interesuje czasowy i/lub terytorialny.
Jeśli chodzi o źródło danych, masz do wyboru:
wyszukiwarkę Google
Google Grafika
Google Wiadomości
Zakupy Google
wyszukiwarkę Youtube
To przydatne narzędzie posłuży Ci do znalezienia pomysłów na marketing Twojej firmy. Poznasz również trendy, które mogą pomóc Ci dostosować lepiej Twoją ofertę do klientów.
Z jakich narzędzi korzystasz do zarządzania i rozwijania swojego sklepu internetowego? Daj znać w komentarzu.