Badania mówią jasno, że średnia otwieralność maili wynosi 17,8%. Bez względu, czy jesteś poniżej czy powyżej średniej, Twój cel jest jasny: zwiększenie wskaźnika otwieralności e-maili. W tym artykule poznasz cenne wskazówki i dowiesz się, jak stworzyć skuteczny temat e-maila.

W tym artykule dowiesz się:

✔ na co zwrócić uwagę podczas tworzenia tytułu maila,
✔ jakie sztuczki możesz zastosować, aby przyciągnąć uwagę,
✔ jak prezentują się statystyki dotyczące e-mail marketingu
1. Wykorzystuj aktualne tematy istotne dla Twojej grupy docelowej
Mówiąc najprościej - pokaż, że znasz zainteresowania swoich potencjalnych klientów oraz fakt, że jesteś na bieżąco z aktualnymi trendami.
Wykorzystaj więc wydarzenia ze świata i kraju, żeby zwrócić uwagę na swoją wiadomość i nawiąż do swoich produktów w kreatywny sposób.
Przykład: Jeszcze tylko X dni do mundialu - zamów teraz nowy telewizor
📚Przeczytaj też: Real time marketing w e-commerce: wskazówki i przykłady
2. Zachęć do szybkiego działania

Poczucie pilności to potężne narzędzie w e-commerce, które możesz wykorzystać również przy tworzeniu tematu maila. Odpowiedni komunikat zachęci klientów do dokonania zakupu impulsywnego.
Przykłady: Tylko dzisiaj: 20% zniżki na wszystkie telewizory Samsung
Wielka oferta mebli ogrodowych - tylko przez 3 dni
3. Używaj spersonalizowanego tytułu
Personalizacja to obecnie element obowiązkowy w prowadzeniu działań marketingowych. To z pozoru niewielkie działanie sprawi, że wiadomość nabierze bardziej indywidualnego charakteru, a klient poczuje się zauważony i doceniony.
Przykład: Kasia, ekskluzywny prezent dla Ciebie!
Tomek, 15% rabatu z okazji Twoich urodzin!
4. Uwzględniaj aktualne warunki pogodowe
Tak, aura za oknem również może stanowić inspirację do stworzenia ciekawego tytułu e-maila! Wbrew pozorom, po takie rozwiązanie mogą sięgnąć nie tylko właściciele sklepów odzieżowych.
Przykłady: Rozpocznij sezon wiosenny z naszymi hitami
Książkowe bestsellery na długie, zimowe wieczory
📚Przeczytaj też: Kalendarz e-commerce: najważniejsze daty dla e-sklepów
5. Wykorzystaj historię zamówień
Czyli pokaż, że znasz swoich klientów i ich potrzeby.
Takie tytuły maili świetnie sprawdzą się w przypadku rekomendacji produktowych, np. na podstawie wcześniej zakupionych artykułów w Twoim sklepie.
Przykłady: Praktyczne akcesoria dla Twojego nowego aparatu cyfrowego
Wybraliśmy te produkty specjalnie dla Ciebie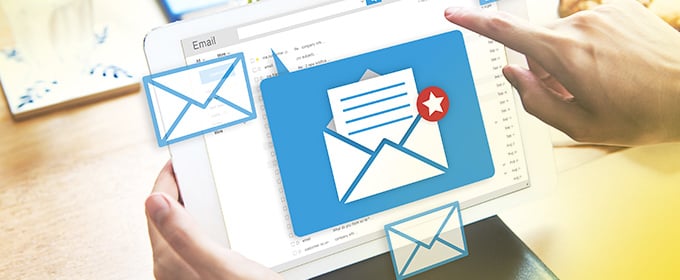 6. Wzbudź ciekawość
Łatwiej powiedzieć niż zrobić? Niekoniecznie! Wbudzanie ciekawości to jedna z najpotężniejszych broni, jakie masz do dyspozycji w prowadzeniu działań marketingowych.
Staraj się więc nie zdradzać zbyt wiele w temacie maila, by użytkownik chętniej w niego kliknął i dowiedział się więcej.
Przykład: Czeka na Ciebie mała niespodzianka...
❗Uwaga: Unikaj tytułów typu Wygrałeś!, które kojarzą się z internetowymi oszustwami.
7. Przeproś
Nie zawsze wszystko idzie po naszej myśli. Bądź bezpośredni i przyznaj się do błędu. Przeproś np. za długo czas ładowania strony Twojego sklepu internetowego.
Przykłady: Z powodu dużego zainteresowania naszą witryną...
Przepraszamy za długi czas oczekiwania (10% specjalnej zniżki).
📚Przeczytaj też: 7 wskazówek, jak zwiększyć szybkość ładowania strony
8. Kreuj specjalne wydarzenia
W kalendarzu ani widu, ani słychu "tradycyjnych" okazji do zorganizowania promocji? Stwórz je sam! Mogą być one jednorazowe lub cykliczne, w zależności od Twoich potrzeb i stanów magazynowych.
Przykłady: Czyszczenie magazynu – do 50% zniżki na wybrane produkty.
Beauty days – produkty do makijażu 20% taniej
9. Korzystaj z mechanizmów zabawy jako formy zachęty
Ta metoda sprawdza się, gdy prowadzisz program lojalnościowy. Podkreślając w temacie maila fakt, że w zasięgu użytkownika jest specjalna zniżka lub prezent, ten szybciej zdecyduje się na dokonanie zakupu.
Przykład: Brakuje Ci tylko 20 punktów do zdobycia premii
10. Korzystaj ze społecznego dowodu słuszności

Social proof to użyteczne narzędzie, które możesz wykorzystać także w e-mail marketingu. Pokaż, że innym klientom również spodobały się Twoje produkty i warto zwrócić na nie uwagę.
Przykład: Odkryj nasze najwyżej oceniane produkty

11. Wykorzystuj emoji
Małe, kolorowe ikony natychmiast zwracają uwagę i pozwalają Twoim e-mailom wyróżnić się na tle innych. Pamiętaj tylko, żeby z nimi nie przesadzać - zbyt dużo emoji w jednym tytule maila może wyglądać jak spam.
Przykład: 👠Eleganckie szpilki na każdą okazję
📚Przeczytaj też: Emoji marketing – co to jest i jak go skutecznie wykorzystać?
O tym również warto wiedzieć
Invesp, firma zajmująca się zwiększaniem konwersji, podzieliła się użytecznymi danymi dotyczącymi tytułów e-maili: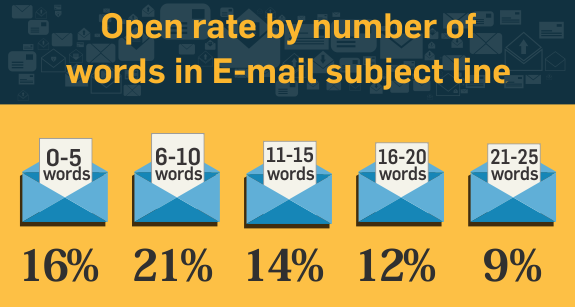 Jak widzisz, 5 słów to za mało, ale powyżej 10-ciu open rate znacznie maleje.
W miarę możliwości stosuj również imię odbiorcy w tytule wiadomości: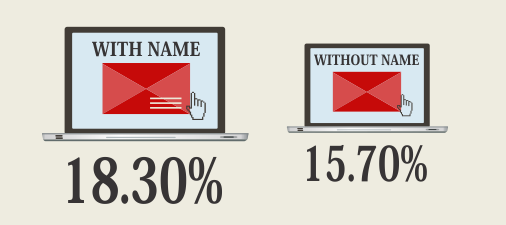 Mailing daje największy zwrot z inwestycji — według badań średnio 3228%. Oznacza to, że z każdej zainwestowanej złotówki wyciągniesz 32,28 zł.
Podsumowanie
Tytuł e-maila powinien wzbudzać ciekawość użytkownika oraz zawierać elementy personalizacji – zarówno w kwestii imienia, jak i historii zamówień. Bądź kreatywny, testuj różne rozwiązania i wyciągaj wnioski z wyników, by móc cieszyć się jak największym open rate.
Sprawdź też nasz bezpłatny poradnik dotyczący e-mail automation i dowiedz się, jak strategia ta może ułatwić Ci codzienną pracę: