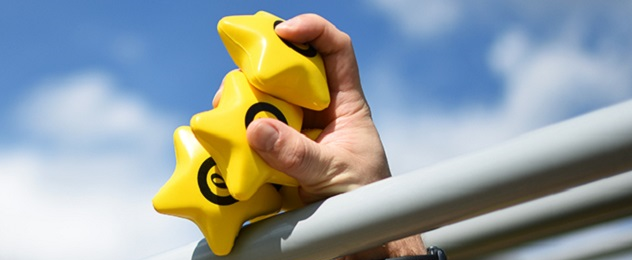 Negatywne opinie spędzają sen z powiek wszystkim sprzedawcom. Warto jednak pamiętać, że istnieje kilka prostych i przede wszystkim legalnych sposobów, aby ich uniknąć. Ze statystycznego punktu widzenia sprzedawca jest i tak na bezpiecznej pozycji, ponieważ większość opinii klientów jest pozytywna.
Wiarygodni dostawcy systemów opinii publikują wszystkie opinie, które są poparte zamówieniem i zgodne z prawem, a także nie naruszają warunków użytkowania. Wśród nich mogą się zatem znaleźć również krytyczne, czasami nawet niesprawiedliwe głosy. W rzeczywistości negatywne opinie zdarzają się jednak znacznie rzadziej, niż obawiają się tego sprzedawcy.
Z naszej przeprowadzonej w 2016 r. analizy wynika, że tylko 1,36% wszystkich użytkowników przyznaje sklepom jedną gwiazdkę, natomiast 81,20% daje im pełne pięć.
Nieskazitelna opinia nie zawsze jest w pełni korzystna.
Pozytywne oceny przeważają zatem, jednak absolutnie nieskazitelna opinia nie jest wcale aż tak pożądana. Jeśli mamy same maksymalne oceny, mogą się one wydać dość niewiarygodne. Nie tylko duża liczba negatywnych komentarzy wzbudza podejrzliwość kupującego. To samo dzieje się w przypadku, gdy opinie są wyłącznie pozytywne.
Mimo to celem każdego sprzedawcy jest oczywiście zebranie jak największej liczby pozytywnych opinii i uniknięcie tych negatywnych. Nie warto przy tym stosować trików mających na celu obejście problemu, ponieważ sztuczki te z reguły wcześniej czy później i tak wychodzą na jaw, wyrządzając jeszcze większe szkody dla wizerunku sklepu. Aby uniknąć negatywnych opinii, najlepiej stosować legalne środki i cieszyć się sukcesem z czystym sumieniem.
Sprawdzone i uczciwe sposoby na uniknięcie negatywnych opinii:
Dobra obsługa to klucz do sukcesu. Na wiecznie niezadowolonych konsumentów nie ma rady, jednak większość klientów ceni sobie dobrą obsługę i uwzględnia ją w ocenie.
Idealne wyczucie czasu: Kupujący najchętniej oceniają sklep po otrzymaniu towaru. Dzień lub dwa po dostawie to optymalny moment na wysłanie wiadomości z prośbą o opinię.
Jednoznaczność: Zaprojektuj maile z prośbą o ocenę (wybierając odpowiednie kolory, grafikę i tekst) w taki sposób, aby sklep internetowy od razu został rozpoznany, podając przy tym numer zamówienia oraz datę zakupu. W ten sposób wykluczysz pomyłki.
Szczegółowe informacje na temat produktu: Zdarza się, że klienci są zawiedzeni, ponieważ produkt nie odpowiada ich oczekiwaniom. Zapobiegaj takim sytuacjom, publikując na stronie produktu jego opis, zdjęcia, odpowiedzi na często zadawane pytania i opinie na jego temat.
Dostępność: Klient, którego problem rozwiązujesz mailowo lub telefonicznie, najprawdopodobniej nie da już upustu swojej złości, dodając negatywną opinię.
Dotrzymywanie obietnic: Z konsumentami nie ma żartów, szczególnie gdy chodzi o dostępność towarów i czas dostawy, dlatego obietnic należy koniecznie dotrzymywać. W przeciwnym razie negatywne doświadczenia znajdą odzwierciedlenie w opiniach.
Gesty dobrej woli: W przypadku konfliktu bardziej opłaca się grzeczność niż skąpstwo. Może i stracisz przy tym parę złotych, ale stracisz mniej niż na opublikowaniu przez klienta negatywnej opinii.
Jak widać, istnieje wiele legalnych sposobów na to, by zapobiec negatywnym opiniom klientów. Decydującą rolę odgrywa przy tym umożliwienie dodania opinii wszystkim osobom, które złożyły zamówienie. Otwarte dla wszystkich platformy internetowe z opiniami przyciągają w pierwszej kolejności klientów z negatywnymi doświadczeniami, natomiast do zadowolonych klientów trzeba zwrócić się osobiście.
Jeśli mimo to negatywne komentarze jednak się pojawią, nie należy tracić nadziei. Odpowiednia reakcja na krytyczną opinię może zadziałać na korzyść wizerunku sklepu. Więcej informacji na ten temat znajdziesz w poradniku "Jak prawidłowo zareagować na negatywną opinię?".

Ta publikacja jest tłumaczeniem artykułu w j. niemieckim: Negative Bewertungen verhindern - ganz ohne faule Tricks.