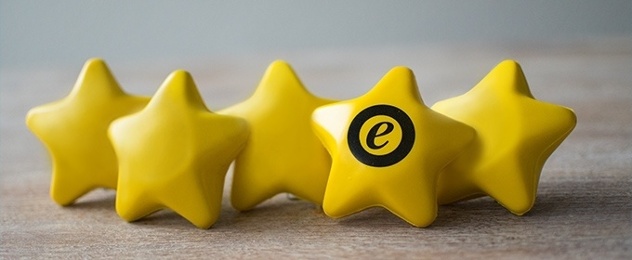 Gwiazdki oceny w wynikach wyszukiwania Google skuteczne przyciągają uwagę, a ponieważ objętość pierwszej strony wyników jest ograniczona, warto skorzystać z nich w celu wyróżnienia swojego sklepu. Oto kilka porad, jak zyskać lepszą widoczność w Google.
SEO
SEO (skrót od Search Engine Optimization, czyli optymalizacji mechanizmu wyszukiwania) odnosi się do bezpłatnych lub "organicznych" wyników w wyszukiwarce Google. Celem jest zaprojektowanie struktury i treści strony internetowej w taki sposób, żeby mogła pojawić się ona jak najwyżej w wynikach wyszukiwania Google.
Rich snippets
Wraz ze standardowym wynikiem wyszukiwania można prezentować więcej informacji na temat swojego sklepu.

W powyższym przykładzie do wyniku dodawane są gwiazdki. Zbiorczy termin, określający wszystkie dodatkowe informacje w organicznych wynikach Google, to "rich snippets", co dosłownie można przetłumaczyć jako "wzbogacony fragment". Jest to po prostu pokazywany w wyszukiwarce element strony, do którego dodano dodatkową treść. Mogą być to np. łącza do stron nadrzędnych, zdjęcia lub - jak w tym przypadku - oceny w formie gwiazdek.
Jeżeli strona ma dobrą ocenę, warto się nią pochwalić. Aby wyświetlić gwiazdki w Google, trzeba dodać odpowiednie informacje do kodu źródłowego strony internetowej. W tym celu należy je "oznaczyć" danymi strukturalnymi. Takie "znaczniki" to tagi, które kategoryzują ważny tekst na stronie internetowej. Są one standaryzowane na stronie i pochodzą z schema.org, inicjatywy mającej na celu pomoc w tworzeniu struktury stron internetowych i ułatwienie mechanizmom wyszukiwania wyciąganie najbardziej wartościowych informacji.

Fragment "reviewRating" oznacza recenzję, a umieszczony niżej element kodu określa skalę od 1 (najgorsza ocena) do 5 (najlepsza). Dzięki temu możliwa jest prawidłowa interpretacja właściwej oceny (4,5).
Ta metoda identyfikacji umożliwia przetwarzanie różnych recenzji i ocen. Marginalne znaczenie dla strukturyzowania kodu źródłowego ma to, czy oceniany jest sam sprzedawca, czy oferowany przez niego produkt. Ma to jasno wynikać z zawartości strony. Ponadto, zgodnie z wytycznymi Google, ocena powinna odnosić się do konkretnego produktu lub usługi, nie zaś ogólnych obszarów np. "hoteli w Warszawie".
Rich snippets są dostępne na całym świecie. Kilka porad dotyczących gwiazdek znajdziesz w naszym bezpłatnym poradniku:
Lokalne opinie
Lokalne wyniki to specjalna forma wyszukiwania organicznego. Można je znaleźć za pomocą funkcji wyszukiwania "Mapy"; opcjonalnie są one wyświetlane w uniwersalnym wyszukiwaniu, jeśli Google rozpozna próbę dokonania lokalnego wyszukiwania (np. poza wyszukiwanym terminem wpisana zostanie nazwa miasta).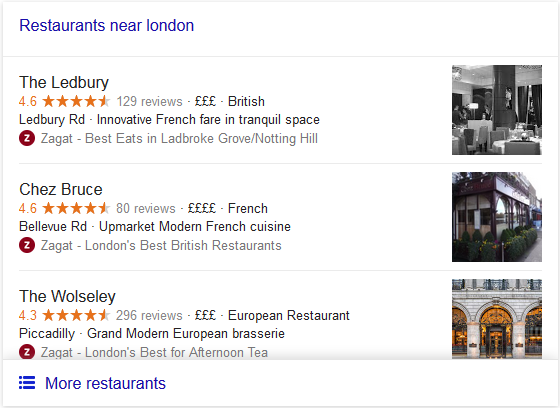 W takim przypadku oceny pochodzą z samej wyszukiwarki Google, a więc oceny lokalnej firmy można gromadzić poprzez wpis w wizytówce Moja Firma (wcześniej Miejsca Google). Google nie wyświetla już ocen za pomocą stron firm trzecich.
Dzięki ustrukturyzowanym danym, oceny lokalnych firm mogą być traktowane tak jak inne typy ocen. Jednak wtedy gwiazdki nie pojawią się w lokalnym wyszukiwaniu, lecz wyłącznie na "klasycznej" stronie wyszukiwania.